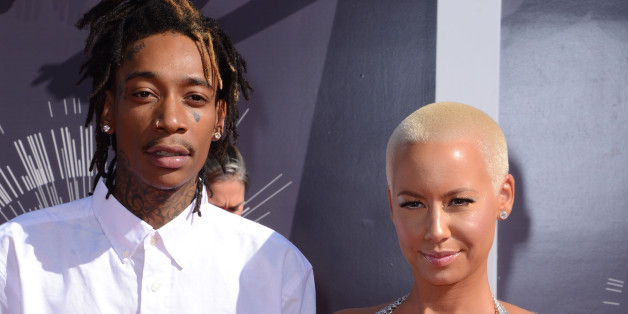 They may be separated, but there still is love between Wiz Khalifa and Amber Rose.
On Tuesday, Rose received birthday wishes from her estranged husband on Twitter and responded with an equally sweet tweet back to the rapper:
@wizkhalifa Thank u Sweetheart #StillLoveYouNoMatterWhat ❤️

— Amber Rose (@DaRealAmberRose) October 21, 2014
What a difference a few weeks make. The tweet is a far cry from the emotional message Rose shared with fans after filing for divorce from Khalifa in late September.
"The pain...I wake up every morning feeling like my best friend died," the 31-year-old model and aspiring actress tweeted on Oct. 6. "I never knew what a true heartache felt like until now."
Rose, who's requested full custody of the pair's one-year-old son, also used Twitter to hint that Khalifa had been less than faithful during their one-year marriage.
"Please stop with the fake stories," she wrote on Sept. 25. "I would never ever ever cheat on my husband in a million years I think u guys know this.....Unfortunately my now ex husband can't say the same."
So what else has Rose been up to besides seemingly making amends with her ex over Twitter?
"I'm focused on my son and my work," she told People magazine earlier this month. "I really don't have time for a man."
As for the rumors she cheated on Khalifa with Nick Cannon, Rose said it's a non-story.
"I was like, 'Damn, Nick, that's cool for you, but it ain't happening,'" Rose said of her newly single manager.
The mom of one added that dating is the last thing on her mind right now: "I'm going through a divorce and technically I'm single, but I'm just not ready for [that]."
Keep in touch! Check out HuffPost Divorce on Facebook and Twitter. Sign up for our newsletter here.
BEFORE YOU GO
PHOTO GALLERY
Craziest Celebrity Breakup Quote