The Philadelphia Zoo is getting festive!
For the first two weekends in October, the zoo celebrates its annual Beast Feast by giving pumpkins to its animal inhabitants. The adorable photos from this year's event show the zoo animals playing with and munching on their special treats. It's almost too cute to handle.
And while the pictures might make you excited for Halloween, they can also serve as a reminder of the challenges facing these species -- a number of which the World Wildlife Fund for Nature classifies as vulnerable, endangered or critically endangered -- and how to get involved in the fight to protect them.
Check out some of the Beast Feast photos (below), featuring a Philly Zoo polar bear, orangutan, snow leopard and gorilla.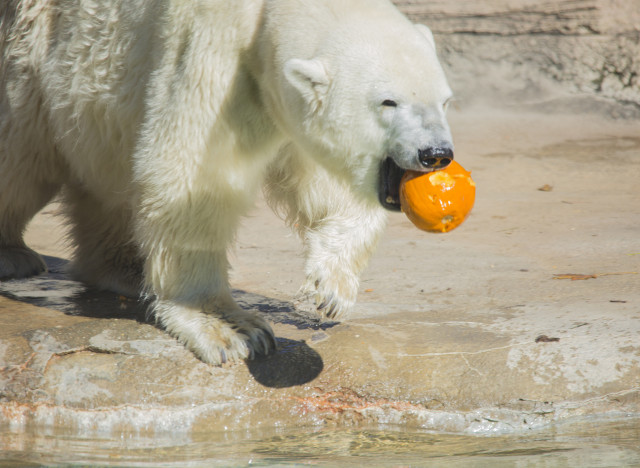 Image: Philadelphia Zoo
Klondike is a 33-year-old female polar bear who loves Halloween as much as the next bear.
In the wild, climate change is a grave threat to the polar bear, which the WWF lists as a vulnerable species. Polar Bears International (PBI), a partner of the Philadelphia Zoo's, works to conduct research, education and action-based programs to address the issue.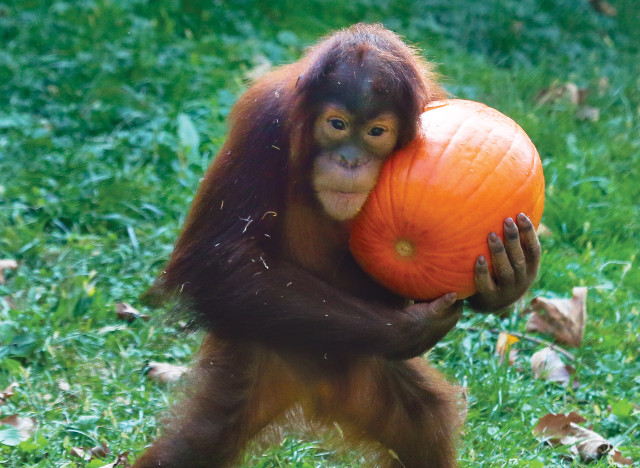 Image: Philadelphia Zoo
Batu is a 5-year-old Sumatran orangutan who clearly takes her trick-or-treating very seriously.
The orangutan is an endangered species and lives under threat of losing its tropical forest habitat because of expanding palm oil plantations. A conservation effort known as the UNLESS Project, which the Philly Zoo launched, works to drive demand for "deforestation-free" palm oil.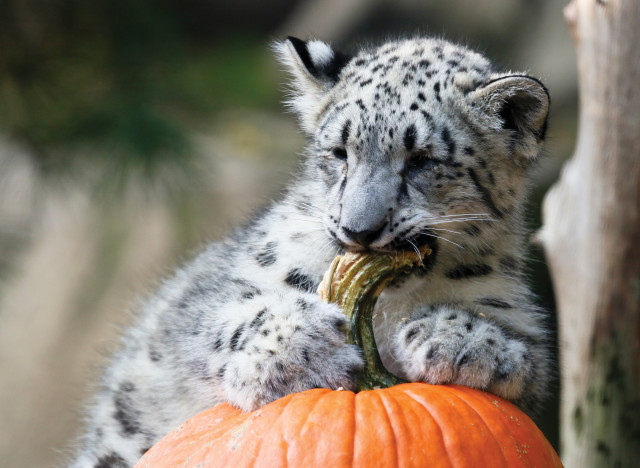 Image: Philadelphia Zoo
Here's Ranney the adorable snow leopard sinking her teeth into her pumpkin.
Snow leopards, which are native to the mountains of Central Asia, live in some of the harshest conditions on Earth. These animals face a number of threats in the wild and are listed as endangered by the WWF. The Snow Leopard Trust works to save animals by raising money through donations and creating conservation programs in vital habitat areas like India, Kyrgyzstan, Mongolia and Pakistan.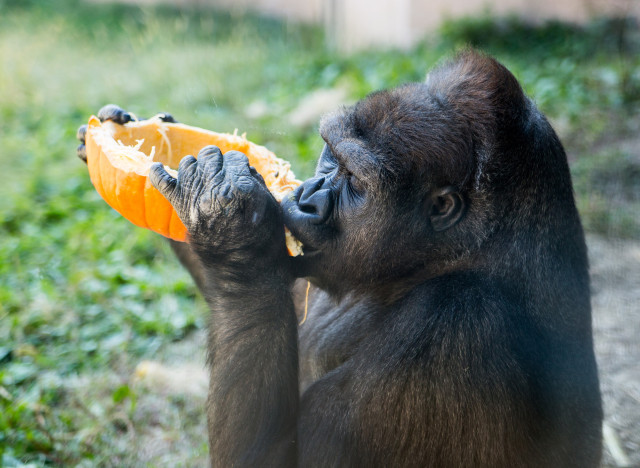 Image: Philadelphia Zoo
Kira, a western lowland gorilla, is having way too much fun with her gourd!
Found in lowland forests of central Africa, the western lowland gorilla is the most common of all gorilla subspecies. However, it is listed as critically endangered due to hunting, deforestation and disease. To learn how to contribute to the conservation efforts of these gorillas, visit the Wildlife Conservation Society.
Check out Philadelphia Zoo's Instagram for more photos from Beast Fest.
Clarification: Language has been amended to reflect that the Philly Zoo launched the UNLESS Project.
BEFORE YOU GO
PHOTO GALLERY
Halloween Pet Costumes 2014