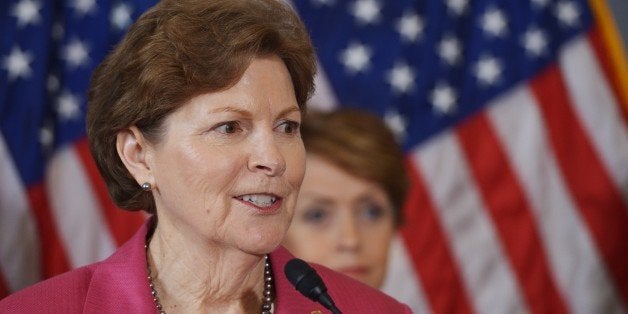 A reporter for the conservative website Breitbart News claims he was kicked out of an event organized by the campaign of Sen. Jeanne Shaheen (D-N.H.), who is locked in a heated race against former Massachusetts Republican Sen. Scott Brown.
Matthew Boyle wrote Wednesday evening that the Shaheen campaign asked the owner of Revision Energy in Exeter, New Hampshire, to tell him that "this was a private event and you're not welcome here." Boyle said that "the owner of the business and a Shaheen staffer approached this reporter and asked this reporter to leave the event."
"I'm a congressionally credentialed Capitol Hill reporter, credentialed by the U.S. Senate press gallery," Boyle protested in response.
The owner and Shaheen campaign said that didn't matter, and they proceeded to say this reporter needed to leave. So, this reporter cooperated and left the premises without incident. While walking out the front door, the owner of the business remarked that this reporter "could go be a reporter over there on public property" while pointing to the street.
According to Boyle's account, other reporters, including NECN's Katherine Underwood, were allowed to stay at the event, which was open press. A Shaheen press release touted the event, where the incumbent senator picked up the endorsement of the League of Conservation Voters Action Fund and the Sierra Club. It also noted that Phil Coupe, president of Revision Energy, was present.
A request for more information with Revision Energy was not immediately returned. The Shaheen campaign declined to comment.
This isn't the first reporter squabble in the closely-watched New Hampshire Senate race. In July, a reporter said that his repeated attempts to ask Scott Brown about the Supreme Court's Hobby Lobby ruling led to him being questioned by a police officer.
BEFORE YOU GO
PHOTO GALLERY
Senate Seats Up For Grabs In 2014