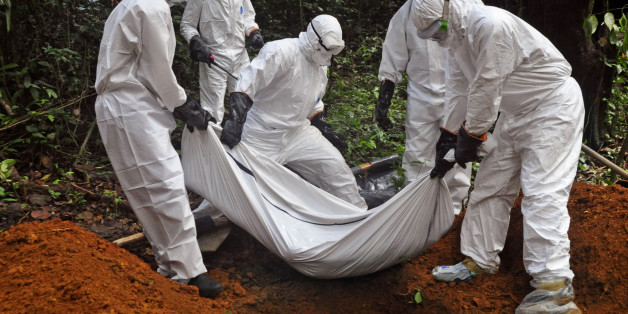 Since the start of the Ebola outbreak, we've noticed a lot of questions floating around out there about exactly what the disease is, how it spreads and how the world is responding to it. To set people's minds at ease, we decided to tackle a few of the most commonly asked questions about the Ebola virus.
The question:
Ebola in existance since 1976, why no cure?

— mohammed Zahid Khan (@abu_ghazi123) October 20, 2014
The answer: Before this current outbreak, there have only been 2,418 documented Ebola patients with varying strains of the disease, which is far too few patients for scientists to learn from and treat with experimental drugs. Also, the relatively small amount of people who would have benefited from an Ebola cure (previous outbreaks are contained after several hundred are sickened) might mean that big pharmaceutical companies don't have enough of a financial incentive to pursue expensive drug research.
Then there's the "10-year-slide" in research funding for the National Institutes of Health, which doles out money for research projects around the nation. Dr. Francis Collins, head of the NIH, told HuffPost's Sam Stein that his institute has been working on a vaccine for Ebola since 2001 -- and would probably have had it ready in time for this current outbreak had it not been for money shortfalls.
More fundamentally, though, treating viral infections is a lot more challenging than treating bacterial infections. While we have a range of antibiotics to defeat bacterial infections, most of the treatments we have to combat viruses are vaccines, which are only effective to prevent infection -- not cure it. The most successful antiviral medications out there are one for HIV/AIDS, herpes and the flu.

Learn more about the experimental treatments for Ebola, like blood transfusions or drugs that are in clinical trials.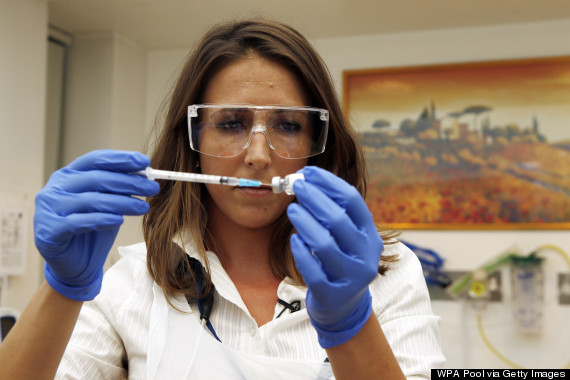 Dr. Felicity Hartnell, who is a clinical research fellow at Oxford University, holds the vial of the Ebola vaccine called Chimp Adenovirus type 3 (ChAd3) before the first healthy UK volunteer receives an Ebola vaccine at the Oxford Vaccine Group Centre for Clinical Vaccinology and Tropical Medicine (CCVTM) on September 17, 2014 in Oxford, England. (Photo by Steve Parsons-WPA Pool/Getty Images)
The question:
France, Japan, South Africa, Italy, Nigeria, Saudi Arabia, etc. have an #Ebola travel ban. Why doesn't U.S.?

— Charles C. Johnson (@ChuckCJohnson) October 9, 2014
The answer: Politically, the drumbeat for a U.S. travel ban on travelers from the affected countries Sierra Leone, Guinea and Liberia is getting louder. But there are several public health reasons why CDC director Dr. Tom Frieden and other officials are resisting the idea.
1. Anything that makes it harder for help to enter Ebola-ravaged countries (by, say, not allowing health workers to come back after volunteering), will only worsen the epidemic and make it more likely to spread to other countries in Africa.
2. While a travel ban may not affect most Americans or the U.S.'s national trade, it would have a devastating economic impact on the developing countries that could destabilize them politically, worsening their response to the virus.
3. It could motivate travelers from Guinea, Sierra Leone and Liberia to hide their country of origin, making it more difficult for government officials to track recent arrivals.
The question:
If Ebola is no threat because it's not an "airborne" disease, why all the dudes running around in hazmat suits with respirators?

— divadoll123 (@divadoll123) October 2, 2014
The answer: This is perhaps the one message various public health authorities are united on: Ebola is not airborne. Doctors and scientists have been fighting the disease since 1976, and based on the evidence they've collected, the virus is not spread by air, water or food (except by handling infected bushmeat).
Instead, officials say, there is evidence that the virus spreads via direct contact with an infected person or their body fluids like blood, vomit and diarrhea. That's why the people who are most at risk of contracting the disease are not, say, those who sat next to an Ebola patient on the plane, but those who cared for an Ebola patient or buried the body of someone who died of Ebola.
But the consensus among the scientific community isn't as clear cut. In addition to hypotheses from a few virologists who theorize that a mutation to become airborne is possible (but extremely unlikely), there are also a few controversial studies in animals that could suggest an unknown mode of transmission that hasn't been officially recognized yet, reports the New York Times.
In one from 1995, two monkeys contracted Ebola from a group of monkeys who did have Ebola -- despite the fact that they didn't have direct contact with each other. In another from 2012, a group of monkeys contracted a strain of Ebola from a group of pigs, again without any direct contact between the two groups.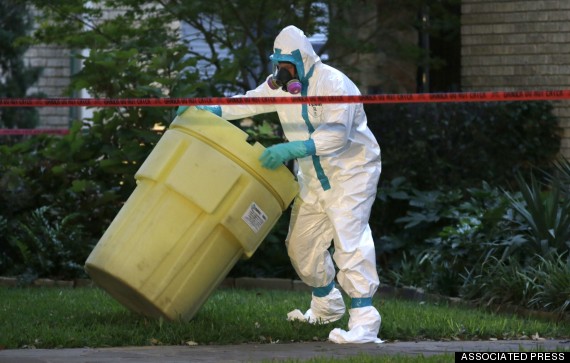 A hazmat worker moves a barrel while cleaning outside an apartment building of a hospital worker, Sunday, Oct. 12, 2014, in Dallas. (AP Photo/LM Otero)
The question:
WHO: Ebola death rate rises to 70 percent http://t.co/7aT4YjfzYg does this mean the virus has mutated to something even more deadly?

— Jillocity (@jj20101) October 14, 2014
The answer:As of Oct. 19, the number of people infected with Ebola is 9,936, and the number who have died is 4,877. But just because officials say this outbreak has a 70 percent mortality rate, it doesn't mean that the death rate has "risen."
Disease detectives on the ground are having a difficult time tracking all Ebola patients and their outcomes. While this outbreak's current mortality rate seems to be around 50 percent (what you get by dividing 4,493 by 8,997), the World Health Organization thinks the death rates are even higher based on the outcomes of patients they have been able to track from infection to outcome.
Based on the outcomes of 1,737 patients WHO was able to follow from the beginning to the end of their illness, the current outbreak actually has a 70 percent mortality rate, according to a study of the first nine months of the epidemic, published in the New England Journal of Medicine. The rate was consistent across all three countries that have been hit hardest by the virus. Among health workers, the mortality rates are 56.1 percent in Guinea, 68.4 percent for Sierra Leone and 80 percent in Liberia.
And on a related note… How do officials predict future Ebola infection numbers?

The answer: WHO predicts that if strong relief efforts don't turn the tide soon, there could be 20,000 Ebola cases by Nov. 2.
The way they do that is by taking past infection numbers from August and seeing what patient numbers will be if August's infection rates continue growing as they have been, explained WHO Ebola response team member and study co-author Prof. Christl Donnelly of Imperial College London.
The question:
I can't believe they killed Excalibur♥ ebola patient Nurse Maria Teresa Romero's dog♥
Couldn't they quarantine him? pic.twitter.com/xlh9QiIzQT

— Kodes100 (@Kodes100) October 9, 2014
The answer: The Spanish nurse who contracted Ebola from her patient had a dog named Excalibur. While he wasn't showing Ebola symptoms, public health officials in Spain euthanized him on the chance that he could pass the virus on to human beings.
Meanwhile, nurse Nina Pham's dog, Bentley, is being quarantined and cared for by several Dallas city agencies while Pham undergoes Ebola treatment at the NIH Clinical Center. The two divergent approaches reflect uncertainty about how exactly Ebola jumps from animals to humans, and whether dogs can be infected with Ebola.
In 2001 during an Ebola outbreak in Gabon, up to 25 percent of dogs from infected towns tested positive for Ebola antibodies, which means they had some of the virus to them, reports the Associated Press. But since Ebola-infected dogs don't seem to show symptoms, it's not clear what exactly needs to be done to dogs who may have been exposed to Ebola. Quarantine them the normal 21 days? Take daily temperature readings? In Bentley's case, only time will tell.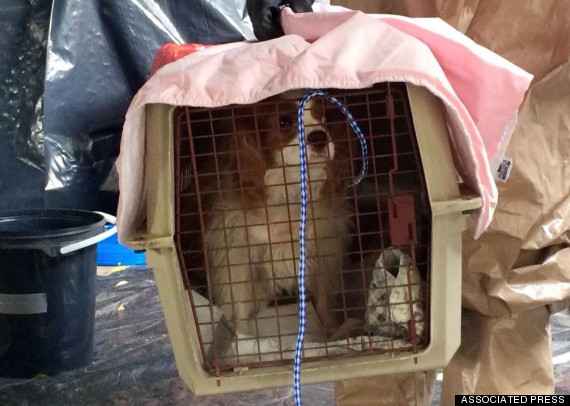 This Oct. 13, 2014, photo released via Twitter by the City of Dallas Public Information Managing Director Sana Syed shows Bentley in Dallas, the one-year-old King Charles Spaniel belonging to Nina Pham, the nurse who contracted Ebola. (AP Photo/Courtesy of Sana Syed/PIO, City of Dallas)
The question:
I'm honestly really scared of this Ebola virus. I fly almost every week. When are we going to get a handle on this?

— Kali Seitzer (@Inspire2belite) October 15, 2014
The answer: "Transmission needs to be reduced to under half its original level to turn this increasing trend into a decreasing trend," wrote WHO Ebola response team member and study co-author Prof. Christl Donnelly of Imperial College London in an email to HuffPost. "This is because, roughly, on average each early Ebola case transmitted [the virus] to two other people." At that rate, Donnelly explained, one case became two, which became four, which became eight Ebola patients.
"We need to push that [transmission] average down below one, even if we can't stop transmission altogether," in order to start turning the tide against Ebola, she concluded.
But when it comes to fear of the disease, some Americans' concerns may be misplaced. From 1976 to 2007, flu-related deaths have ranged from 3,000 to 49,000 people every year in the U.S. and 50,000 people are expected to contract HIV, another potentially deadly virus with no cure. Meanwhile, only four people in the U.S. have Ebola right now. So why do 45 percent of Americans worry that they or their loved ones may contract Ebola?
The answer, said Cornell psychology professor Valerie Reyna, is fear of the unknown, which produces more dread than a familiar fear. While that fear is rational, said Reyna to HuffPost's Carolyn Gregoire, certain social (media) contexts can multiply and amplify perceived threat, creating unnecessary hysteria. Public officials can calm fears, said Reyna, by being completely truthful -- especially about situations in which they're not sure of all the facts.
Have a question for Healthy Living? Get in touch here and we'll do our best to ask the experts and get back to you.
"Ask Healthy Living" is for informational purposes only and is not a substitute for medical advice. Please consult a qualified health care professional for personalized medical advice.
BEFORE YOU GO
PHOTO GALLERY
Symptoms of Ebola