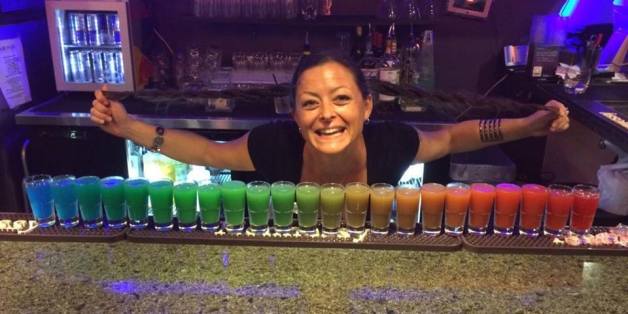 Believe it or not, the rainbow shot isn't made with snake oil and unicorn tears.
It's a vodka drink -- and not a very strong one, at that -- made by layering grenadine, sweet and sour mix, orange juice, vodka and blue curacao in a cocktail shaker. Each liquid has a different density, so if done right, they'll layer on top of each other and pour out all the colors of the rainbow in perfect order.
Of course Honolulu, Hawaii, the rainbow headquarters of the world, has fine-tuned the concoction. Air Park Karaoke Lounge's Christina Marchi shows how awesome (and easy) it looks below:
"It's easy for me," Marchi told HuffPost. But she's been a bartender for 11 years and has mastered the trick after practicing only twice. According to her, it comes down to proportion and construction: "You gotta keep that shaker full of ice."
It also helps to quickly empty the concoction into your shot glasses, as the ingredients don't stay stacked for long. "As soon as you pour the blue, you've gotta start dumping it or else the middle shot might look like doo doo," Marchi points out.
Since the vodka and curacao are the last to go in, the first few shots of violet to blue are the strongest. Basically, the rainbow shot is a vodka shot with a whole bunch of chasers.
"It's kind of cool if you get a big group of people, and there's that girl who doesn't want a strong shot," Marchi said. "People get to pick their favorite color." For the record, she likes the "peachy-looking ones the best. It's not a mess-you-up kind of shot -- it's for the show."
Roy G. Biv would be proud.
Want to read more from HuffPost Taste? Follow us on Twitter, Facebook, Pinterest and Tumblr.
BEFORE YOU GO
PHOTO GALLERY
Cocktail Twists