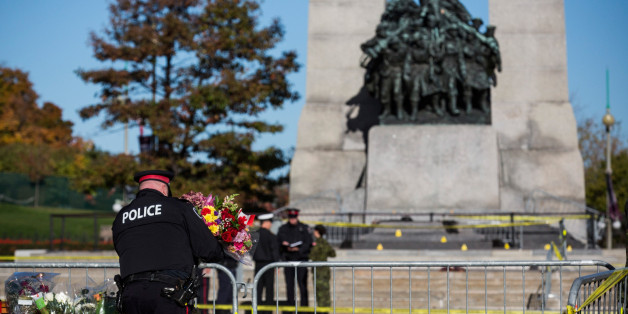 By Randall Palmer and David Ljunggren
OTTAWA, Oct 23 (Reuters) - The gunman in Wednesday's attack on Canada's capital Ottawa acted alone and there was no apparent link to an attack in Quebec earlier in the week, security officials said on Thursday.
Michael Zehaf-Bibeau, 32, was a Canadian citizen who may also have held Libyan citizenship, said Bob Paulson, commissioner of the Royal Canadian Mounted Police.
Bibeau killed a soldier before racing through the parliament building where he was shot dead. In the Quebec incident on Monday, Martin Rouleau, 25, rolled over two Canadian soldiers with his car, killing one, before he too was shot dead, police said.
"We have no information linking the two attacks this week," Paulson told reporters in Ottawa, which remained on high security alert on Thursday.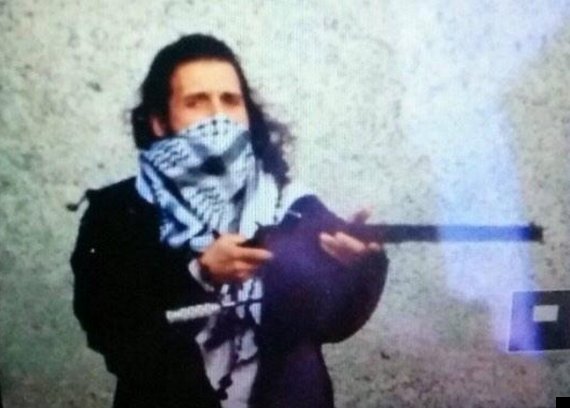 This photo purports to show Wednesday's suspected shooter, Michael Zehaf-Bibeau.
Bibeau had recently applied for a passport but checks by the Royal Canadian Mounted Police (RCMP) did not turn up any evidence of national security related criminality, although his criminal records indicated infractions related to drugs, violence and other criminal activities, Paulson said.
Police said he wanted to go to Syria. U.S. officials said on Wednesday they had been advised Bibeau was a convert to Islam, the same as the assailant in Monday's attack.
Underscoring tensions on Thursday, armed police arrested a man who tried to approach the shooting site just as Prime Minister Stephen Harper was laying a wreath to commemorate the slain soldier.
On Tuesday, Canada sent six warplanes to the Middle East to participate in U.S.-led air strikes against Islamic State militants who have taken over parts of Iraq.
Harper said the attack would only strengthen Canada's response to "terrorist organizations."
He pledged to speed up a plan already under way to bolster Canadian laws and police powers in the areas of "surveillance, detention and arrest."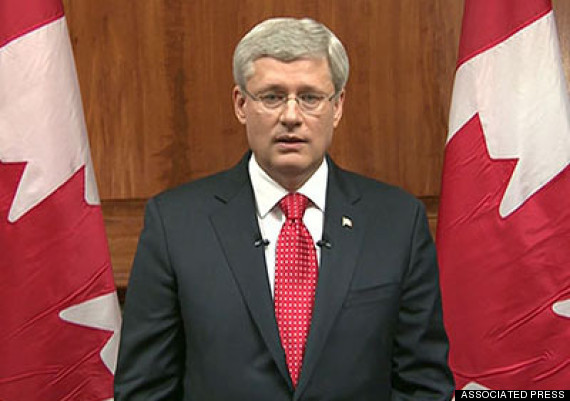 In this frame grab taken from video, Canada Prime Minister Stephen Harper speaks during a televised address to the nation in Ottawa, Ontario, Wednesday, Oct. 22, 2014. (AP Photo/APTN, Pool)
Tighter security was evident all over the sprawling parliamentary zone in downtown Ottawa. Armed officers stood outside the door where the gunman rushed in on Wednesday.
The flag flying over Parliament's Center Block, where the gunman had burst in on Wednesday morning, was at half mast and bullet holes could be seen in the carpet just inside the front door and in the masonry in the hallway where the soldier, Corporal Nathan Cirillo, 24, was shot.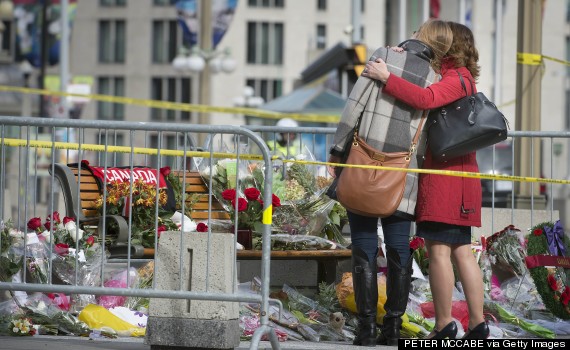 People pay their respects at National War Memorial on October 23, 2014, in Ottawa, the day after multiple shootings in the capital city and Parliament buildings left a soldier dead and others wounded. (Peter McCabe/AFP/Getty Images)
(Additional reporting by Leah Schnurr and Richard Valdmanis in Ottawa, Andrea Hopkins and Euan Rocha in Toronto and Julie Gordon in Vancouver; Writing by Scott Malone; Editing by Howard Goller)

BEFORE YOU GO
PHOTO GALLERY
Ottawa Shooting