Umbrellas have figured prominently in Chinese politics in recent weeks.
On Wednesday, a photograph of President Xi Jinping standing in the rain, pants rolled up above the ankles, protected by the canopy of a large black umbrella, won China's top photojournalism prize, the National News Award.
The photo, captured by the state-run Xinhua News Agency during a trip to Hebei province in July of 2013, first garnered international attention for its informality. The picture is somewhat dull, the setting undeniably dreary, but in a country where the media is closely monitored and image is everything, leaders are rarely caught looking so ordinary, let alone holding their own umbrellas.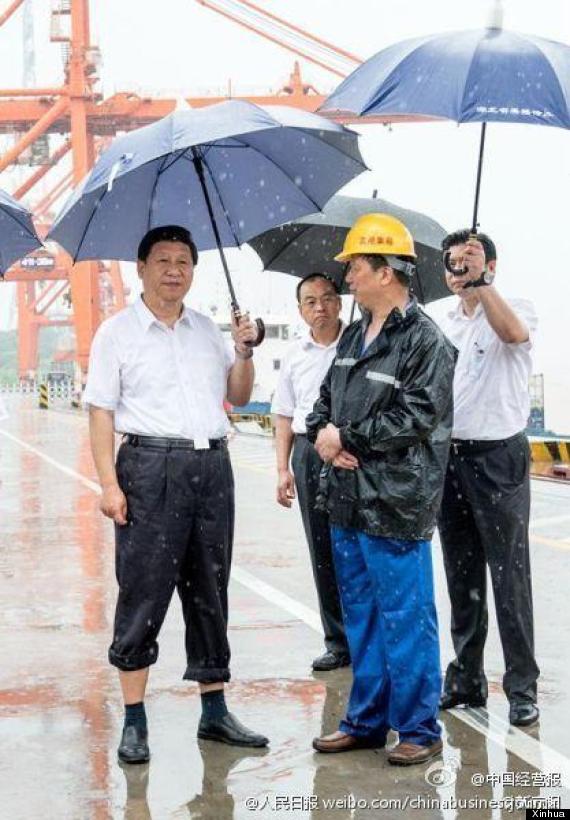 Still, the photo of Xi stands in stark contrast to the wrenching images of pro-democracy demonstrators shielding themselves from police pepper spray during mass protests in Hong Kong last month -- a movement the media has dubbed the "Umbrella Revolution."
Since the onset of the protests, the umbrella has quickly become a symbol for change in China, a call for freedom and democracy. The irony of the country's communist leader holding that symbol, and the image now winning a state-sponsored photojournalism prize, was not lost on everyone. Around the web, photoshopped memes could be seen of Xi holding a yellow umbrella, the color of the pro-democracy movement.
http://t.co/kHWIeRiWkY
Netizens have a field day with Xi Jinping umbrella picture.

Via @HongWrongBlog: #OccupyHK pic.twitter.com/IcBTpwsLh1

— Tom Grundy (@tomgrundy) October 23, 2014
H/T Washington Post
BEFORE YOU GO
PHOTO GALLERY
Journalist Protests