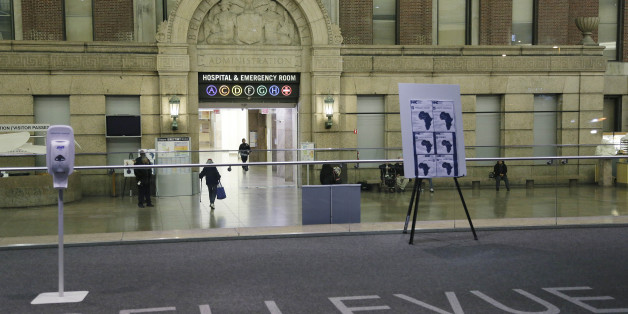 When officials suspected Dr. Craig Spencer might have Ebola, they sent two ambulances to his Harlem apartment to transport him to Bellevue Hospital, The New York Times reported.
Fully covered, specially trained EMS crew members brought Spencer from his apartment to an ambulance, and when the ride was over, they were cut out of their suits and the ambulance was immediately decontaminated.
Below, a New York Post video shows crews in protective suits being decontaminated at Bellevue Hospital on the day Spencer was transported. Story continues below.
"
It's a far cry from September, when emergency crews in Dallas transported Liberian man Thomas Eric Duncan to Texas Health Presbyterian Hospital Dallas.
Back then, the responding crew didn't even know they were meeting a potential Ebola case, and only put on protective equipment thanks to quick-thinking nursing assistant Youngor Jallah, the daughter of Duncan's girlfriend Louise Troh.
They were not specially trained to receive a such a patient, and the ambulance was sent back out to respond to more calls for 48 hours before it was properly decontaminated, according to the New York Post. Those patients that the ambulance had transported before being properly cleaned had to be added to the list of people public health officials monitored for 21 days (the maximum incubation period for the virus). One of them, a homeless man, briefly caused a citywide panic when officials couldn't locate him and monitor him.
Because of these multiple safety lapses, the Dallas crew was tested for Ebola (the results were negative) and underwent a 21-day self-quarantine to wait out the virus' incubation period.
The New York crew, on the other hand, has been cleared to continue working and living as normal because there was no contact with bodily fluids and there were no rips or tears in the protective gear, Israel Miranda, president of the union for city EMTs and paramedics, told the New York Daily News.
"They spray them down with a combination of bleach and water," Miranda told the Daily News. "They cut the suits from behind and peel it off like an onion. So the employee doesn't touch the outside of the suit at all."
So how are the two crews different? For one, New York's paramedics knew they were responding to a possible Ebola patient. As of Oct. 1, the Centers for Disease Control and Prevention has had guidelines in place for 9-1-1 responders to screen callers for patient travel history, so that emergency responders know what they're getting into. There are also safety protocol guidelines for EMS workers who are transporting a person with suspected or confirmed Ebola. Here are some of the main ones, per the CDC:
Limit medical interventions like airway management, CPR, the use of needles and other sharp objects.
Wear personal protective equipment (PPE) like gloves, fluid-resistant gowns, goggles or face shields, a face mask, and in some cases double gloves and disposable shoe and leg covers.
The mattress and pillow in the ambulance should be covered with plastic or another fluid-impermeable material.
If CPR, intubation or suctioning (all three of which bring health workers in contact with the nose and mouth of patients) needs to happen, wait until the vehicle is safely stopped or already at the hospital.
After transporting the patient, all PPE should be carefully removed according to the proper protocol and placed in a medical waste container in a hospital, or if that's not available, double-bagged and held in a secure location.
EMS crews should then wash their hands after taking off PPE.
The ambulance should then be cleaned and disinfected by a crew wearing the aforementioned PPE. They should also consider wearing rubber boots.
All surfaces and spills should be cleaned with an EPA-registered hospital disinfectant that is formulated for virus control.
BEFORE YOU GO
PHOTO GALLERY
Ebola In New York