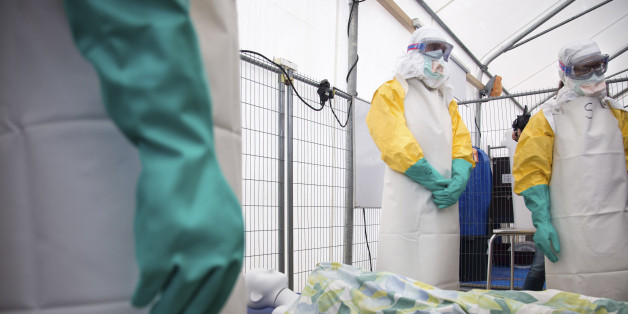 It's not yet clear how Dr. Craig Spencer came into direct contact with the Ebola virus when he was working with Doctors Without Borders/Médecins Sans Frontières (MSF) in Guinea.
What is clear, however, is that Spencer followed health monitoring protocols exactly as they're laid out by the organization, according to MSF.
"Extremely strict procedures are in place for staff dispatched to Ebola affected countries before, during, and after their assignments," said Sophie Delaunay, executive director of MSF in a press release. "Despite the strict protocols, risk cannot be completely eliminated. However, close post-assignment monitoring allows for early detection of cases and for swift isolation and medical management."
Per protocol, Spencer checked his temperature twice a day since returning to New York on Oct. 17, according to MSF. And when he detected a fever on the morning of Oct. 23 of 100.3 degrees Fahrenheit, he immediately contacted the organization, which then contacted The New York City Department of Health & Mental Hygiene with the news. The health department took over Spencer's care from there by sending a special ambulance to transport him to Bellevue Hospital, one of eight hospitals in the state that Gov. Andrew Cuomo had pre-designated to receive potential Ebola patients.
Here's a list of MSF's protocol for international staffers returning home after time in an Ebola-ravaged country:
Check temperature two times per day.
Finish regular course of malaria prophylaxis (malaria symptoms can mimic Ebola symptoms).
Be aware of relevant symptoms, such as fever.
Stay within four hours of a hospital with isolation facilities (if this isn't possible, MSF will accommodate staffers for the 21-day incubation period closer to a hospital).
Immediately contact the MSF-USA office if any relevant symptoms develop.
Additionally, MSF mandates that international staffers do not return to work until the 21-day incubation period is over -- partly out of an abundance of caution, and partly because the rigors of the trip have likely worn them down. MSF explains:
Field assignments are extremely challenging and people need to regain energy. In addition, people who return to work too quickly could catch a simple bacterial or viral infection (common cold, bronchitis, flu etc.) that may have symptoms similar to Ebola. This can create needless stress and anxiety for the person involved and his/her colleagues.
Unless staffers show symptoms, said MSF, "normal life can proceed."
"Family, friends, and neighbors can be assured that a returned staff person who does not present symptoms is not contagious and does not put them at risk," said MSF in the press release. "Self-quarantine is neither warranted nor recommended when a person is not displaying Ebola-like symptoms."
MSF notes that until Spencer's case, more than 700 international staff have worked in West Africa and returned without incident. However, some MSF staff have contracted Ebola, and not all of them survived. Three international staffers and 21 local staffers have tested positive for the virus since March, and 13 of them eventually died because of the virus, says MSF.
MSF is an international aid organization whose mission is to respond to medical crises in the world's most underserved areas: war zones, areas devastated by natural disaster or countries struggling with an out-of-control epidemic. There are approximately 30,000 staff members made up of local and international doctors, nurses, administrators and public health experts on any given day, according to the organization's website, and they're recruiting international staffers from a wide range of medical expertise on a rolling basis.
BEFORE YOU GO
PHOTO GALLERY
Ebola Outbreak