New polls show Democrat Michelle Nunn with the edge in Georgia and Sen. Jeanne Shaheen hanging on in New Hampshire. The American public remains deeply disaffected with politics. And is anyone actually watching the candidates debate? This is HuffPollster for Friday, October 24, 2014.
IN GEORGIA: CNN MAKES FIVE POLLS FAVORING NUNN - A new CNN/ORC poll gives Democrat Michelle Nunn a 47 to 44 percent edge against Republican Rep. David Perdue. This survey is the fifth in the past week to give Nunn a slight advantage, with earlier polling ranging between 1 and 3 percentages points. Twelve of 14 previous polls conducted since early September had given Perdue advantages ranging from 2 to 10 percentage points. [Insider Advantage, Pollster Georgia chart]
While polls have shifted in Nunn's favor, the HuffPost Pollster tracking model appears skeptical. The model's estimate, as of this writing, still gives Perdue a slight, 1.7 percent advantage (45.2 to 43.5 percent). Although it rates the probability of Perdue finishing first on November 4 at just 57 percent, barely better than a coin flip, the spread between the candidates is slightly more pessimistic for Nunn than the averages of other poll aggregators, such as Real Clear Politics (Nunn +0.9) and Daily Kos (Nunn +1.8) and FiveThirty Eight (Perdue +0.5). Even the classic Pollster regression trend estimate (now available via the "create your own" tab in each chart), gives Nunn a slight (1.2 percentage point) advantage.
Why the statistical caution? Until recent weeks, polling in Georgia has seen highly variable results, with relatively few polls from non-partisan firms without large house effects.The Pollster model's unique calibration feature aims to adjust the trend lines to match the trends shown by better performing non-partisan pollsters, but that list of such pollsters has been short in Georgia, including since August just SurveyUSA, CBS/Times/YouGov, the Atlanta Journal Constitution/Abt SRBI and now CNN/ORC. Only SurveyUSA so far has tracked from September through late October and their earlier polls help pull our model's estimate of the Nunn trend line down.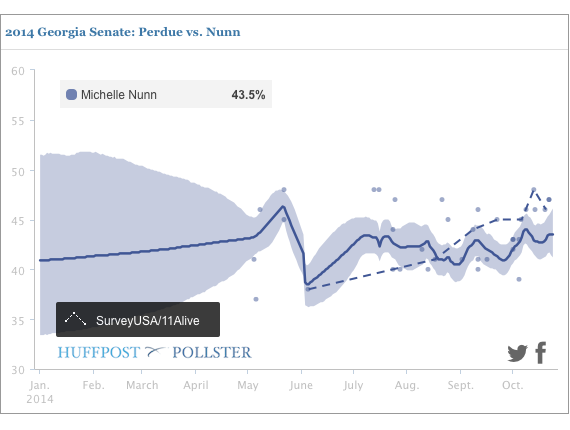 So, Nunn's current standing is likely better than our model's estimate, if the five most recent polls are accurate. Keep in mind, however, that the margin separating the candidates in Georgia on November 4 is somewhat beside the point. Unless the leader wins a majority of the Georgia vote (50 percent plus 1), Georgia will hold a runoff election between the two top finishers on January 6 to decide the ultimate winner. Our model estimates just over 4 percent support for Libertarian candidate Amanda Swafford in Georgia. If that vote holds, it would likely produce a run-off election, given the currently close contest between Nunn and Perdue on the various models.
Polls on a potential run-off have been rare so far. The CNN poll is the first since early October to test a two-way runoff match-up between Nunn and Perdue and the only poll since July to show Nunn running ahead (51 to 47) in that contest.
New Hampshire Senate - A handful of new polls show Sen. Jeanne Shaheen (D) continuing to cling to a slim edge over Scott Brown (R), with American Research Group putting her up by 1, CNN by 2 and UMass Lowell by 3. Shaheen's leading margins, while small, continue to be mostly consistent: just one of the 11 polls conducted since October has Brown ahead. The Pollster model gives Shaheen a 2.6 point advantage, and a 61 percent chance of winning. [New Hampshire chart]
Colorado Senate - A Quinnipiac University poll on Friday giving Cory Gardner (R) a 5-point lead over Sen. Mark Udall (D) is also the fifth in a row to show him ahead, by margins ranging from 1 to 7 points. The Pollster model, not yet updated to include the latest results, gives Gardner a 60 percent chance of winning. [Colorado chart]
Kansas Senate - An automated Rasmussen poll released Thursday gives independent Greg Orman (i) a 5-point lead over Sen. Pat Roberts (R), his best number since the beginning of the month. After an initial spate of polls showing Orman ahead when Democrat Chad Taylor dropped out of the race, other recent surveys had shown a much tighter race, with several giving Roberts the lead. The Pollster model has both candidates effectively tied. [Kansas chart]
National Outlook - The overall polling snapshot continues to lean to the Republicans but based on very narrow advantages in Colorado, Iowa and now Georgia. Democrats could retain their majority by winning all three contests, or by winning two of the three combined with a victory by Greg Orman in Kansas, provided that the independent would choose to caucus with the Democrats. Them model rates the probability of Republicans capturing at 61 percent, as of this writing. [HuffPost Senate Forecast]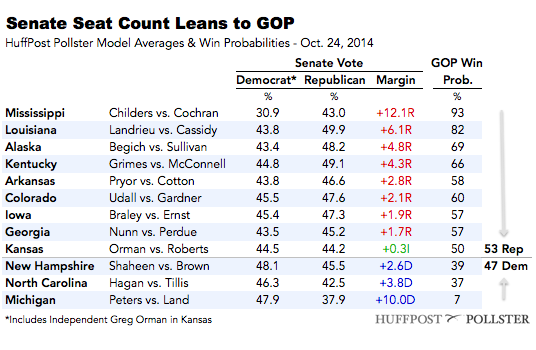 Wisconsin governor - A new Wisconsin Public Radio live interviewer poll conducted by St. Norbert's College finds a near tie among likely voters between Republican Gov. Scott Walker (47 percent) and Democratic challenger Mary Burke (46 percent) with just 6 percent undecided. That result is broadly consistent with other recent polls in Wisconsin which been consistent in showing a closer race and going back and forth on a nominal (but often statistically meaningless) leader. The current Pollster estimate is a virtual tie, with just 0.2 percentage points separating the two candidates -- 47.6 percent for Walker, 47.4 percent for Burke as of this writing. [WPR, Wisconsin chart]
Massachusetts governor - The latest tracking poll from the Boston Globe and Social Sphere Inc shows Republican Charlie Baker with a 9-point lead over Democrat Martha Coakley (46 to 36 percent). The new poll is by far the most favorable to Baker in recent weeks; other polls have shown a much closer race, including a MassINC/WBUR poll conducted in the last week that had Baker ahead by just a single percentage point (41 to 40 percent). The Pollster model now gives Baker an advantage of just over three percentage points, but is cautious about forecasting a winner, given the Republican just a 58 percent probability of winning. [Boston Globe, Massachusetts chart]
THE AMERICAN ELECTORATE IS DEEPLY UNHAPPY - Pew Research: "The latest national survey by the Pew Research Center, conducted Oct. 15-20 among 2,003 adults, including 1,494 registered voters, finds that neither party is especially popular with voters as they head into the midterms….This year's elections, like the previous two midterms, will take place against a backdrop of deep public dissatisfaction with national conditions….Voter frustration with members of Congress is currently even higher than it was 2010 or 2006….Yet unlike in those elections, when a single party controlled both the House and Senate, anti-incumbent sentiment now crosses party lines. Republican and Democratic voters are about equally likely to oppose the reelection of most representatives and their own member of Congress." The poll finds Republicans and Democrats virtually tied in the generic House race among likely voters, although members of the GOP are far more likely to be engaged with the midterms. [Pew]
FEW WATCHING MIDTERM DEBATES - HuffPollster: "In theory, at least, most people think debates are significant: Twenty percent say that they're very important, and 62 percent that they're at least somewhat important in determining their vote. Just 37 percent, however, report following coverage of any political debates this year even somewhat closely. Only 27 percent say they've actually watched or listened to a debate this year -- a figure that's likely much higher than the real number, since research finds people are far more likely to report watching a debate than they are to have actually done so….About a third of those who'd watched or listened to any debates this year -- just 9 percent of Americans as a whole -- said the events helped them make up their minds on who to vote for." [HuffPost]
HUFFPOLLSTER VIA EMAIL! - You can receive this daily update every weekday morning via email! Just click here, enter your email address, and and click "sign up." That's all there is to it (and you can unsubscribe anytime).
FRIDAY'S 'OUTLIERS' - Links to the best of news at the intersection of polling, politics and political data:
-Harry Enten says Iowa could be the crucial state on Election Day. [538]
-Nia-Malika Henderson looks at polling showing Democrats losing their edge among women. [WashPost]
-Just 9 percent of Americans are enthusiastic about the Obama administration. [WashPost]
-An experiment finds that women are less likely to speak up in groups where they're vastly outnumbered. [WashPost]
-A DC mayoral poll gives Muriel Bowser a 17-point lead. [Washington City Paper]