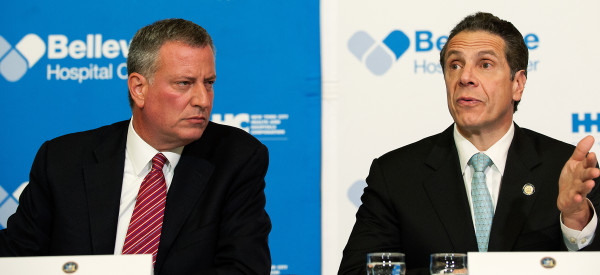 TOP STORIES
FIRST EBOLA CASE IN NEW YORK CITY "A doctor in New York City who recently returned from treating Ebola patients in Guinea became the first person in the city to test positive for the virus Thursday, setting off a search for anyone who might have come into contact with him. The doctor, Craig Spencer, was rushed to Bellevue Hospital Center and placed in isolation at the same time as investigators sought to retrace every step he had taken over the past several days." Here are the odds that you could catch Ebola on public transportation or from a bowling ball (spoiler alert: they're practically nonexistent). [NYT]

MALI CONFIRMS FIRST EBOLA CASE Patient zero in Mali is a two-year-old girl who was brought to the country from Guinea. The diagnosis makes Mali the sixth West African country with a confirmed case. [Reuters]
REPORT: ISIS USING CHLORINE GAS ON IRAQI FORCES "Dizzy, vomiting and struggling to breathe, 11 Iraqi police officers were rushed to a government hospital 50 miles north of the capital last month. The diagnosis: poisoning by chlorine gas. The perpetrators, according to the officers: Islamic State extremists. The chlorine attack appears to be the first confirmed use of chemical weapons by the Islamic State on the battlefield." [WaPo]
EU TO CUT CARBON EMISSIONS BY 2030 The 28 nations reached an agreement to cut their carbon emissions by 40% by 2030. [Reuters]
MORE DETAILS ON OTTAWA SHOOTER EMERGE "The Islamic convert that police say killed a soldier in Ottawa and then rampaged through Canada's parliament before being shot dead was a misfit and perhaps mentally ill, according to friends and family, while his troubled and transient past included robbery and drug offenses. Michael Zehaf-Bibeau, 32, a Canadian citizen, was identified by police on Thursday as the attacker in the incident that rocked Canada and sent shock waves abroad." In the aftermath of the shooting, officials are examining Parliament's security protocols. [Reuters]
BOKO HARAM KIDNAPS MORE NIGERIAN WOMEN Despite reports that the return of the 200 girls Boko Haram kidnapped in April was imminent, the terrorist group has continued to kidnap scores of women. [NYT]
SEARS TO CLOSE OVER 100 STORES Over 5,457 workers will lose their jobs. [Reuters]
ARE REPUBLICAN CANDIDATES FOR OR AGAINST MINIMUM WAGE? It's unclear from this season's midterm election debates. [HuffPost]
WHAT'S BREWING
A NETFLIX LOVE AFFAIR "Our first weeks together were full of late-night rendezvous. Each session was intense—we could go for three or four hours without stopping. Our favorite spots were in bed, on the couch, and sometimes in the kitchen. One night, my friend Carly even got in on the action. I had never tried anything like that before. Maybe it sounds weird, but when I saw the way she looked at "Friday Night Lights," I could just swear they had a history." [New Yorker]
COACH TAYLOR TURNS TO THE DARK SIDE The first trailer for Kyle Chandler's new original Netflix series, "Bloodline," upends his good-guy vibe in the first ten words. [HuffPost]
BEING A NIGHT OWL CAN BE THE BEST For starters, those who "burn the midnight oil" have a higher IQ on average. [HuffPost]
YOU'RE WORTH $2.5 MILLION Unless you are missing a kidney, then it goes down a bit. [Motherboard]
IKEA GOT ON THE STANDING DESK TRAIN Sitting is so 2013. [Refinery 29]
ON THE BLOG
DAVID WOOD: 'FOOTPRINTS IN THE SAND' "In a sense, [Veterans with Traumatic Brain Injury] become unseen. Out of uniform and not visibly wounded, many avoid social situations because they feel they can't keep up. Or they don't want to talk about painful war experiences. And while some credit the VA with caring and effective treatment, once they're finished it's not clear what more the VA can do, even if it had the resources. Little is known about the lingering effects of brain injury once veterans finish therapy and are out on their own." [HuffPost]
BEFORE YOU GO
~ Try to watch Mo'ne Davis' "throw like a girl" commercial with dry eyes.
~ Your refrigerator can now dispense candy.
~ We feel stressed watching the first trailer for Mark Wahlberg's "The Gambler."
~ Bette Midler covered "Waterfalls" and it's as good as you think it'd be.
~ There's another Grand Canyon, and it's not in Arizona.
~ Deadspin's rant about switchel destroys hipster culture.
~ Brad Pitt showed up on "Between Two Ferns," and while it doesn't top President Obama's appearance, it comes close.
~ Lauren Conrad chopped off her locks.
~ Meet the British colonel who first enlisted dogs in military efforts.
~ In case you missed it, here are some photos of the partial solar eclipse.
~ And you definitely had all of these songs on your first iPod, especially Eagle-Eye Cherry's "Save Tonight."
Send tips/quips/quotes/stories/photos/events/scoops to Lauren Weber at lauren.weber@huffingtonpost.com. Follow us on Twitter @LaurenWeberHP. And like what you're reading? Sign up here to get The Morning Email delivered to you.