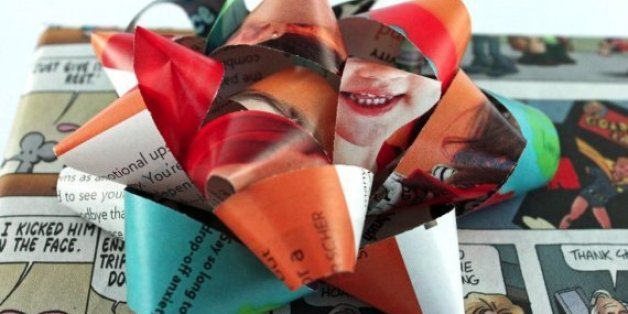 When it comes to your usual Christmas supplies, gift wrapping paper is always the quickest item to vanish into thin air. (Seriously, have they started putting less paper on those rolls?) Sometimes you didn't buy enough, other times you didn't want to spend the money, and then there are those times where you're in a major pinch...a.k.a. the night before Christmas.
Whatever the case, you're in luck -- there are plenty of crafty ways to spruce up your presents that will not only save you a trip to the store but that will make your gifts stand out, too. All you have to do is look around the house. Who knew all this time your old sweaters, grocery bags, cereal boxes and even junk mail could double as one-of-a-kind gift wrap?
We've partnered with Ziploc® brand, the brand that helps you conquer the craziness of the holidays. Scroll down for some creative DIY gift wrapping ideas that prove presentation is everything.
1. Recycled Cloth Gift Bag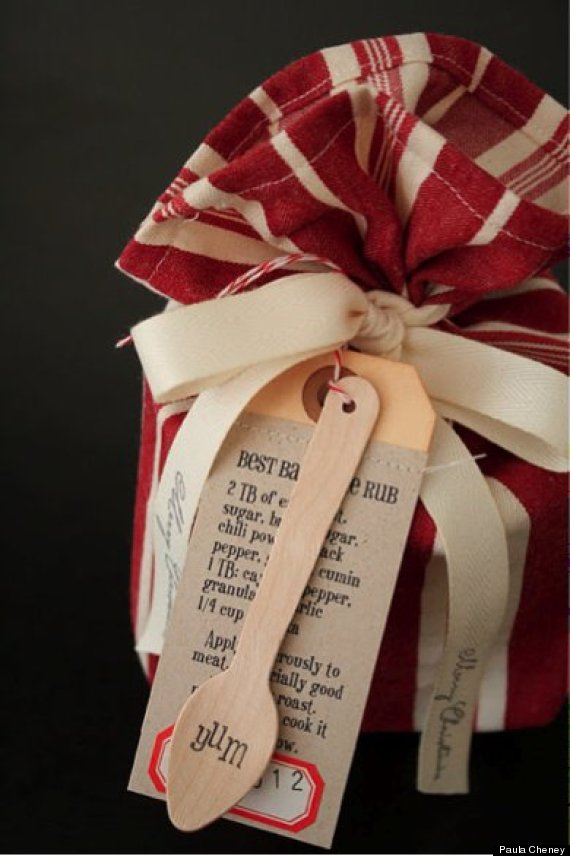 Dress up your delicious food gifts in a festive bag made simply by stitching cotton fabric from napkins, curtains or scraps.
2. Music Sheet Gift Bag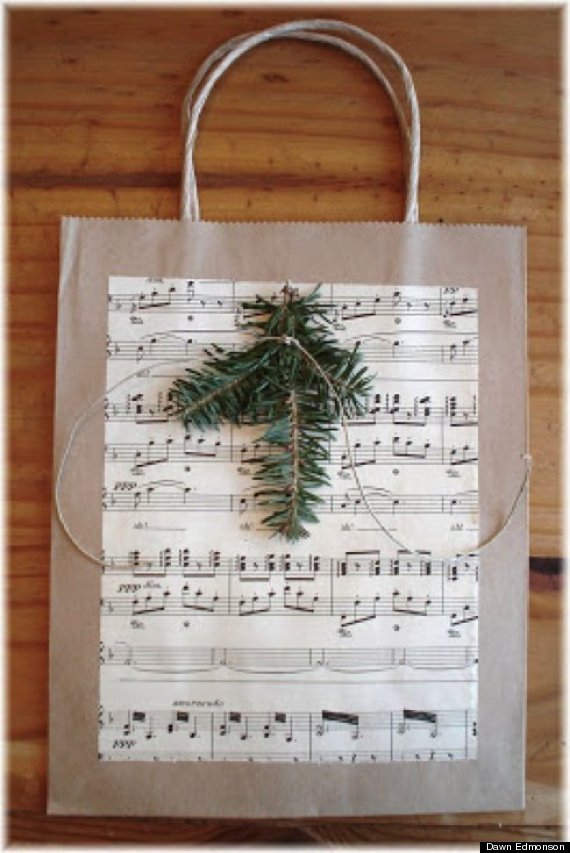 No need to buy a fancy gift bag when you can make a spectacular one in minutes. Embellish a plain shopping bag with greenery, music sheets and string.
3. Sweater Gift Bag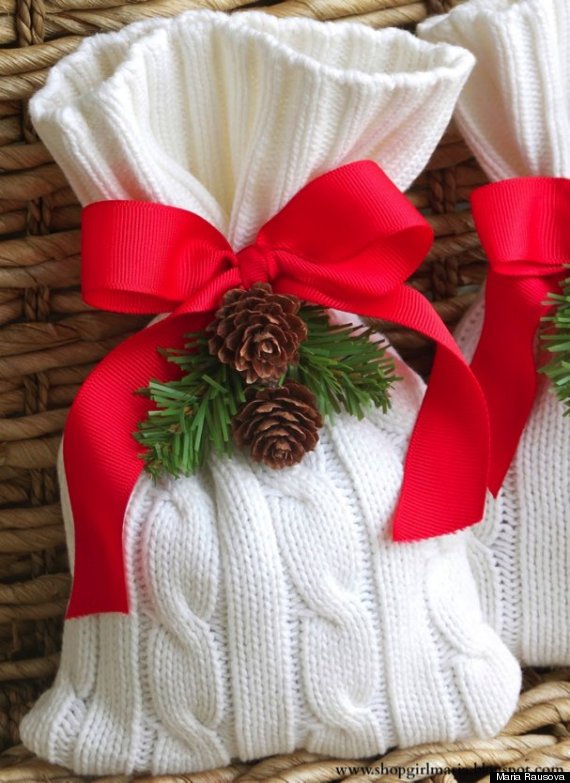 Here's a genius gift wrap idea that keeps gifts warm, cozy and festive -- and you can find it right inside your closet.
4. Festive Grocery Bag Wrapping Paper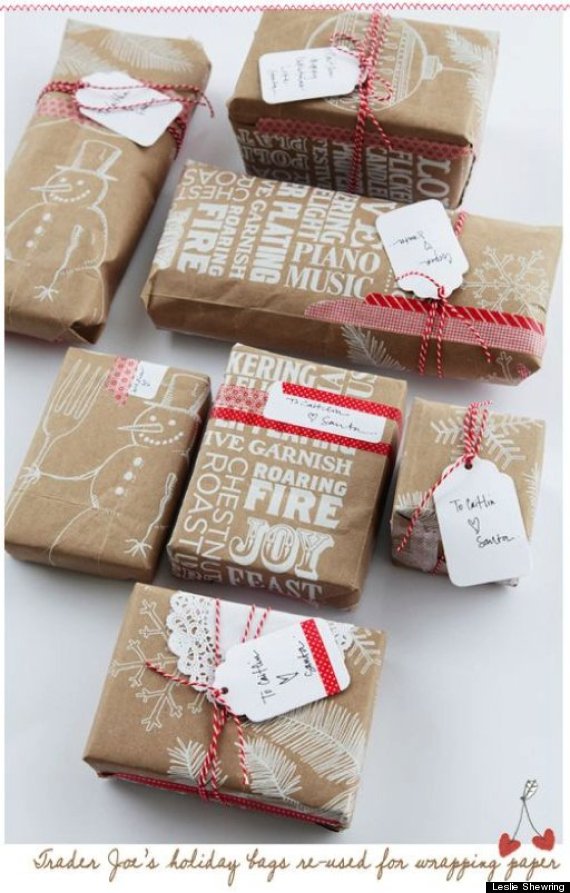 With some simple cutting, folding and colorful tape and twine trimmings, old paper grocery bags with seasonal illustrations (like these Trader Joes' ones) transform into the decorative gift wrap you've always wanted.
5. Printable Wrapping Paper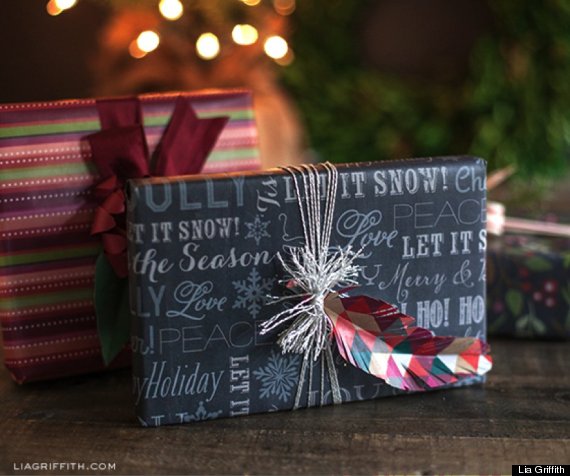 Express yourself with this sophisticated printable chalkboard gift wrap that looks like it cost you an arm and a leg. (We won't tell.)
6. Stamped Paper & Junk Mail Gift Wrap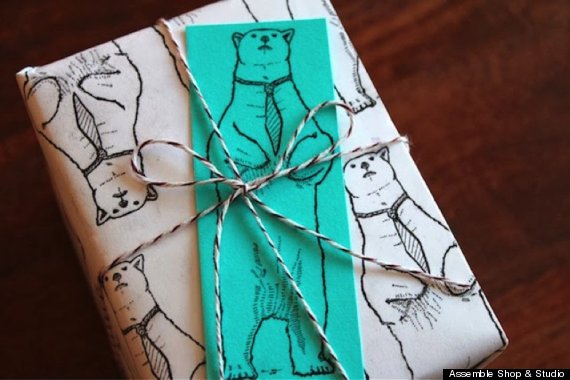 Regular old printer office paper, junk mail and a stamp are all you need to make this chic wrapping paper that'll get voted best dressed under the tree.
7. Vintage Scarf Wrap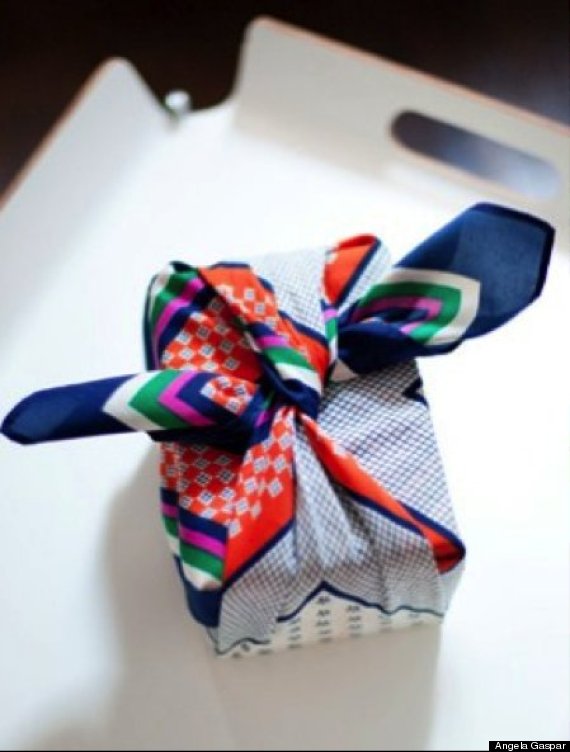 Here's an easy way to wrap your gift in style -- furoshiki style. Just grab a vintage scarf you no longer wear and follow this easy how-to for a pretty presentation that saves you time and money.
8. Newspaper Gift Bag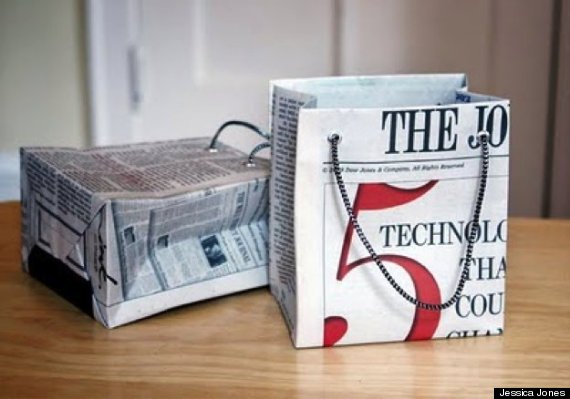 Start spreading the news -- you can even make your own paper gift bag without leaving the house. All you need? Two sheets of newspaper, cardstock, glue and cord.
9. Cereal Box Package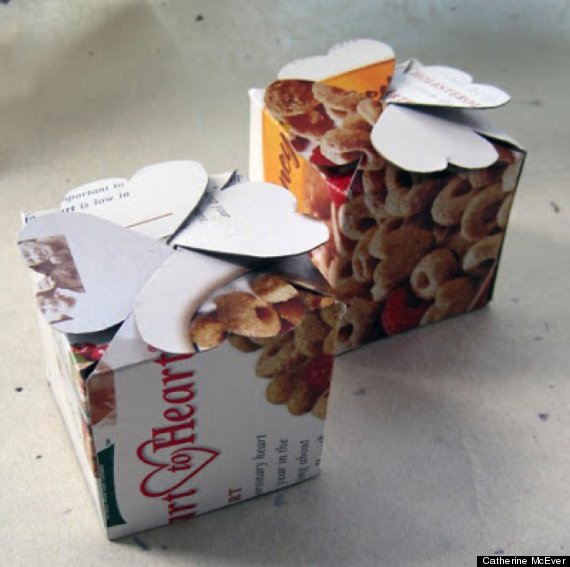 The colorful cardboard box that holds your family's favorite cereal can easily turn into a whimsical gift box with the help of this printable template. You'll never spend money on gift boxes again.
10. Decorative Plastic Container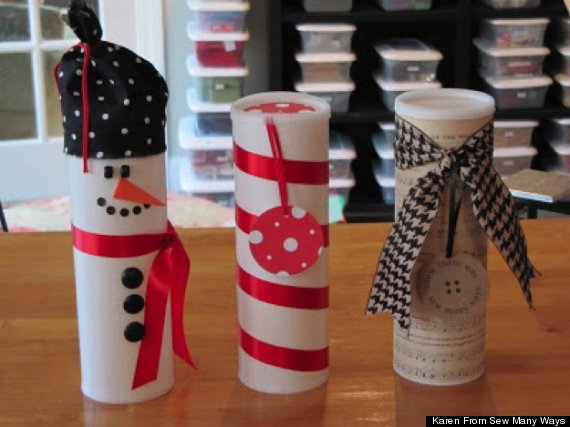 Forget trays or plates to showcase your homemade cookies. Fabric or paper scraps turn plastic juice (or even cylindrical potato chip containers) into jolly snowmen and personalized tubes.
11. DIY Word Search Wrapping Paper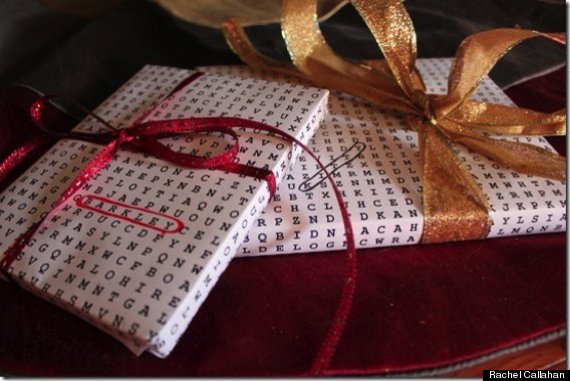 Want gift packaging that speaks volumes to your loved ones? The search for the perfect wrapping paper is over with this fun (and customized) idea you can craft in minutes.
12. Aluminum Foil Wrapping Paper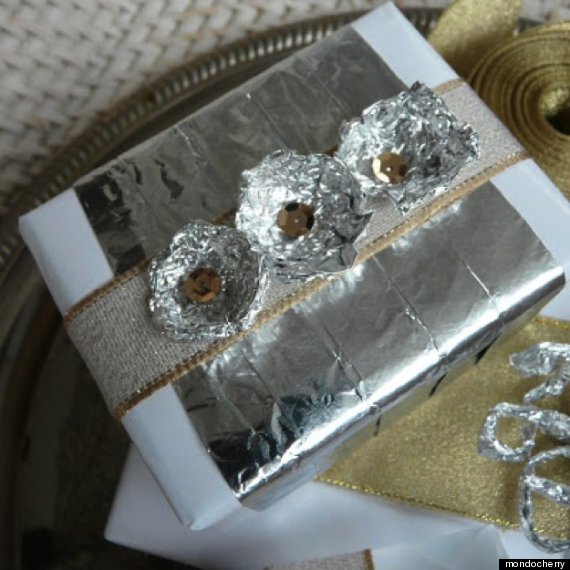 To make your white paper-wrapped gift shine in a pile of red and green presents, look no further than tin foil to get the job done.
13. Comic Section With A Magazine Bow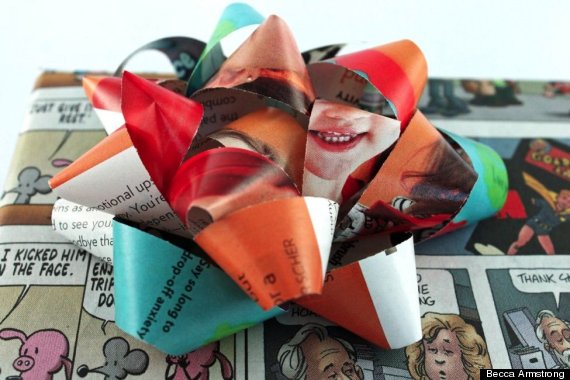 With the comic section of the newspaper you can create unique gift wrap that'll even give the recipient a good chuckle. Then to top it off with a colorful bow, use strips of magazine paper.
14. Cardboard Box With Felt Roses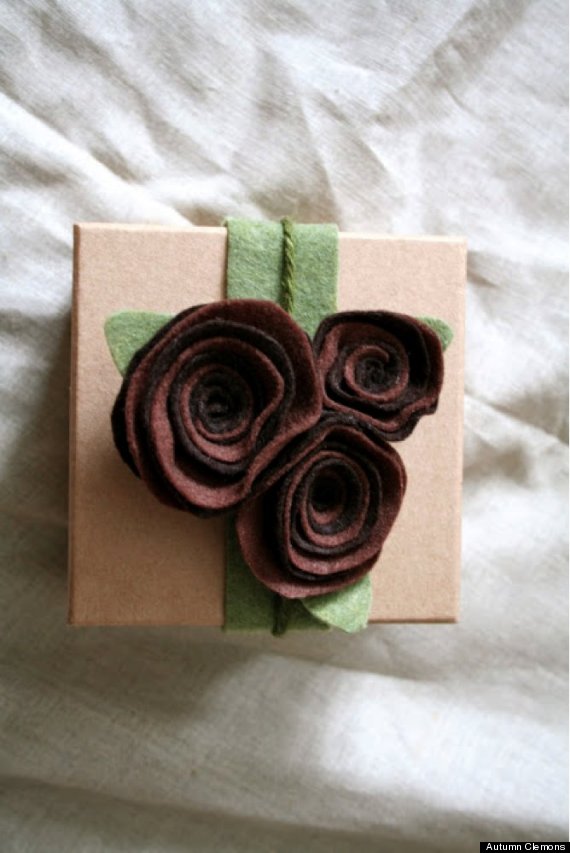 Have 20 minutes and some felt scraps? Add blooming roses to a plain cardboard box with some simple no-sew idea.
15. Ziploc® Holiday Containers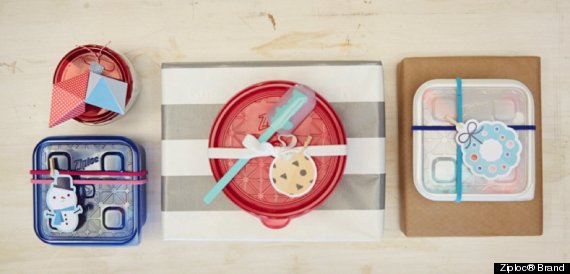 Finding the perfect gift is no easy task, but everyone appreciates a homemade touch. Wrap DIY presents like a pedicure kit or cookie mix in Ziploc® holiday collection containers, add a printable gift tag, and, voila, gifts in a snap!