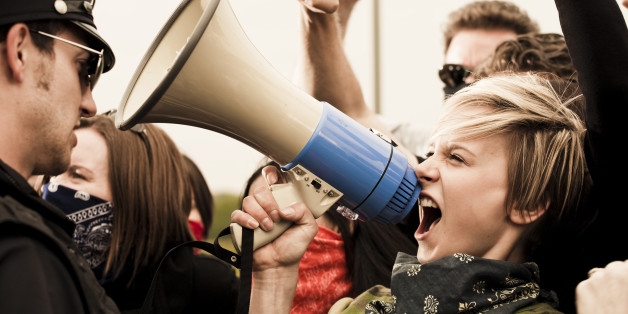 Youth unemployment is an urgent problem that affects nearly a quarter of the world's 15- to 24-year-olds. While fixing the problem in the long term may require large-scale interventions, such as closing the wealth gap, smaller-scale policy measures and local programs could offer millennials some relief -- not to mention boost the global economy, which has already lost billions due to high levels of jobless youth.
At a conference hosted by International House on Friday, policymakers, leaders of nongovernmental organizations and other experts put their heads together in search of answers. Here are five of the most promising suggestions for America:
1. Start investing in infrastructure.
"Some of the highest unemployment numbers are in construction," CNN host and Washington Post columnist Fareed Zakaria said at the conference. "We need to use the low borrowing rates right now to invest in infrastructure."
Construction was one of the industries hit hardest by the recession in 2008, and it still hasn't recovered. Ramping up demand for construction workers, who tend to be on the younger side and can be unskilled, would help the demographics that are suffering the most.
It also happens that buildings and roads in the U.S. are, in some places desperately, in need of help. The American Association of Civil Engineers gave the country a D+ rating on its infrastructure last year and estimates that poor roads will cost taxpayers $1.6 trillion by 2020.
2. End the Catch-22 of needing experience to get experience.
Millennials know all too well that frustrating situation of being turned away from an entry-level job for not having done the job before. How are you supposed to get experience if you don't, er, already have it?
"Thirty-three percent of youth [in the U.S.] are unemployed, and much of that is because they don't get work experiences early," said Andrew Moore, a senior fellow for the National League of Cities.
But not having enough job experience for even that first job may not be millennials' fault. "Expectations in the workplace have changed," said the Clinton Foundation's Madhuri Kommareddi. "Employers are putting less and less money into training employees, so entry-level jobs require more experience."
So how do you make businesses want to hire younger people?
One idea is to create city and state programs to sponsor kids' summer internships while they're still in school. Another, which Philadelphia Mayor Michael Nutter has been trying out, is to partner directly with business.
"It's an internship tax, a tax break for finding young people summer opportunities," said Jamira Burley, who oversees the Philadelphia Youth Commission. "The problem is making sure employers are actually giving young people real training. You need to train adults to be able to provide the right things."
3. Let more tourists visit America.
"Most countries encourage people to come and visit, and most countries have tourism offices to encourage them," Zakaria said. "The U.S. does the opposite. It tries to keep people out and only lets in 1 out of 20 people who apply for a visa because it's so afraid of terrorism."
It would be a big boost for the economy, he said, to loosen the visa process and allow more tourists to enter. According to Zakaria, tourists "spend $4,000 each on a trip." Concerns about foreigners entering the U.S. are exaggerated, he said: "When was the last time a Chinese person who came to the U.S. was a terrorist?"
More jobs in hospitality would specifically help young people, Zakaria said, because much hotel and restaurant work requires little education and few skills, but offers the chance to advance and eventually earn a good salary. "Do you know how much the maitre d' at the Waldorf Astoria makes a year?" he asked. "One hundred and fifty thousand dollars."
As productivity increases in countries like Mexico, where workers demand a lower wage than Americans do for the same task, industries like manufacturing have tended to move outside the U.S. Hospitality is more resistant to outsourcing since it's tied to a particular location.
4. Get rid of obstacles that shouldn't be obstacles.
"In cities where a large amount of youth are unemployed, there is often high involvement with the juvenile justice system," Moore said. That can haunt individuals even after they've served their punishment. "Expungement of juvenile records needs to work properly so being in the system doesn't hold them back," he said.
Juvenile records aren't the only problem this group of young people often face. "Many of these kids' families aren't connected to the regular banking system," said Moore. "So we've developed systems where we can pay kids with a debit card and automatically open a bank account for them."
Other programs in Philadelphia and Detroit seek to teach young people what it's like to operate in a work environment, from waking up on time to following instructions. Such skills may seem intuitive, but for youth who lack working family members as models, these habits are actually harder to acquire than one might think.
5. Young people need to vote.
In 2010, only 24 percent of young adults voted, and in 2012, with the inducement of a presidential race, just 45 percent voted.
"If young people voted consistently, they would be an irrepressible force in American politics," said Marc Morial, president of the National Urban League. "Policies that help baby boomers, for example, are the focus because politicians know that they vote. In the last 12 months, have we seen one hearing in Congress on youth unemployment?"
If young adults established themselves as a formidable voting demographic, they would likely see more policy initiatives protecting their interests and holding older generations accountable.
CORRECTION: This article previously suggested that International House was institutionally affiliated with Columbia University. The two are independent entities.
BEFORE YOU GO
PHOTO GALLERY
Forbes 400: America's Richest for 2014