The 2014 midterms are going down to the wire, but Republicans hold a slim edge in the states they need to take control of the Senate, new polling finds.
A set of NBC/Marist polls released Sunday find Republicans' numbers mostly on the upswing in the crucial swing states of Arkansas, Colorado, Iowa, Kansas and North Carolina, all of which remain within the margin of error. A sixth race, South Dakota, which briefly looked competitive, now seems to be firmly in the Republican camp. The GOP needs to win a net total of six seats to retake the Senate.
The results of online panel surveys conducted by YouGov for The New York Times and CBS, also released Sunday, show a similar national environment, although with more stability in most races. The panel, which re-interviewed voters who'd previously been asked who they supported, found that 90 percent hadn't changed their minds. The small amount of change, mostly among undecided voters, didn't lean particularly toward either party, YouGov found.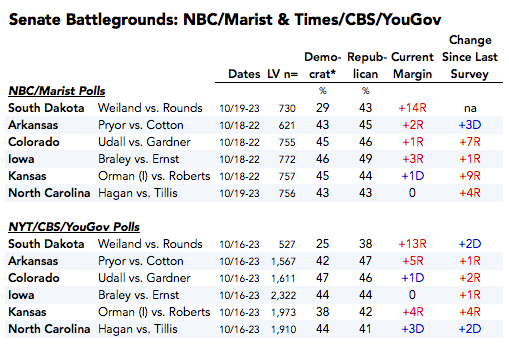 Both sets of polls, however, found movement in the relatively volatile but potentially crucial Kansas Senate race. NBC/Marist's last look at the race found independent Greg Orman ahead of Sen. Pat Roberts (R-Kansas) by 10 points, higher than in any other survey before or since, while their latest has him sinking to just a 1-point edge, 45 to 44. In the CBS/NYT/YouGov poll, previously undecided respondents shifted a net 5.5 points toward Roberts, giving him a 4-point lead over Orman. Other polls have similarly shown a narrowing race after an initial burst of enthusiasm for Orman, though most of the surveys released in the last half of October find him holding onto a narrow edge. HuffPost Pollster's Senate model finds essentially even odds of either candidate winning.
Among the close races looking most promising for Democrats is North Carolina, where most polling continues to give Sen. Kay Hagan (D-N.C.) a tenuous advantage over Republican challenger Thom Tillis. Both new polls show slight shifts in the race, though in opposite directions: NBC/Marist sees a 4-point Hagan advantage narrowing to a tie, while CBS/NYT/YouGov, which previously had her up 1 point, now has her up by 3. The Pollster forecast gives Hagan an edge of less than 2 points and a 56 percent chance of victory.
The campaign in Colorado has been the focus of much recent attention, with some Democrats arguing that public polling underrepresents the strength of Latinos and doesn't account for the state's new all-mail voting system. While several recent surveys gave Rep. Cory Gardner (R-Colo.) a solid lead over incumbent Sen. Mark Udall (D-Colo.), the newest polling shows the race is still competitive, with the candidates within 1 point of each other. In the case of NBC/Marist, however, that represents a significant swing away from Udall, who led by 6 points in an early September survey and now trails by 1.
This weekend's polls also find a close race in Iowa: CBS/NYT/YouGov has Republican Joni Ernst and Democrat Bruce Braley tied at 44 percent, while NBC/Marist has Ernst holding close to steady with a 3-point edge, 49 to 46. The Pollster model gives her a 55 percent chance of winning.
Arkansas, meanwhile, continues to look like a pickup opportunity for the GOP, with Sen. Mark Pryor (D-Ark.) trailing Rep. Tom Cotton (R-Ark.) in every nonpartisan poll released this month. In an exception to the trend in their other polls, NBC/Marist shows Cotton up by just 2, down from a 5-point lead in September. CBS/NYT/YouGov, which had Cotton ahead by 4 points earlier this month, has him up by 5. The Pollster average gives Cotton a 64 percent chance of winning in November.
NBC/Marist's polling also highlights the difficult battleground political environment for Democrats, with President Barack Obama's approval rating at 40 percent or below in each of the states surveyed -- lower than his national rating, which has remained steady at about 42 percent. A separate national poll released Sunday by The Washington Post and ABC finds the public disaffected with both parties, giving Democrats in Congress their lowest rating in 20 years. Congressional Republicans received an even lower -- though not record-breaking -- score, while a new NBC/Wall Street Journal/Annenberg poll has voters more likely to say that their negative views of Democrats are increasing.
The NBC/Marist polls used live calls to landlines and cell phones to survey likely voters in Arkansas, Colorado, Iowa, Kansas, North Carolina and South Dakota between Oct. 18-23. The CBS/NYT/YouGov poll was conducted Oct. 16-23 using a sample selected from YouGov's opt-in online panel to match the demographics and other characteristics of the adult U.S. population. Factors considered include age, race, gender, education, employment, income, marital status, number of children, voter registration, time and location of Internet access, interest in politics, religion and church attendance.
BEFORE YOU GO
PHOTO GALLERY
Senate Seats Up For Grabs In 2014