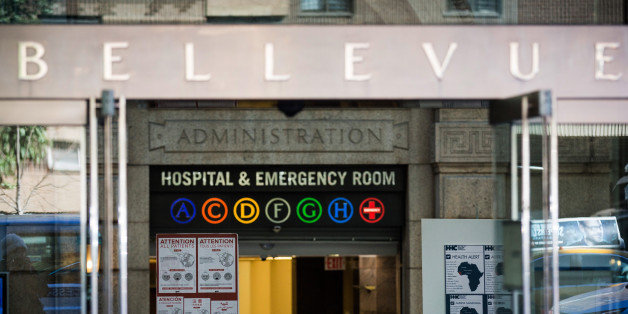 UPDATED 10/28: The 5-year-old who was brought to Bellevue Hospital on Sunday night over Ebola concerns has been fully cleared and will be removed from isolation after testing negative for the virus, the New York City health department reported.
His fever was instead caused by a respiratory virus, and he will continue to receive care at the hospital.
* * *
The 5-year-old boy who was being observed at Bellevue Hospital in New York City for Ebola has tested negative for the virus, the city health department announced Monday.
The boy, who had arrived from the Ebola-hit West African country of Guinea on Saturday, was brought to the hospital Sunday night. The NYC Department of Health and Human Services explained in a statement that while under observation at the hospital, he developed a fever at 7 a.m. on Monday.
Even though the boy tested negative for the virus, out of an abundance of caution, he won't be released from isolation until further tests corroborate this first one, the health department said. He will also undergo respiratory virus testing.
Even before the test results, the health department's so-called "disease detectives" had already begun tracking down contacts of the boy to determine their risk for Ebola.
New York City saw its first case of Ebola last week. Dr. Craig Spencer, who was working in Guinea with Doctors Without Borders, is currently being treated at Bellevue Hospital. He has received antiviral therapy and plasma therapy, in addition to the required supportive therapy, since testing positive for the virus Thursday. Spencer had been self-monitoring potential symptoms since returning from Guinea, and reported a fever of 100.3 degrees on Thursday.
BEFORE YOU GO
PHOTO GALLERY
Ebola In New York