With a little over a week before Americans vote, polls continue to tip to a Republican Senate majority. Disapproval of Congressional Democrats grows. And at least 7.6 million Americans have already voted. This is HuffPollster for Monday, October 27, 2014.
NEW POLLS: SENATE STILL LEANING REPUBLICAN - A deluge of new polls released on Sunday continues to show the contest for control of the U.S. Senate leaning to the Republicans but just close enough that Democrats maintain a plausible if difficult path to holding their majority.
On Sunday, NBC News and Marist published results from polls in six key Senate battlegrounds and The New York Times and CBS News released results from their massive YouGov panel survey of all 33 Senate contests.
The net result is a 63 percent chance of Republicans gaining a Senate majority according to HuffPost Pollster's survey based forecast, roughly the same probability it has been showing for the past two weeks. Republicans hold at least nominal leads in enough states to achieve a 53 seat majority, although their advantage in four of those states -- Georgia, Kansas, Iowa and Colorado -- currently stands at less than 3 percentages points, within the range of potential late shifts and polling error. At the same time, however, Democratic incumbents hold nominal leads in two more states -- North Carolina and New Hampshire -- by similarly tenuous margins.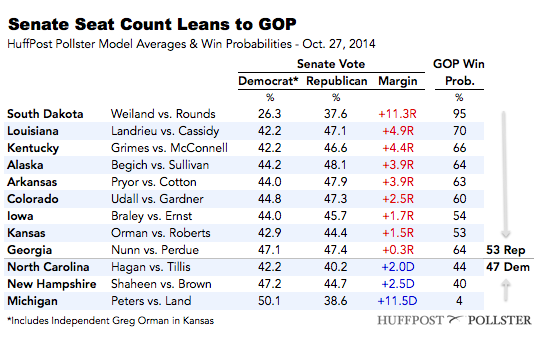 NBC News characterized the latest readings of the Marist polls as showing a swing in "momentum..in the Republican Party's direction," citing shifts in the GOP direction in four of five states they had polled previously. Two of the largest shifts they measured, however, came in Kansas and Colorado, where their previous polls had been much less favorable to Republican candidates than those of other organizations.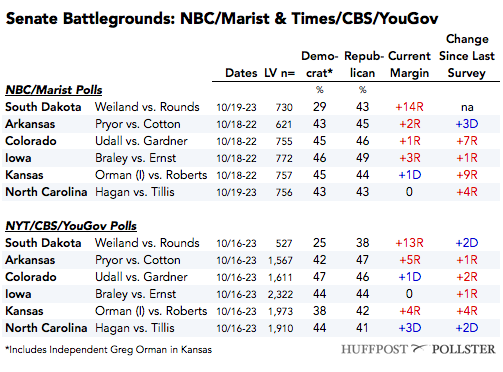 The YouGov tracking polls generally showed more stability. The respondents for their most recent surveys had all been interviewed previously, and 90 percent nationwide had not changed their minds about which Senate candidate they support. The shifts, which came mostly from previously undecided voters, did not lean toward either party.
HuffPollster's poll tracking model, based on all public polls, had shown Republican prospects increasing gradually throughout the fall in six of the battleground states -- Louisiana, Alaska, Arkansas, Colorado, Iowa and New Hampshire -- but over the past two weeks the probability of a Republican win in these states has been mostly stable.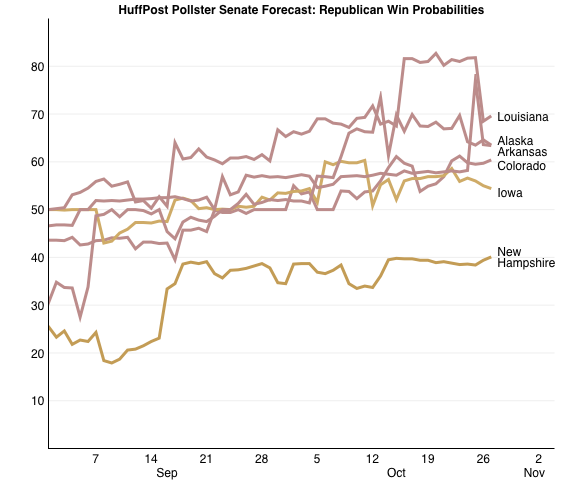 Among the races polled - HuffPollster: "NBC/Marist's last look at the [Kansas] race found independent Greg Orman ahead of Sen. Pat Roberts (R-Kansas) by 10 points, higher than in any other survey before or since, while their latest has him sinking to just a 1-point edge, 45 to 44. In the CBS/NYT/YouGov poll, previously undecided respondents shifted a net 5.5 points toward Roberts, giving him a 4-point lead over Orman. Other polls have similarly shown a narrowing race after an initial burst of enthusiasm for Orman, though most of the surveys released in the last half of October find him holding onto a narrow edge. HuffPost Pollster's Senate model finds essentially even odds of either candidate winning….Among the close races looking most promising for Democrats is North Carolina, where most polling continues to give Sen. Kay Hagan (D-N.C.) a tenuous advantage over Republican challenger Thom Tillis. Both new polls show slight shifts in the race, though in opposite directions: NBC/Marist sees a 4-point Hagan advantage narrowing to a tie, while CBS/NYT/YouGov, which previously had her up 1 point, now has her up by 3....While several recent [Colorado] surveys gave Rep. Cory Gardner (R-Colo.) a solid lead over incumbent Sen. Mark Udall (D-Colo.), the newest polling shows the race is still competitive, with the candidates within 1 point of each other….This weekend's polls also find a close race in Iowa." [HuffPost]
Georgia: what chance of a runoff? - As of Monday morning, the assessment of the Georgia Senate race produced by the HuffPollster tracking model combines polling on the November 4 primary election and the potential run-off that will occur on January 6 if no candidate wins a majority (50 percent plus 1) in the primary. Pollster's chart on primary vote preference currently gives Rep. David Perdue (R-Ga.) a roughly 2 percentage point edge over and Democrat Michelle Nunn, but it also estimates support for Libertarian Amanda Swafford at slightly under 4 percentage points, just enough to make a January run-off election appear about as likely as not (49 percent according to our model). HuffPollster's new chart, based on the more sparse polling of a two-way race between just Perdue and Nunn, shows a near tie, with an edge of less than a percentage point favoring Perdue as of this writing. The model gives Perdue a 64 percent chance of being the ultimate winner, which combines his probability of prevailing in a runoff with is chances of winning a majority of the votes cast on November 4.
EARLY VOTING ENTERS ITS FINAL STRETCH - Michael P. McDonald: "The last week of early voting -- and the last week before the election -- is upon us. As of Sunday, Oct. 26 over 7.6 million people have voted. If past patterns hold true, the number of voters will ramp up at an increasing rate as we enter the final stretch into Election Day….In-person early voting is the voting method of choice for Democrats. Predictably, when the in-person early voting period started in states with dual methods of early voting, the partisan composition of the electorate shifted in the Democrats' direction….The strongest signal from the early vote is that there will be higher turnout in key races. I cautioned previously, one should not project national polls' relative enthusiasm -- or, related, party preference among likely voters -- onto these races since we will likely see lower turnout elsewhere."
[HuffPost]
RECORD DISAPPROVAL FOR CONGRESSIONAL DEMS - Gary Langer: "With congressional elections virtually upon us, public disapproval of the Democrats in Congress has hit a new high in ABC News/Washington Post polls dating back 20 years. And disapproval of their Republican counterparts – while not a record – is even higher. Congress overall, for its part, has a 20 percent approval rating, one of its worst heading into a midterm election in polling dating back even farther, to 1974. With something there for nearly everyone to dislike, a bipartisan 77 percent disapprove of its job performance….The results sum up the public's broad political discontent and send another ominous signal to the Democrats, whose favorability rating, another measure of public sentiment, fell to a 30-year low in a recent ABC/Post poll. (The GOP again rated even lower, albeit not at a record low.)" [ABC]
HUFFPOLLSTER VIA EMAIL! - You can receive this daily update every weekday morning via email! Just click here, enter your email address, and and click "sign up." That's all there is to it (and you can unsubscribe anytime).
MONDAY'S 'OUTLIERS' - Links to the best of news at the intersection of polling, politics and political data:
-Kennedy Elliott and Scott Clement share an interactive graphic measuring the midterm turnout for different demographic groups. [WashPost]
-Americans don't expect an end to gridlock, no matter who wins the Senate. [YouGov]
-Democracy Corps (D) finds a tied generic House race among likely voters. [DemCorps]
-Voter expectations favor the incumbents in Kansas, Kentucky and New Hampshire. [NYTimes]
-Nate Cohn expects Democrats to pick up several gubernatorial seats. [NYT]
-Elon University pollster Jason Husser examines underlying issues at work in the North Carolina Senate race. [Brookings]
-Jesse Richman and David Earnest ask how many non-citizens vote. [WashPost]
-Harry Enten and Nate Silver look into a disappearing Rasmussen poll. [538]
-Sam Brownback blames bad polling results on the World Series. [TPM]
-David Jarman aggregates Times/CBS/YouGov data on a set of policy questions across all 50 states. [DailyKos]
-Nearly two thirds of Americans say ISIS poses an important threat. [AP]
-Brendan Nyhan reports that people are exposed to more diverse and centrist news than what they tell pollsters. [NYT]
-Anzalone Liszt Grove Research launches its "Beat the Pollsters" contest for 2014. [ALG]
-Which Senate race are you? [WashPost]
CORRECTION: An earlier version of this post misstated the probability of a Georgia runoff. As of Monday morning, it was 49 percent, not 60 percent.
BEFORE YOU GO
PHOTO GALLERY
Great Political Names