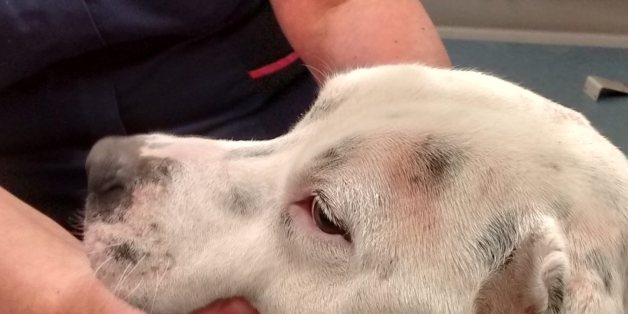 A Staffordshire bull terrier named Ziggy cheated death and survived having a 20-inch crossbow bolt shot straight through his head.
Ziggy was apparently left for dead after he was shot and deserted in Wansford, Peterborough in England last week, according to The Telegraph.
See GRAPHIC photos of Ziggy below
PHOTO GALLERY
Dog Gets a Bolt Through Head
Photo agency SWNS reports that the 2-year-old Staffie was discovered by two passersby walking in the remote woodland area where Ziggy is believed to have been wandering for at least two days.
"Despite this bolt going straight through Ziggy's head it miraculously missed his brain, ear capsule and eyes - I could not quite believe it," RSPCA spokesperson Justin Stubbs said, according to the Western Daily Press. "Whoever did this took a very intentional shot at very close range. Ziggy must have moved at just the right distance right at the last minute."
Ziggy was rushed to the vet where he had successful surgery to remove the bolt.
He is now in recovery.
Like Us On Facebook |

Follow Us On Twitter |

Contact The Author