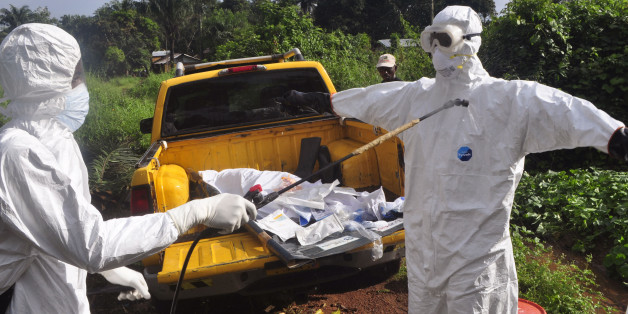 WASHINGTON -- Since 2009, British doctor Javid Abdelmoneim has gone into the field five times through Doctors Without Borders, providing medical care in countries such as Iraq, South Sudan and Haiti. But if a future mission to Ebola-stricken West Africa means that he'd be forced into a strict hospital quarantine, he's not so sure he would go.
"If I knew that the UK would wish to quarantine me for my incubation if I went to or returned from the field again, then I would certainly just take a beach holiday instead of coming back, or simply stay in Brussels and help train outgoing members of staff rather than be quarantined," said Abdelmoneim, who recently spent nearly four weeks treating Ebola patients in Sierra Leone.
Abdelmoneim said he was "baffled" by the way the state of New Jersey treated nurse Kaci Hickox after she returned from West Africa. Hickox, who was quarantined in a tent behind a hospital for three days, has become the face of the controversy surrounding New Jersey's and New York's strict quarantine policies on Americans who have had direct contact with Ebola patients in African countries.
Over the weekend, the medical community took New Jersey Gov. Chris Christie and New York Gov. Andrew Cuomo to task for their states' restrictions. On Sunday, the governors clarified that the mandatory 21-day quarantine periods could be spent at home, rather than in the hospital. Other states have implemented this policy as well, to varying degrees.
Abdelmoneim, who trained in Brussels with Hickox, said the at-home policy was still not medically necessary, though it was an improvement. "Would I have not gone if this was the case? Yes, I would have gone. [Doctors Without Borders] always asked us not to work and rest during the incubation anyway," he told The Huffington Post.
Even after the governors clarified their quarantine policies, however, Doctors Without Borders blasted the measures as panic-driven.
"Any regulation not based on scientific medical grounds, which would isolate healthy aid workers, will very likely serve as a disincentive to others to combat the epidemic at its source, in West Africa," said Sophie Delaunay, the U.S. director of Doctors Without Borders, in a press release Monday.
Public health experts and government officials say that since Ebola can't be transmitted before an infected person is showing symptoms, there is no medical reason to quarantine health care workers if they're not sick. They say travel bans and quarantines could discourage health workers from traveling to West Africa, thereby hindering efforts to fight the epidemic at its source.
Harman Boparai, who is completing his residency in the Department of Anesthesiology at NewYork-Presbyterian Hospital and could be cleared to volunteer in an Ebola-stricken country if his program sees fit, said the at-home policy "is better, but it's still a deterrent to volunteering that I would consider in making a decision to work in Ebola-affected countries."
U.S. organizations sending volunteers have also slammed states for changing their policies in a last-minute manner. Franklin Graham, president of Samaritan's Purse, a Christian relief organization aiding Ebola patients in Liberia, said, "The recent quarantine protocols set in place by the states of New York, New Jersey and Illinois, have created more confusion, which adds to the complications of health care workers returning from West Africa."
Megan Vitek is set to fly to Liberia next week, where she will work for six weeks as a clinical nurse at an Ebola treatment facility run by the American charity International Medical Corps. She told HuffPost that the prospect of a quarantine on return was unfortunate, but it wouldn't stop her.
"It's something I feel called to do," said Vitek, 29, who added that a quarantine at her home in Washington, D.C. would be much better than being confined at a hospital. She said she'd be less inclined to visit West Africa to fight Ebola if she had responsibilities such as kids and a mortgage, suggesting that officials should reconsider adding additional barriers.
"There's already so many limiting factors, the main one being you could get Ebola and die from it," Vitek said. "Then to add on top of that, 'We're also going to cut you off from seeing your family and loved ones' -- I think that's kind of unfortunate."
She added, "There aren't that many kickbacks for going over."

BEFORE YOU GO
PHOTO GALLERY
Ebola Symptoms