Poor residents in Greensboro may soon be getting a new lease on life, and all it will take is a little bit of elbow grease.
The North Carolina city is the latest to move forward with plans to create tiny homes for some of its residents living in extreme poverty -- a growing trend communities across the country are implementing in attempts to curb homelessness, Fox 29 News reported. The initiative, run by a team of volunteers, is led by Tiny Houses Greensboro, the Interactive Resource Center and other local organizations that have come together for the cause, according to WFMY News 2.
The team, which held a "How to Build a Tiny House" workshop with homeless residents and community members this past weekend to construct the first home's framing, is hoping to have the model complete and ready for residents to move in by mid-January, according to its Indiegogo page. According to the fundraiser, the project has garnered more than $2,100 of the $5,000 goal.
"The person experiencing homelessness has got to put a lot of sweat equity into the house," a member of Tiny Houses Greensboro said of the project, according to Fox 29 News. "You know, sometimes it takes a village. Well, there's also a saying that says, 'If it takes a village, build one.'"
As WFMY News 2 reported, the house will be 128-square feet and contain a bedroom, bathroom and kitchen. Once the prototype is complete, organizers said they hope to work with city and county officials to make plans for a village of similar models.
As Fox 29 noted, "tiny homes initiatives are sprouting up all over [the] country as a new, creative way to provide housing for the homeless." Similarly constructed projects in Madison, Wisconsin, and Austin, Texas, have experienced success combating the crisis, and just this August, Portland, Oregon announced plans to move forward with building micro-homes for its poorest residents.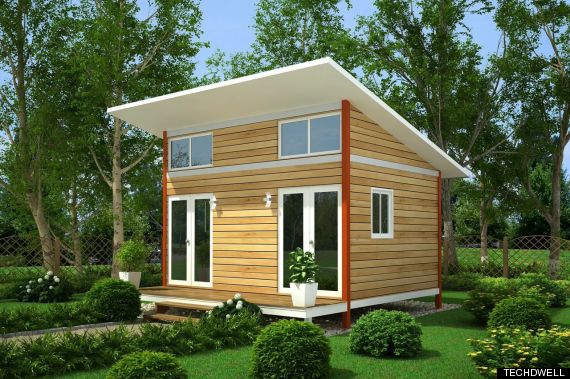 An illustrated model of a possible micro-home in Portland, created by TechDwell.
Constructing tiny homes are not only the morally responsible thing to do, advocates have argued, but they save the public money in the long-run, too. As the Charlotte Observer reported, a 2013 study examining a facility that housed 85 homeless people in Charlotte, North Carolina, found that tenants saved $1.8 million in health care costs, with 447 fewer emergency room visits, 372 fewer days in the hospital, and 84 percent fewer days in jail -- all costs that would have been handed down to taxpayers.
Caroline Chambre, a homeless advocate and director of Housing Works for Urban Ministry in North Carolina, told the Charlotte Observer that the study showed the benefits of a housing-first approach to fighting homelessness.
"You can't argue with the statistics," Chambre told the news source. "This approach was controversial at one time because of the stereotype of who the homeless are, and we had to change that stereotype."
BEFORE YOU GO
PHOTO GALLERY
Tiny Homes 2013 Roundup