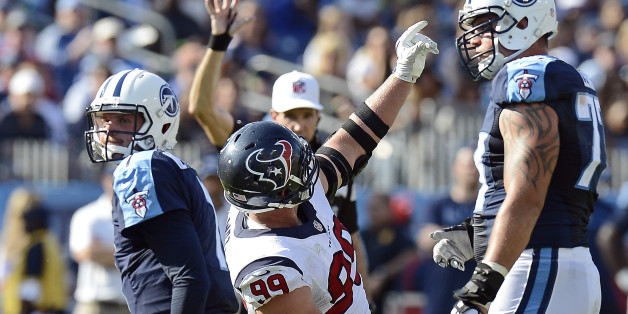 The NFL is no place for selfies, according to Houston Texans defensive end J.J. Watt.
Tennessee Titans quarterback Zach Mettenberger apparently didn't get that memo and posted a selfie on his Twitter account before his first career start against the Texans on Sunday (along with a few others earlier in the week on Instagram). After sacking the rookie QB in the fourth quarter (his second sack of the game), Watt mocked him with a selfie celebration.
After Houston's 30-16 win, Watt explained his celebration and welcomed Mettenberger to the NFL.
"It's just kind of a reminder, this is the National Football League, not high school. Welcome to the show," Watt said, via ESPN.com. "I just, I take my job very seriously. If I was a rookie quarterback being named the starter for the first time in the league, I feel like I'd be a little bit more focused than that."
BEFORE YOU GO
PHOTO GALLERY
PHOTOS: NFL Week 8