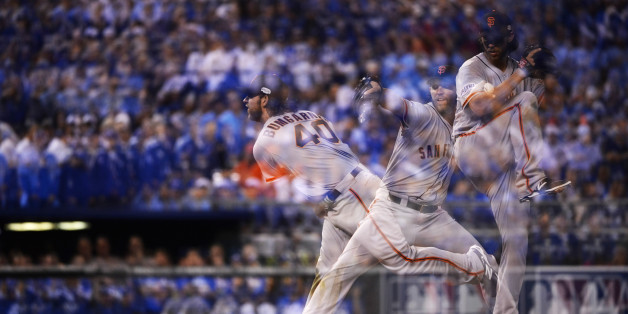 Even Madison Bumgarner's teammates are amazed with how good he has become. While some of his teammates aren't sure exactly what Bumgarner is, when the left-handed ace is on the mound, the San Francisco Giants are just happy he's on their team. Perhaps that's because in just six MLB seasons, Bumgarner has established himself as one of the best World Series pitchers of all time.
"Unbelievable, man. I don't know if he's even human. Seriously. He's like a machine," Giants outfielder Gregor Blanco said of Bumgarner after yet another dominant performance in the opening game of the 2014 World Series, via The San Francisco Chronicle. "We're glad we have him on our side."
They would be glad to have him again after an even more dominant outing in Game 5. With the best-of-seven series deadlocked 2-2, the 25-year-old took the mound and delivered the first complete game shutout in the Fall Classic since 2003.
With another start like that, Bumgarner is reaching historic levels and his manager Bruce Bochy knows it.
"In the history of the game, there have been some great efforts," Bochy said following Game 5, via MLB.com. "Guys that have gone three games and things like that. But I haven't seen a better pitcher over the course of this postseason, it's been a pretty long one, and to do what he's done is pretty historic, I think."
Whenever the Giants are playing in October, an already-stellar Bumgarner seems to be unstoppable. As the stakes get higher, he gets better. And It doesn't matter if he's on the road or not, either. If you're wondering why Blanco would question whether Bumgarner is human or not, just look at what he has done in the postseason.
So Low
His ERA in the World Series is 0.29 and his WHIP is .55. It's the lowest ERA in World Series history among pitchers with at least 20 innings pitched, via @SportsCenter.
The Streak
He pitched 21 straight scoreless innings in the World Series without giving up a run. That's the seventh-longest streak in World Series history.
First Ever
He's the first pitcher ever to have four straight starts in the World Series in which he went at least seven innings, allowed no more than three hits and only gave up one run or fewer. Nobody has put together those stats in three straight World Series games either.
More Than Babe Ruth
He has four wins in the World Series already and he's not even 26 years old. Bumgarner is the first pitcher ever to do that. Five other pitchers recorded three World Series wins before turning 26, including Babe Ruth and Jim Palmer.
No Freebies
Bumgarner is the only pitcher in World Series history to throw a shutout with eight strikeouts and zero walks, per ESPN Stats & Info.
Undefeated
In 31 innings pitched in the World Series, Bumgarner has four wins, zero losses and has only allowed one run.
Road Warrior
Bumgarner has pitched 39.2 postseason innings on the road throughout his career so far. He has only given up three total runs to go with his .68 ERA.
First Four
Bumgarner is the first pitcher since Lew Burdette of the 1957-1958 Braves to win first four career World Series starts, via Elias Sports.
BEFORE YOU GO
PHOTO GALLERY
All-Time World Series Champions