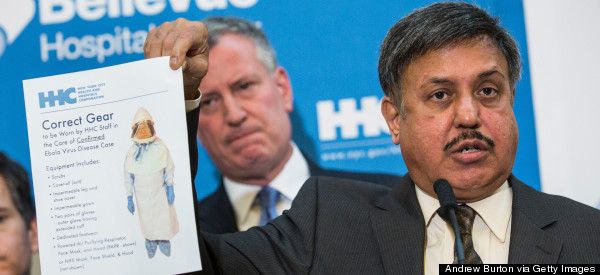 TOP STORIES
EBOLA QUARANTINE GUIDELINES LOOSENED IN NEW YORK "New York Gov. Andrew Cuomo (D) and New York City Mayor Bill de Blasio (D) announced new quarantine guidelines on Sunday evening for patients who may have been exposed to Ebola. The new guidelines will allow health care workers who have had contact with patients infected with Ebola to stay at home for 21 days, rather than at a medical facility." The White House and health experts are pushing back on such a quarantine, and a New Jersey nurse in quarantine has hired a civil rights lawyer after callng her conditions "really inhumane." The first NYC patient, Dr. Craig Spencer, is in serious but stable condition. [HuffPost]

SECOND VICTIM DIES IN WASHINGTON STATE HIGH SCHOOL SHOOTING Gia Soriano became the second victim to die from her injuries after freshman Jaylen Fryberg opened fire on his friends in the cafeteria before taking his own life. Three other students are still in the hospital. This teacher is believed to have stopped Fryberg from shooting more students. And here's a timeline of major school violence incidents since 1927. [CNN]
FINAL MARINES LEAVING AFGHANISTAN "The last U.S. Marines unit and final British combat troops in Afghanistan officially ended their operations on Sunday as they packed up to leave the country and transferred a massive military base to the Afghan military. The American and British flags were lowered and folded up for the final time at the regional headquarters of the international military, 13 years after the toppling of the Taliban's radical Islamist regime launched America's longest war." [Reuters]
BOKO HARAM KIDNAPPED 30 OVER WEEKEND The latest attacks diminish hope that Boko Haram will return the over 200 girls kidnapped in April. [CNN]
FEARS OF 'LONE WOLF' TERRORISM ATTACKS ON THE RISE "New York City's top counterterrorism official went to Florida last week to warn a group of police chiefs about the growing threat of self-radicalized terrorists. Back home in New York on Thursday, a 32-year-old man provided Exhibit A, attacking two police officers with a hatchet before he was shot and killed by police." [WSJ]
25 EUROPEAN BANKS FAIL STRESS TEST There was a 25 billion euro shortage of collective capital. [Reuters]
JEB BUSH, NUMBER 45? "As Mr. Bush nears a decision to become the third member of his storied family to seek the presidency, the extended Bush clan and its attendant network, albeit with one prominent exception, are largely rallying behind the prospect and pulling the old machine out of the closet." [NYT]
WHAT'S BREWING
CARDINALS OUTFIELDER KILLED IN CAR CRASH "Cardinals outfielder Oscar Taveras, a rising meteor of talent who was considered one of the top hitting prospects in the game since his first at-bat in the minor leagues, was killed in a car accident Sunday afternoon in his native Dominican Republic. He was 22 … In Game 2 of the National League championship series, Taveras hit a home run that helped the Cardinals to their only victory in the series against the San Francisco Giants." [St. Louis Post-Dispatch]
MEET VULTURE'S 100 MOST VALUABLE MOVIE STARS J-Law took the title with Robert Downey Jr. close behind. Here's how they picked who's winning the superstar rat race. [Vulture]
ALL THE PUMPKIN RECIPES Because you really shouldn't pitch all those pumpkin insides you're carving away. [HuffPost]
KELLY CLARKSON COVERED 'SHAKE IT OFF' And reminded us all that she is by far the best singer to ever come out of an American singing competition. [HuffPost]
AARON LEWIS SCREWED UP THE NATIONAL ANTHEM Putting him in the company of a long line of singers unable to remember our nation's song. [HuffPost]
RUSSELL BRAND WANTS TO RUN FOR MAYOR He'd like to be the next mayor of London. God save the Queen. [Page Six]
HOW 'INTERSTELLAR' FORCED A SCIENTIFIC DISCOVERY "Still, no one knew exactly what a black hole would look like until they actually built one. Light, temporarily trapped around the black hole, produced an unexpectedly complex fingerprint pattern near the black hole's shadow. And the glowing accretion disk appeared above the black hole, below the black hole, and in front of it." [Wired]
ON THE BLOG
IS ELIZABETH WARREN RUNNING? "What is Elizabeth Warren up to? Elizabeth Warren's offhand remark in an interview with People magazine strongly suggested that the Massachusetts senator has revised her previous firm declarations of non-candidacy for president and is now deliberately leaving the door open a crack." [HuffPost]
BEFORE YOU GO
~ Might Hilary Duff be back together with her husband?
~ ICYMI, when you're born has an effect on your attitude for the rest of your life.
~ The "Interstellar" red carpet looked like a good time.
~ Remember what Windows looked like in 1993? We do now.
~ Chocolate can improve your memory, so there's another reason to not feel bad chowing down on the good stuff.
~ And in case you haven't been on the internet in the last month or so, Taylor Swift's album officially drops today.
Send tips/quips/quotes/stories/photos/events/scoops to Lauren Weber at lauren.weber@huffingtonpost.com. Follow us on Twitter @LaurenWeberHP. And like what you're reading? Sign up here to get The Morning Email delivered to you.