Some teachers think that Time Magazine owes them an apology.
The magazine's latest cover story details the efforts of certain Silicon Valley investors to derail teacher tenure practices. Teachers unions, however, are taking particular issue with the story's associated cover art, a gavel smashing an apple, and text that says, "It's nearly impossible to fire a bad teacher."
The cover started generating a swift negative response from teachers unions last week. By Monday evening, a petition from the American Federation of Teachers asking Time to apologize for the cover had reached 72,000 signatures, according to an AFT representative.
"The cover is particularly disappointing because the articles inside the magazine present a much more balanced view of the issue. But for millions of Americans, all they'll see is the cover and a misleading attack on teachers," says the petition. The cover art is below: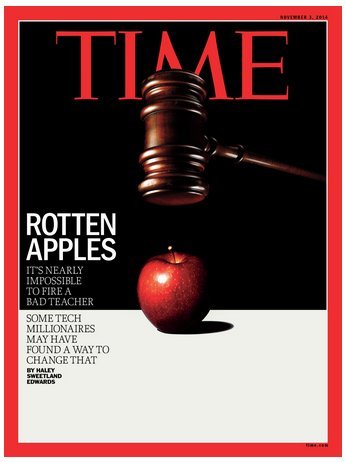 The cover has continued to generate backlash on social media channels. By Monday evening, the #TIMEfail hashtag had generated over 21,500 tweets, according to an AFT representative.
@Time cover on teacher tenure sends the wrong message! Our teachers need support, not attacks. #timefail

— Stephanie Hirsh (@HirshLF) October 27, 2014
Yes, teachers should consider canceling their subscriptions to @timeforkids. Why give $ to an company that belittles them? #TIMEfail

— Shaun Johnson, PhD (@thechalkface) October 25, 2014
There's a shortage of 377,000 teachers & we're trying to find ways to fire more of them. #TIMEfail @DianeRavitch pic.twitter.com/7xFhUX33wk

— Steven Singer (@StevenSinger3) October 24, 2014
Some groups of teachers are also encouraging a boycott of the magazine:
#BoycottTime @Time 4 #TIMEFAIL @Badassteachersa Walking it out..
OUR VOICE: http://t.co/jfGi2W1gnY OUR STANCE: pic.twitter.com/X1BQvZz9lz

— Kelly A. Braun (@KellyAnnBraun) October 27, 2014
The Time cover story looks at the efforts leading up to Vergara v. California, the case that struck down teacher tenure job protections in the state. A similar lawsuit attempting to curb teacher job protections has also been filed in New York.
Time.com responded to the outcry on Monday by publishing a series of responses from supporters and critics of the latest cover story. In one response, a New Jersey parent called teacher tenure "a weapon that is used to protect bad teachers and hurt innocent children and families." In another, Alliance for Quality Education Executive Director Billy Easton wrote that the cover "is a head on attack on the profession of teaching."
In 2008, another Time magazine cover featuring former D.C. Schools Chancellor Michelle Rhee also drew the ire of teachers. That cover showed Rhee holding a broom and described her as being in a "battle against bad teachers."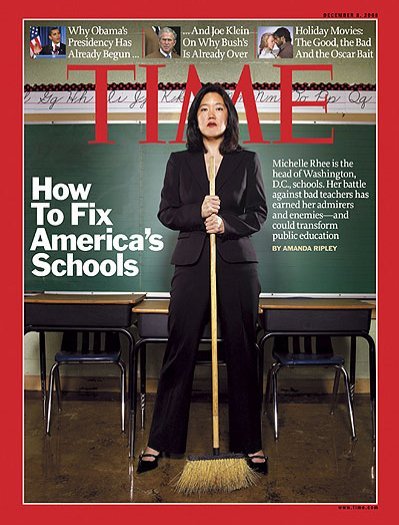 BEFORE YOU GO
PHOTO GALLERY
The Most Popular Books For American Students