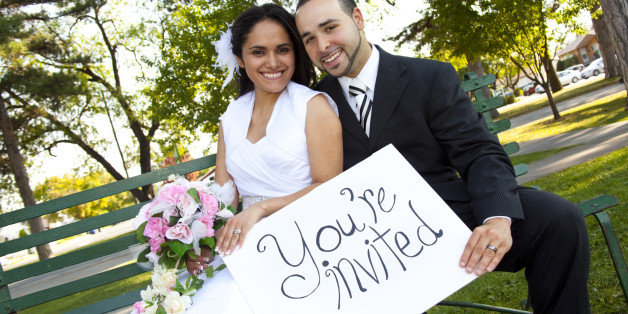 The rules of wedding etiquette are constantly changing, making it difficult for modern brides, grooms and guests to find up-to-date and correct information. That's why we launched #MannersMondays, a series in which we ask our followers on Twitter and Facebook to submit their most burning etiquette-related questions. Then, with the help of our team of etiquette experts, we get you the right answers to your biggest Big Day dilemmas. Check out this week's question below!
If you're invited to the wedding of someone you're just an acquaintance of (i.e. they work in the adjoining office and you say hello to them), are you expected to give them a wedding gift, if you're not attending? - Laurie M. via Facebook
Anna Post -- great-great-granddaughter of etiquette guru Emily Post and author of Emily Post's Wedding Etiquette -- is here to help us answer this week's question. Find out what she had to say below:
Yes, you are expected to give a gift. That doesn't mean an expensive*, elaborate one, but it does mean a gift, whether or not you attend. It's less about you being coworkers and more about you being chosen as a wedding guest, and that's what's expected of all wedding guests.

This scenario -- gift obligation to someone you don't feel you know well -- is why it's a good idea to keep a careful eye on the guest list. My guess is that you were invited along with a block of coworkers. For couples compiling their guest lists, know that it's okay to invite just the coworkers with whom you are close. The key is to ask privately for their home addresses and mail their invitations there. In other words, treat them as a friend, rather than a colleague. If you take this approach, remember not to talk about how much you look forward to seeing them on the big day in front of coworkers who weren't invited.

*I really don't like giving price ranges for gifts, as everyone's budgets and relationships are different, but I have a suspicion some people feel obligated to really shell out on wedding gifts, even for those couples they don't know well. For some people "inexpensive" might mean under $50, for others it might mean under $100.
You can submit your wedding etiquette questions via Facebook or tweet them to us @HuffPostWedding with the hashtag #MannersMondays.
BEFORE YOU GO
PHOTO GALLERY
Wedding Etiquette Rules You Can Break