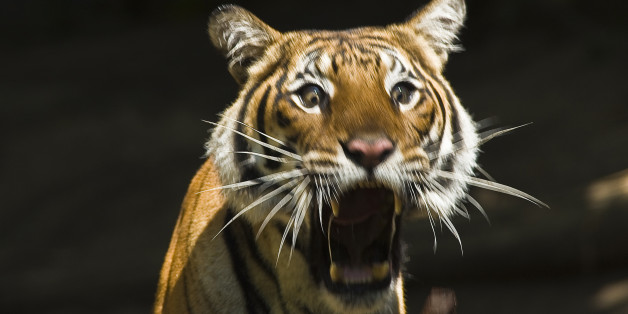 How realistic could that tiger costume have been?!
Andrew Holland, 51, was wrongly accused of possessing bestiality porn in 2009, but charges were dropped 6 months later, when authorities realized that what they thought was a video of a woman and a tiger was actually a video of a woman and a human man in a tiger costume, according to the Independent.
Now, the Welsch bus driver is fighting against the United Kingdom's "Extreme Pornography Act," the New Statesman reports.
Officials realized their mistake in Holland's case when they noticed that the tiger said "That's grrrrrrreat!" in the manner of Frosted Flakes' Tony the Tiger. Holland was cleared of a second charge nine months later, when a 6-second-clip that prosecutors said showed violent genital mutilation turned out to be a "spoof" video featuring ketchup and cocktail sausages.
Holland says both videos had been sent to him by friends as jokes, and that even though he was eventually let off the hook, his life was permanently damaged by the accusations.
"I lost my job, I had to move and I ended up having a heart attack with all the stress of it," he told the Independent. "People were ringing me in the middle of the night. Three young lads turned up at my door and were calling me everything. I was threatened on more than one occasion."
Holland and his legal team want the Crown Prosecution Service to review the Extreme Pornography Act. In a letter sent to the head of the CPS last week, Holland's lawyers say that none of this would have happened if the U.K.'s Extreme Pornography Act, a measure implemented in 2008, were not so vague.
His attorneys argue that because the law uses "inherently subjective" terms like "grossly offensive" and "disgusting," it's not clear what constitutes an "extreme" image under the law:
[Holland's] case graphically demonstrates that it is not clear how an individual can know whether an individual will be guilty or not of this criminal offense. Mr. Holland was innocent, yet he was persuaded initially to plead guilty. That guilty plea was accepted by the Court and then the Court agreed to vacate the guilty plea. This suggests that there is a lack of understanding on the part of individuals, practitioners and the courts as to the correct scope of this offence.
Backlash, an organization devoted to "defending freedom of sexual expression," is using Holland's case as an example of how the Extreme Pornography Act can harm citizens. "It threatens ordinary members of the public who exchange dirty jokes by phone and over the internet," Backlash spokesman Jon Fuller told the Mirror.
Like Us On Facebook |

Follow Us On Twitter |

Contact The Author
BEFORE YOU GO
PHOTO GALLERY
45 Amazing Animal Photobombs