One month ago, on Sept. 28, pro-democracy protests in Hong Kong ballooned in size as activists from the Occupy Central movement joined the ranks of student demonstrators who had flooded the city's center to demand more democratic elections. Hong Kong's police responded with a flurry of tear gas and pepper spray in hopes of dispersing the crowds, but the streets remained full.
While the number of protesters has dwindled in more than thirty days of demonstrations, the activists remain a powerful presence in the Asian hub. The Umbrella Movement has developed its own symbols, politics and icons.
To mark the month of protests, here are some of the most striking photos from occupied Hong Kong.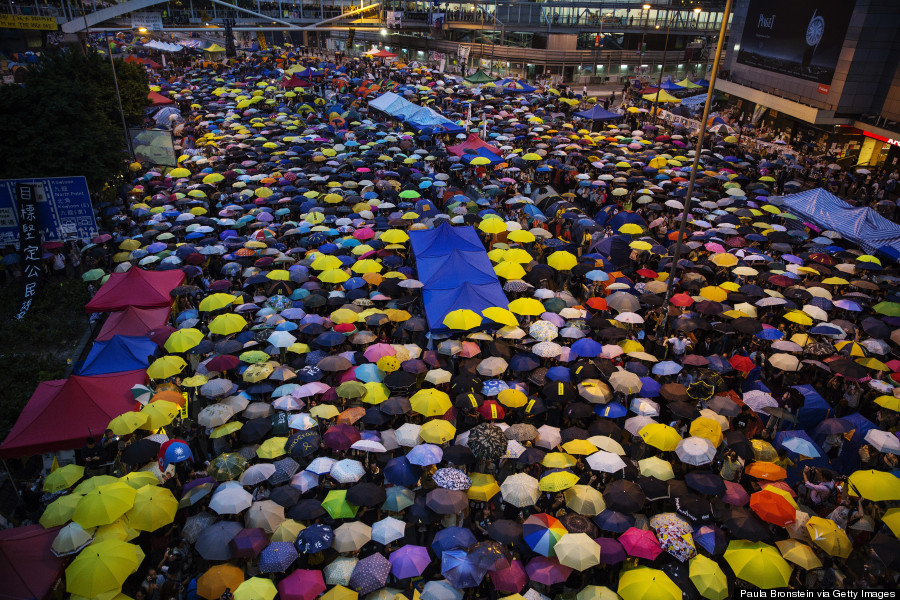 Umbrellas are opened as tens of thousands come to the main protest site one month after the Hong Kong police used tear gas to disperse protesters October 28, 2014 in Hong Kong. (Photo by Paula Bronstein/Getty Images)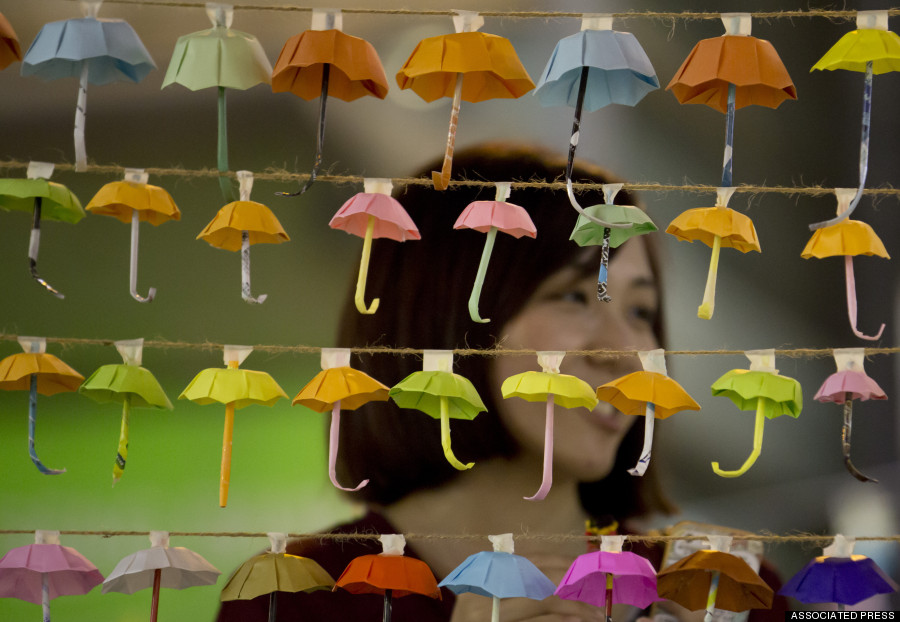 A woman poses for a photo with the paper fold umbrellas at the occupied area in Causeway Bay, a shopping district of Hong Kong Tuesday, Oct., 21, 2014 (AP Photo/Kin Cheung)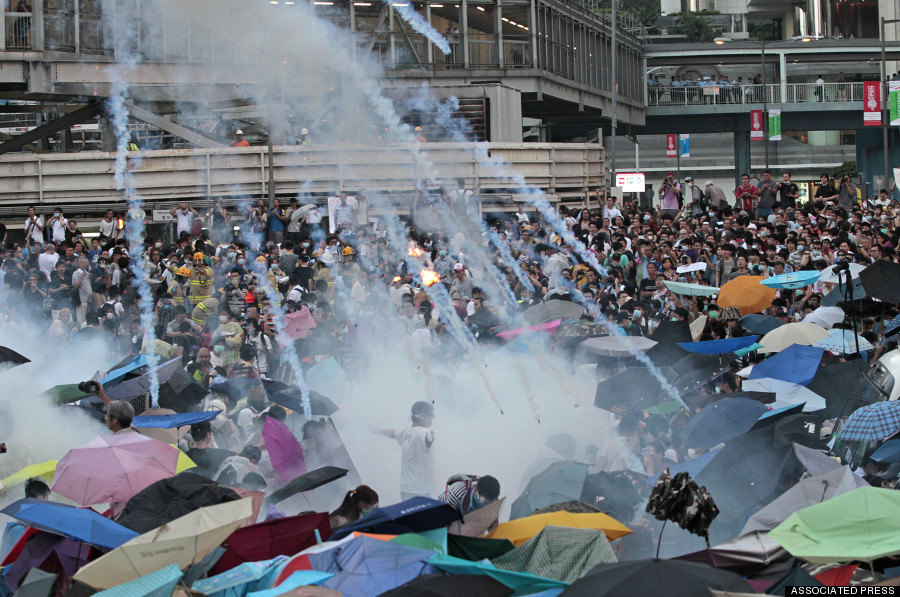 Riot police launch tear gas into the crowd as thousands of protesters surround the government headquarters in Hong Kong Sunday, Sept. 28, 2014. (AP Photo/Wally Santana)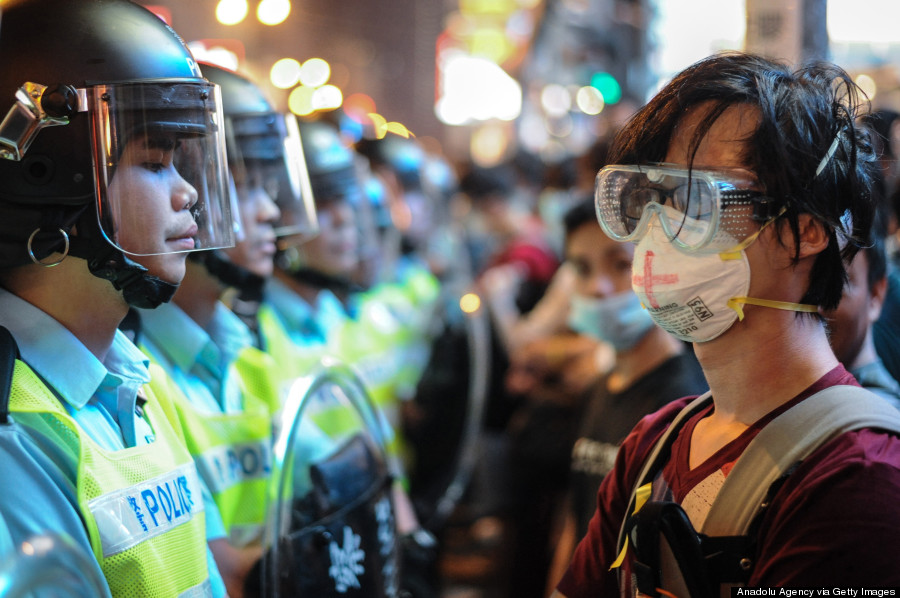 Police and a member of the Occupy movement are seen during a clash in the Mongkok district of Hong Kong on October 17, 2014. (Photo by Thomas Campean/Anadolu Agency/Getty Images)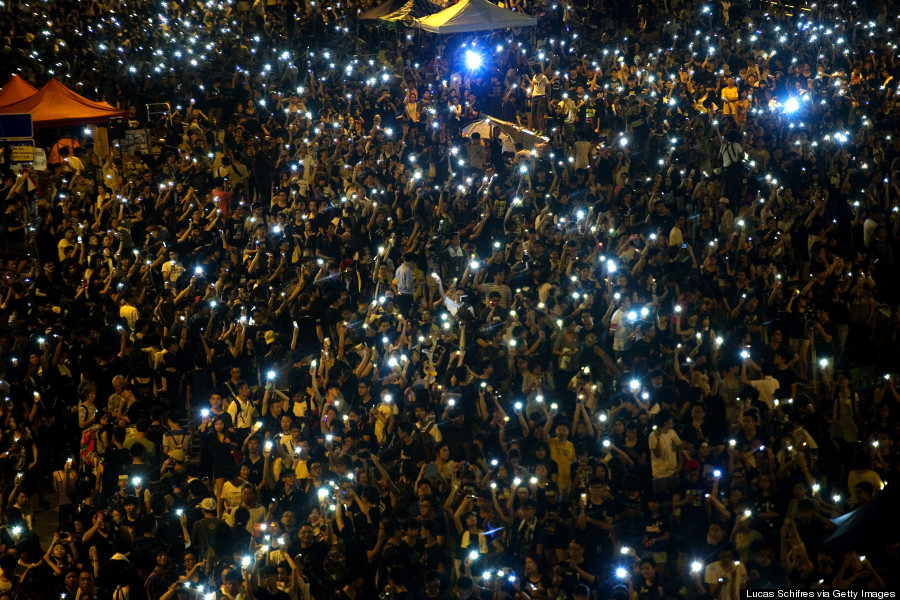 Demonstrators hold high lit cellphones to form a 'sea of lights,' blocking traffic on Gloucester Road, an otherwise busy multi-lane thoroughfare in Hong Kong, on October 1, 2014. (Photo by Lucas Schifres/Getty Images)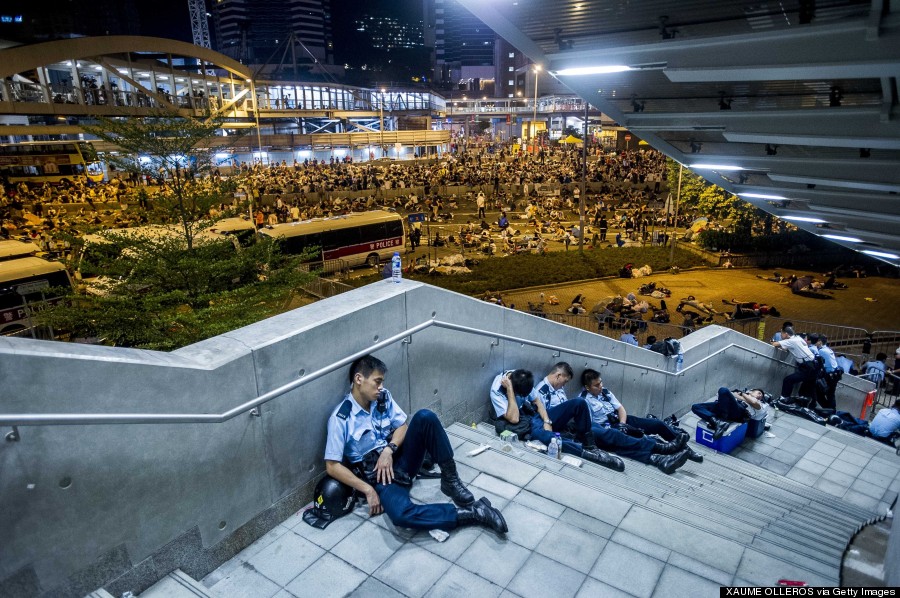 Policemen rest following pro-democracy protests in Hong Kong on September 29, 2014. (Photo credit: XAUME OLLEROS/AFP/Getty Images)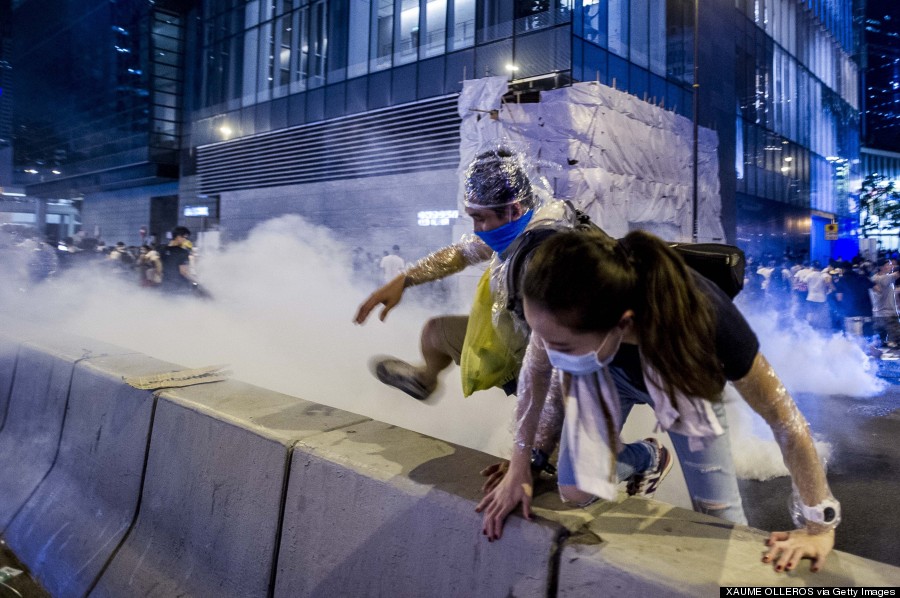 Pro-democracy run away during a demonstration in Hong Kong on September 28, 2014. (Photo credit: XAUME OLLEROS/AFP/Getty Images)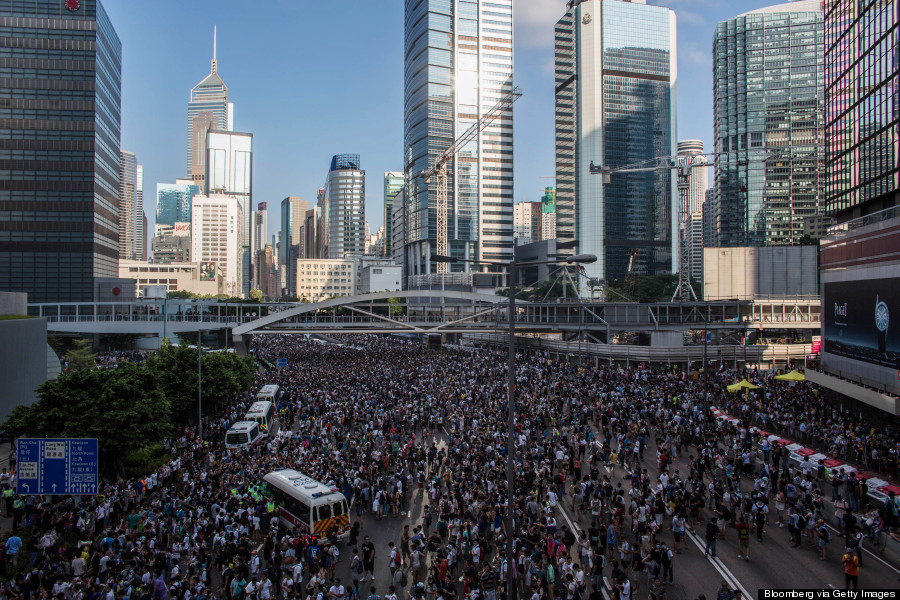 Demonstrators gather near central government offices during a protest in Hong Kong, China, on Sunday, Sept. 28, 2014. (Photographer: Lam Yik Fei/Bloomberg via Getty Images)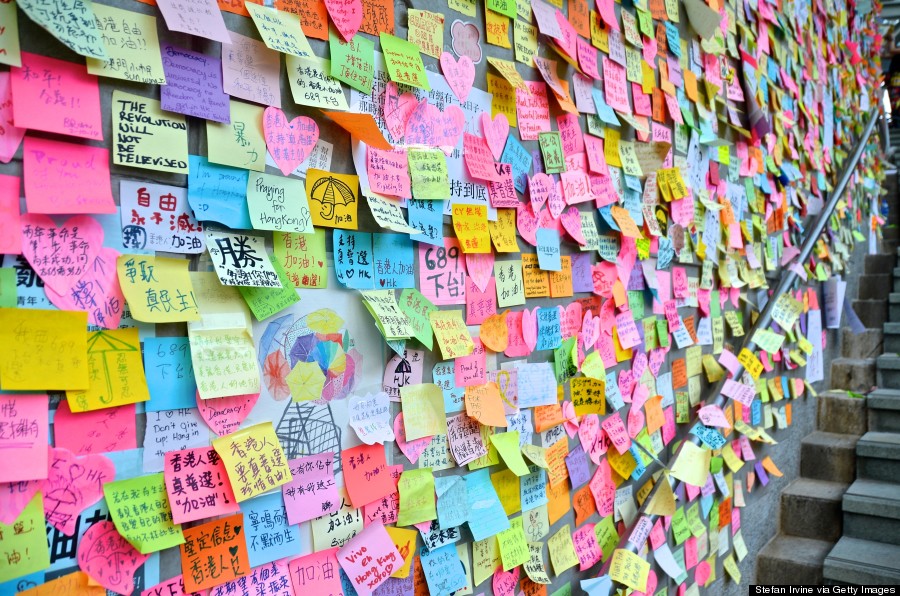 People's messages of support for the pro-democracy protests are posted on the walls of a government building, which has become known as 'Lennon Wall'. (Photo by Stefan Irvine/LightRocket via Getty Images)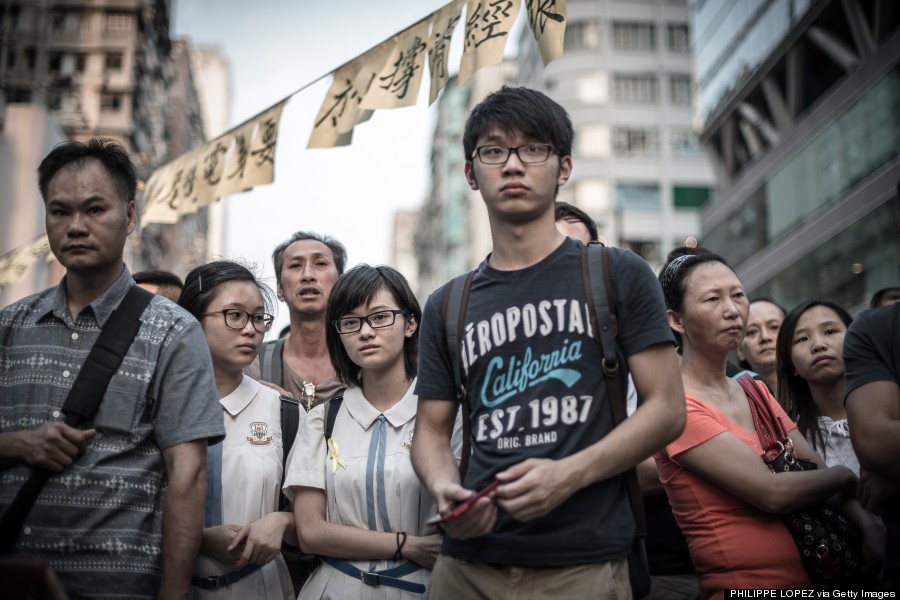 People listen as pro-democracy demonstrators address a crowd at a barricade in Hong Kong on October 9, 2014.(Photo credit: PHILIPPE LOPEZ/AFP/Getty Images)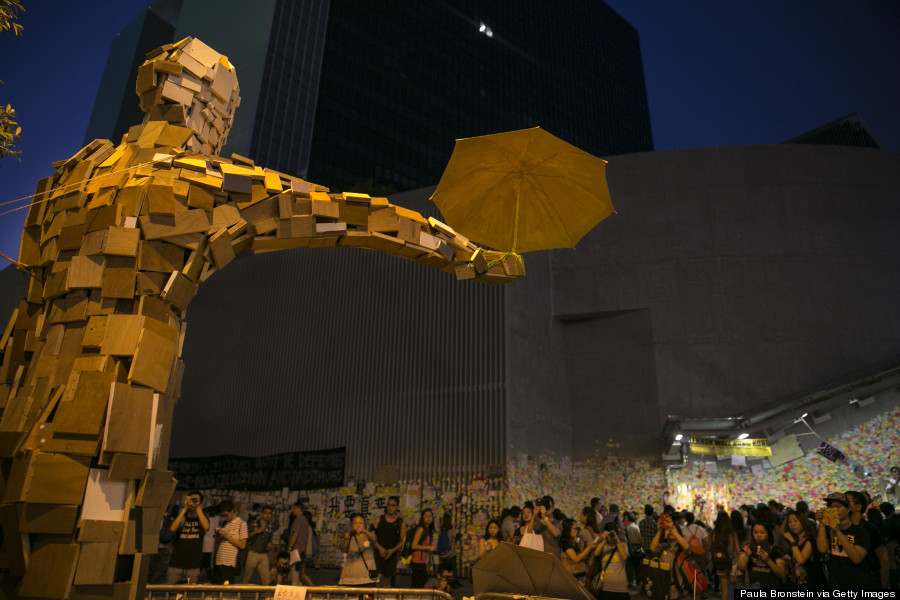 People come to see the Umbrella man statue which has become a symbol at the protest site October 11, 2014 in Hong Kong, Hong Kong. (Photo by Paula Bronstein/Getty Images)

Little statues of protesters with umbrella which are symbols of the pro-democracy movement in Hong Kong on October 20, 2014. (Photo by Thomas Campean/Anadolu Agency/Getty Images)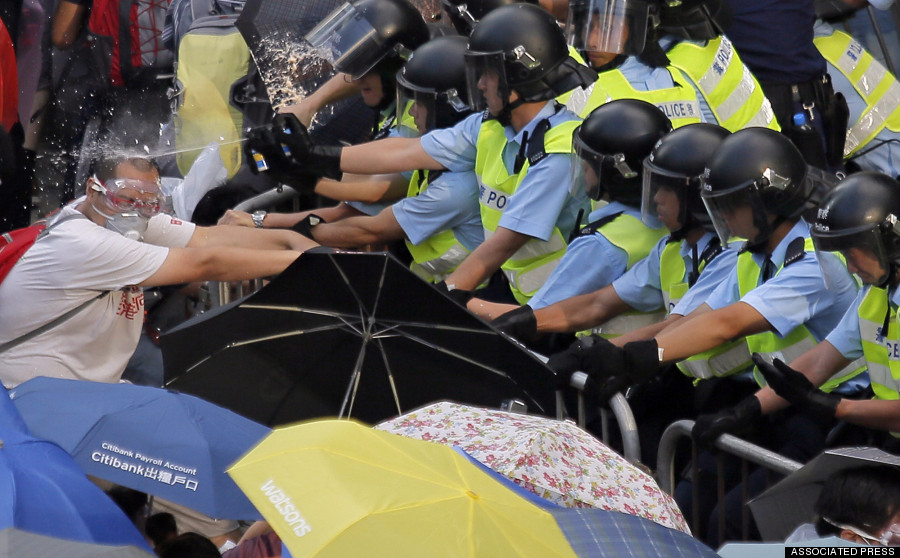 In this Sept. 28, 2014 file photo, riot police use pepper spray against protesters after thousands of people blocked a main road to the financial central district outside the government headquarters in Hong Kong. (AP Photo/Vincent Yu, File)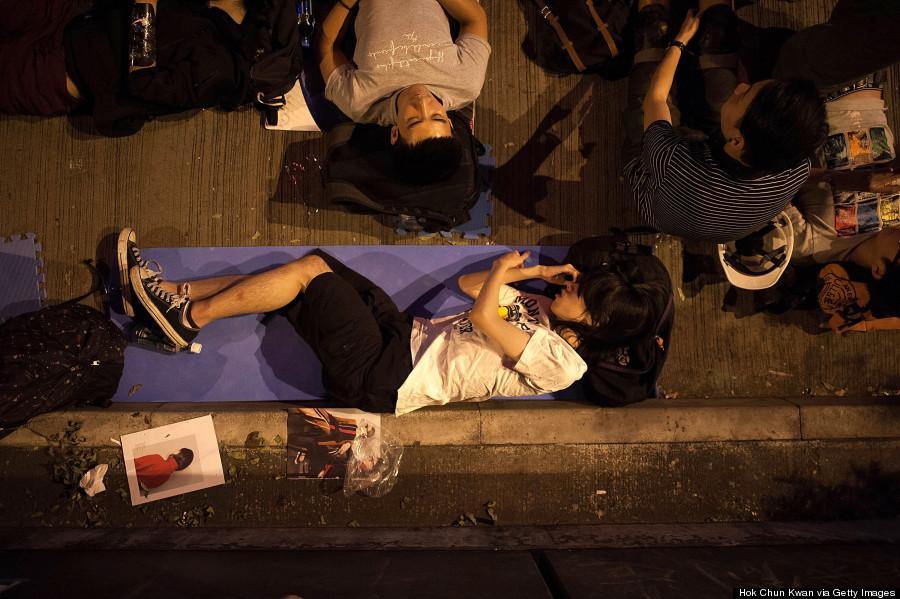 Pro-democracy protesters sleep on a street in Mongkok district on October 20, 2014 in Hong Kong. (Photo by Hok Chun Kwan/Getty Images)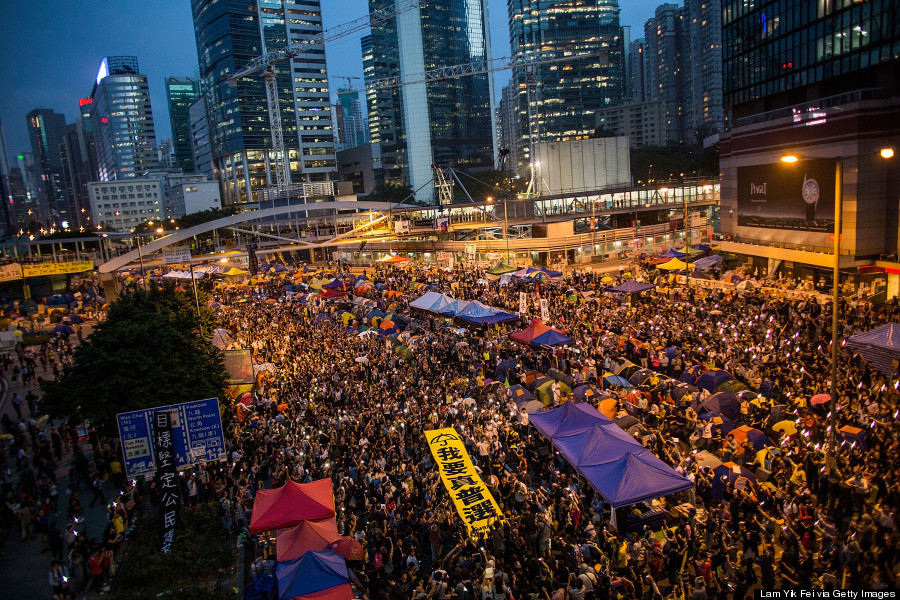 Protesters attend a rally to mark one month since they took the street at the Admiralty on October 28, 2014 in Hong Kong. (Photo by Lam Yik Fei/Getty Images)
BEFORE YOU GO
PHOTO GALLERY
Hong Kong Protests