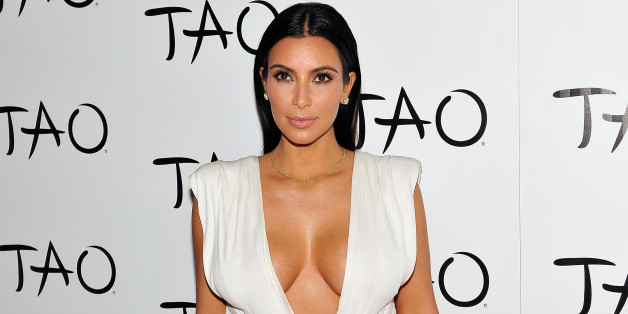 Hermes bags apparently double as canvases in Kim Kardashian's world because the reality star received yet another painted purse, this time featuring the artistic stylings of none other than little 1-year-old North West.
The reality star chatted with People magazine at her annual birthday bash at Tao in Las Vegas on Friday, sharing the details about what Kanye West and their daughter did to celebrate her 34th.
"Kanye had a box, a purse, this Hermes purse, and I opened it and I thought it was so cool. It was all painted really cool and then there was my computer and it said, 'Press Play,'" she said. "I pressed play and my daughter was sitting outside painting the purse. I thought it was an artist that painted the purse, some custom thing. I thought it was some new artist, and it was my daughter. It was amazing and I have it all on video."
An Hermes bag can be priced in the lower thousands and upward of $60,000.
Most parents might keep such a pricey accessory away from a toddler with a paint brush, but West is clearly not one of those parents.
The "Yeezus" star is a fan of unique presents. Last December, West gave Kardashian an Hermes Birkin bag -- prices of which start around $16,000 -- decorated with a nude painting by contemporary artist George Condo for Christmas.
For her birthday this year, West took Kardashian to Hawaii for 24 hours, where they spent two hours shopping at The Gap, Kardashian told Us Weekly. Adding: "We bought cream sweaters -- we bought like five of them and we're going to reconstruct them and make things out of them."
BEFORE YOU GO
PHOTO GALLERY
Kim Kardashian