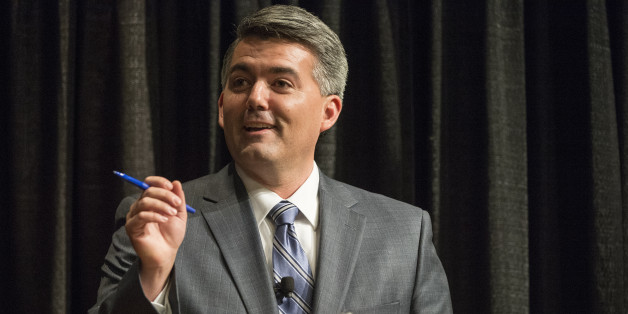 DENVER -- Colorado voters with progressive group MoveOn and abortion rights group NARAL Pro-Choice America delivered nearly 13,000 signatures from voters to The Denver Post on Tuesday to demand that the paper rescind its endorsement of Republican Senate candidate Cory Gardner.
About 20 of them gathered outside the newspaper's building, holding signs that read "Denver Post: What were you thinking? Cory Gardner is reckless, extreme and wrong for Colorado."
The Denver Post on Oct. 10 issued its endorsement of the Republican House member over current Democratic Sen. Mark Udall in their close race, which will be pivotal to whether the GOP takes control of the Senate. The endorsement said it was "time for a change" to get past gridlock in Washington, and that Udall has shown too little leadership. It also dismissed his campaign's focus on women's issues, saying Udall "has devoted a shocking amount of energy and money trying to convince voters that Gardner seeks to outlaw birth control despite the congressman's call for over-the-counter sales of contraceptives."
"Udall is trying to frighten voters rather than inspire them with a hopeful vision," the endorsement read. "His obnoxious one-issue campaign is an insult to those he seeks to convince."
But the petition-signers disagreed that Udall's message on Gardner and abortion rights was an "obnoxious one-issue campaign."
"As a woman and a supporter of women's rights and marriage equality, I am totally gasping at the Post's endorsement of Cory Gardner," Jamie Chesser, a 39-year-old Denver resident, wrote in the petition, which as of Tuesday afternoon had more than 12,850 signatures.
"Please Denver Post retract your endorsement of Cory Gardner," she continued.
Gardner has said "there is no federal personhood bill," although he is a co-sponsor of the Life at Conception Act. Personhood bills, which would grant full legal rights to fetuses from the moment of fertilization, could lead to a ban on some common forms of birth control in addition to abortions, according to the American College of Obstetricians and Gynecologists.
Gardner has more recently voiced support for allowing adults to buy birth control without a prescription. He disavowed his support for state-level personhood legislation, and his campaign has said that his co-sponsorship of the Life at Conception Act is a symbolic measure to state that life begins at conception.
Speaking into a megaphone outside the Denver Post building, Chesser said she was "dumbfounded" by the Post's decision to endorse Gardner.
"Denver Post, your endorsement of Cory Gardner is a hypocritical hail Mary to end congressional gridlock," she said. "Cory Gardner is extreme in his positions and is a dangerous bet for Colorado."
Juli Davidson, a 66-year-old Denver resident who has been a member of NARAL since 1971, said she worried a Republican-controlled Senate would threaten abortion rights.
"This seat could be the one that puts the Senate in anti-choice hands. An anti-choice senator from Colorado could absolutely turn back the clock," she said outside the Post.
The group also read aloud some letters to the editor they said were sent to the Post but never run. One, from Edward in Boulder, Colo., said the Post seemed to put "little thought" into its endorsement.
"Their logic of 'balancing' the government by making it even more dysfunctional almost leaves me speechless," he wrote, according to the groups. "That's like saying the Broncos need to throw the ball to the other teams more. That wouldn't go over well in the win column, now would it."
BEFORE YOU GO
PHOTO GALLERY
Senate Seats Up For Grabs In 2014