By Scott Malone
HAMILTON, Ontario, Oct 28 (Reuters) - Thousands of mourners packed a church and lined the streets outside it in industrial Hamilton, Ontario, on Tuesday for the funeral of the soldier shot dead in last week's attack on the nation's seat of government.
Corporal Nathan Cirillo, 24, was one of two soldiers killed in a pair of attacks last week that police said were carried out independently by radical recent converts to Islam. The assaults took place as Canada's military was stepping up its involvement in air strikes against Islamic State militants in Iraq.
Dressed in ceremonial kilts, white boots and garters, members of Cirillo's Argyll and Sutherland Highlanders unit carried his flag-draped casket into the 138-year-old gothic Christ's Church Anglican Cathedral in Hamilton, Cirillo's home town west of Toronto, for the funeral.
Canadian Prime Minister Stephen Harper and other political leaders joined Cirillo's family and friends in the church, as Major the Reverend Canon Rob Fead opened the ceremony.
"Nathan, your death was not in vain. Because of you this day, this great country of Canada stands more unified and more determined than ever to be all that we are called to be. A place of freedom, a place of hope, a place of peace," he said.
The killings have shaken Canadians and prompted a debate on how the nation's open culture, and particularly the low-key security in its capital city of Ottawa, may need to change. Security services have warned that citizens who adopt extremist views and take up arms against the state pose a "serious" threat.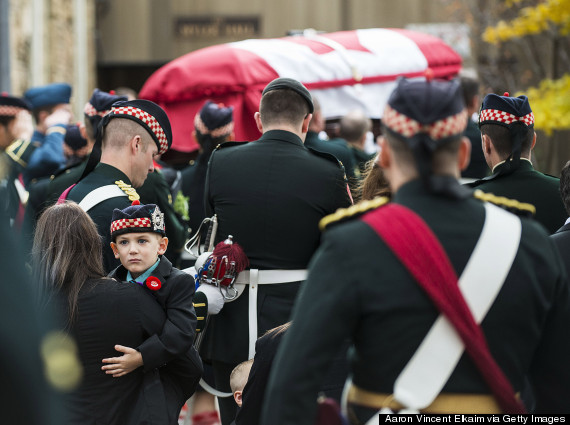 Marcus Cirillo (2nd L), the son of Cpl. Nathan Cirillo, attends his father's funeral at Christ's Church Cathedral in Hamilton, Ontario, on Oct. 28, 2014. (Aaron Vincent Elkaim/Getty Images)
Cirillo was standing an unarmed, ceremonial watch at the nation's war memorial in Ottawa on Oct. 22 when he was shot dead by a man described as troubled and drug addicted. His attacker then charged into the Parliament building and exchanged fire with security officers not far from a room where Harper was meeting with fellow Conservative lawmakers.
Cirillo's is the first of two funerals for soldiers slain on Canadian soil, to be followed by a service on Saturday in Longueuil, Quebec, for Patrice Vincent, a 53-year-old warrant officer who was killed on Oct. 20 near Montreal, when a man ran over him and a fellow soldier with his car.
Nadia Grandoni, a 35-year-old administrative assistant and native of Hamilton, stood outside the church with a red poppy, the symbol of veterans' remembrance, pinned to her vest.
"I was born here and even though I didn't know Nathan, I feel like he was my brother," Grandoni said. "He has done us proud. We love him, as a community and as a country. Both him and Patrice Vincent. Canada loves them both."
Public mourning for Cirillo began on Friday when thousands of Canadians lined roadways, including the "Highway of Heroes," to view the motorcade that carried his body on the 500-kilometer (310-mile) journey from Ottawa along Lake Ontario to Hamilton.
Harper is scheduled to speak, as are Cirillo's cousin, Jenny Holland, and Lieutenant-Colonel Lawrence Hatfield, who had been his commanding officer.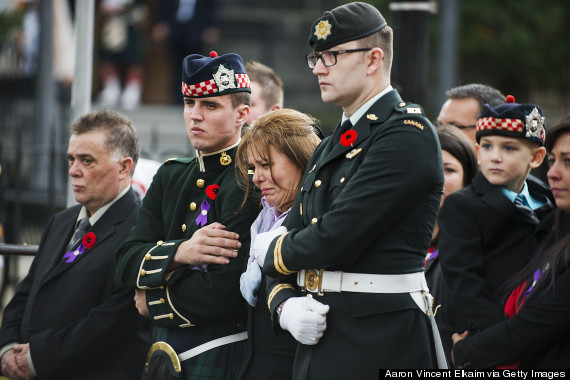 Kathy Cirillo (3rd L), the mother of Cpl. Nathan Cirillo, mourns during his funeral at Christ's Church Cathedral in Hamilton, Ontario on Oct. 28, 2014. (Aaron Vincent Elkaim/Getty Images)
POLITICAL MOTIVES
The Royal Canadian Mounted Police (RCMP) said Cirillo's suspected killer, Michael Zehaf-Bibeau, 32, made a video of himself saying the attack was motivated by his opposition to Canadian foreign policy. The RCMP said the video also showed he had religious motives.
Officials have also described Vincent's killer, 25-year-old Martin Rouleau, as a man motivated by radical beliefs.
Both attackers were shot dead by security services.
Following Cirillo's funeral, Harper was to meet with U.S. Secretary of State John Kerry, who will travel to Ottawa to express his condolences over the attacks.
"The secretary will emphasize steadfast U.S. support for our Canadian partners, continued close cooperation and a shared approach to countering violent extremism, and our commitment to stand beside our Canadian neighbors and friends," Jen Psaki, a spokeswoman for the U.S. State Department, told reporters on Monday.
Cirillo joined the Argylls in 2007, shortly after he graduated from high school. He is survived by his mother, stepfather, two sisters and young son. He was fond of dogs, and in the days after his slaying images of two of his dogs peering out from under a fence, apparently awaiting their master's return, were widely circulated on social media. (Writing by Scott Malone and Richard Valdmanis; Editing by Dan Grebler; and Peter Galloway)