This puppy should be arrested for being too darn adorable.
A photo a German shepherd pup trying on the vest he will eventually grow into on duty with the Boston Police Department K-9 unit went viral after it was posted to Reddit by user grizzlyblake91. The image was first posted by Massachusetts Vest-A-Dog, a non-profit organization that provides bulletproof K-9 vests to canines across the state.
The pic shows prospective K-9 puppy "Batman" with Patrol Officer Troy Caisey, the head trainer of the Boston Police Department's K-9 Unit, Massachusetts Vest-a-Dog's president Kathy Hinds told The Huffington Post. The photo was taken back in May for a fundraising calendar; Batman has since been renamed "Tuco," after drug kingpin Tuco Salamanca from AMC's "Breaking Bad."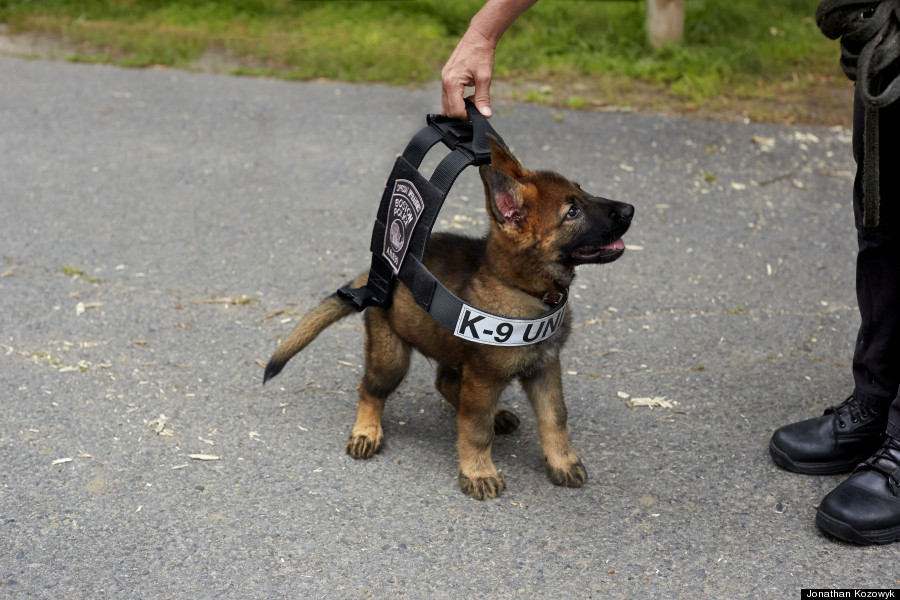 Caisey is currently training to Tuco to be his next "work dog," he told Boston Magazine.
"It depends on the dog and how he matures," he said. "I'm doing foundation work with him now, and in a couple of months I'll know if he will make it as a work dog, and when he will start his formal training. I'm doing little things with him now, but no formalized training will start until later."
Vest-a-Dog's 2015 calendar is available with a $10 donation.
Good luck, little guy!
BEFORE YOU GO
PHOTO GALLERY
Comfort Dogs Deployed To Newtown