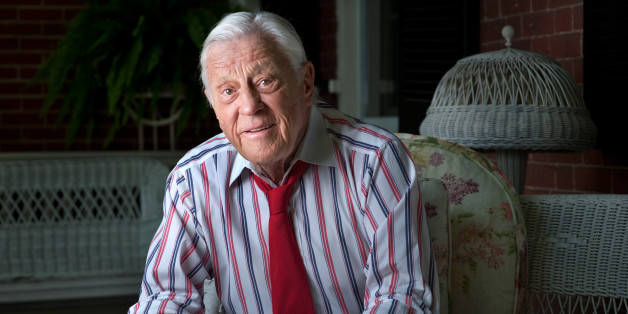 Thousands of journalists, colleagues and friends gathered Wednesday morning at the Washington National Cathedral to say their goodbyes to Ben Bradlee, the legendary Washington Post editor who died last week at the age of 93.
Bradlee famously helmed the Post during its coverage of the Watergate scandal in the 1970s, which toppled the presidency of Richard M. Nixon and earned the paper a Pulitzer Prize.
Journalists in attendance posted snapshots of the ceremony on Twitter:
Lineup at National Cathedral for Ben Bradlee funeral pic.twitter.com/zmdOV54yvO

— HowardKurtz (@HowardKurtz) October 29, 2014
First page in program handed out for Ben Bradlee's funeral, with photo by Annie Leibovitz and Bible verse. pic.twitter.com/ZtYxpwJEvo

— Judy Kurtz (@JudyKurtz) October 29, 2014
I'll have live coverage of Ben Bradlee's funeral starting at 11AM. Here's a look at the memorial booklet #News4Midday pic.twitter.com/KHbcxpTf5d

— Angie Goff (@OhMyGOFF) October 29, 2014
LIVE on @cspan: Secretary @JohnKerry seen inside the National Cathedral shortly before Ben Bradlee's Funeral. pic.twitter.com/b01FH7L7dV

— Jonelle Henry (@JonelleHenry) October 29, 2014
Casket arrives at Ben Bradlee's funeral. pic.twitter.com/6xYme8ES1a

— Benjamin Freed (@brfreed) October 29, 2014
Bidens, Kerry, Justice Breyer, Ben pic.twitter.com/0znRcmBxfE

— Hadas Gold (@Hadas_Gold) October 29, 2014
Benjamin Bradlee Funeral – LIVE on C-SPAN, @cspanradio and online here: http://t.co/RdY1NzvDzi pic.twitter.com/tJjV9R5Cem

— CSPAN (@cspan) October 29, 2014
The Washington Post announced Tuesday that it would continue to honor Bradlee's memory with the Ben Bradlee Award for Courage in Journalism beginning in 2015.
"Ben knew that getting at the truth required persistence and fearlessness among the journalists who work here," the announcement read. "He championed those qualities, and his fervor continues to inspire us."
BEFORE YOU GO
PHOTO GALLERY
Writers We've Lost In 2014