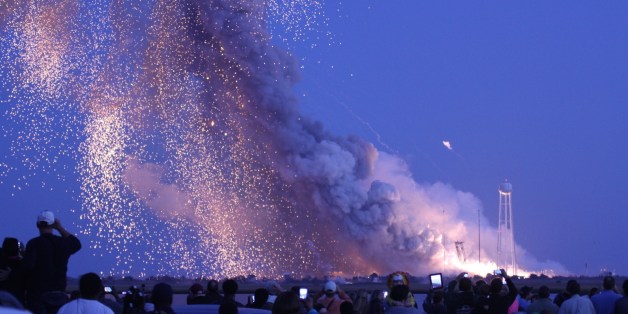 No one was hurt when an unmanned rocket exploded just after liftoff on Tuesday, but more than 5,000 pounds of precious cargo bound for the International Space Station were destroyed.
According to NASA, the cargo aboard the NASA-contracted rocket -- which was manufactured by Dulles, Virginia-based Orbital Sciences Corporation -- included:
1,360 pounds of food supplies
289 pounds of crew equipment and flight procedure books
1,404 pounds of vehicle hardware
146 pounds of spacewalk equipment
82 pounds of computer equipment.
The rocket was also loaded with 1,603 pounds of science experiments, 18 of which were designed by students from schools across the U.S. The student projects were selected from 1, 487 proposals submitted to the Student Spaceflight Experiments Program.
One of the student experiments -- which was to have studied E. coli bacteria in microgravity -- came from eighth-graders at Wilkinson Middle School in Madison Heights, Michigan.
Another experiment, led by a group of sixth-graders from Long Branch, New Jersey (see below), aimed to study the effects of weightlessness on the germination of seeds.
Long Branch Public Schools via Facebook
"I'm pretty sure it burned up," 11-year-old Zachary Fitzgerald, one of the Long Branch students, told NJ.com.
As for the parents of some of the kids, Angel Abdulahad, a teacher at Wilkinson, told the Detroit Free Press that they had "mixed emotions –- joy watching your kid's rocket go up followed by devastation."
NASA says the destroyed cargo will be replaced and flown up to the space station at a later point. No harm will come to the space station crew, who will have enough food and supplies to last well into the spring.
BEFORE YOU GO
PHOTO GALLERY
PHOTOS: NASA Rocket Explodes In Wallops Island