With the most crucial Senate races remaining close, we look at how the polling might be disproved on Election Day. National polls show little consensus on which way the political environment is moving. And campaign robocalls may be on the downturn. This is HuffPollster for Wednesday, October 29, 2014.
HOW POLLS COULD ERR - With less than a week remaining before Election Day, HuffPost's poll tracking model continues to report roughly the same forecast for control of the U.S. Senate as it has for the past two weeks: The polling averages show Republicans leading at least nominally in enough states to gain a 53-seat majority. The margins remain close enough, however, that the overall probability of a Republican majority is just 63 percent as of this writing. In other words, polling shows the Senate battle leaning Republican, but there is still a real potential that Democrats could hang on due to late shifts or polling errors. So how could these polling averages be wrong?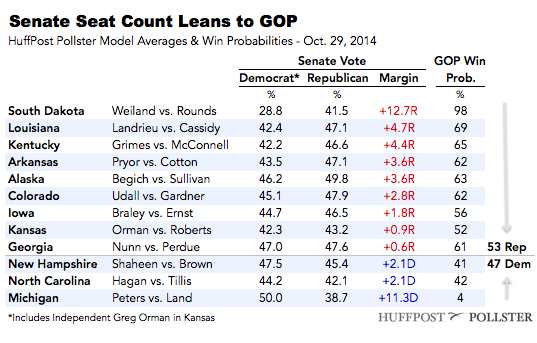 Randomness in the closest races - Combining polls, whether in a simple average or in a more complex tracking model, helps reduce the purely random variation inherent in all sample surveys, but doesn't eliminate it completely. That random noise comes not just from the number of interviews completed for each poll but also the myriad of design choices made by pollsters and modelers in combining the polls. RealClear Politics' Sean Trende examined polls back to 1998 in the FiveThirtyEight database and found that when the leader in simple polling averages was ahead by 2 percentage points or less in the final week of the campaign, they won only slightly more often not. As should be obvious, when the win probabilities produced by the HuffPost Pollster model stand near 50 percent, it means there's a close to 50-50 chance that the leader will lose.
Late shifts or 'momentum' - While significant late shifts in voter preferences are rare in general election contests, they are still possible, especially when the undecided percentage is large. A handful of critical Senate battlegrounds -- Louisiana, Alaska, Arkansas, Colorado and Iowa -- had shown trends favoring Republicans during September, but as HuffPollster reported on Monday, these patterns have mostly leveled off in October.
Some argue that these shifts are the result of an unfavorable political environment for Democrats, that previously undecided voters who disapprove of President Obama's performance have shifted to Republicans and that these trends will continue through Election Day. As FiveThirtyEight's Nate Silver and Harry Enten explained Tuesday night, however, "there simply hasn't been any correlation from one [two-week] period to the next." Republicans have gained in some states, Democrats in others, but evidence of true momentum across the campaign has been rare.
Trends aside, the potential for late shifts is better when the percentage of undecided voters is larger (or, perhaps, when expressed support for a third party candidate turns out to be illusory). The HuffPollster model shows nearly 15 percent of voters in the Kansas Senate race still undecided, for example, roughly twice the number in other close contests. A decisive break among Kansas undecided voters could produce a result far less close than the current forecast.
The best evidence for the potential for true late shifts is from the voters who tell pollsters they are still totally undecided. Unfortunately, sample sizes are typically too small to allow any one public poll to provide a reliable read on their underlying attitudes. The massive New York Times/CBS/YouGov tracking poll, however, may be an exception. Their most recent wave appears to have interviewed well over 1,000 undecided voters in the six closest Senate races alone. The Upshot's Lynn Vavreck hinted on Sunday that an "analysis of undecided voters" may be coming this week. If and when it does, the data can shed light on whether a systematic late shift is imminent.
Polling error - The other possibility is that polls have been systematically off in 2014. As HuffPollster reported earlier in October, polling in the 2006 and 2010 midterm elections and the 2012 presidential election all understated Democratic candidates. A similar systematic misfire in 2014 could reverse Republican leads in a small handful of states, but it would require very close margins on the final polling averages. Despite a fairly consistent understatement of Democrats in 2006, 2010 and 2012, the polling averages HuffPollster examined erred in forecasting the ultimate winner in just two of 25 contests.
Nate Silver also noted that historically, "the direction of [polling] bias has been inconsistent, favoring Democrats in some years and Republicans in others." He argues that these swings occur because pollsters make adjustments to their surveys to compensate for the misfires, and points to the widespread move to incorporate cell phone samples into telephone polls as one such adjustment in 2014.
He may be right, but the approaches many pollsters are using to attempt to reach the cell-only population remain unproven and, effectively, experimental. Pollsters that use an automated, recorded voice methodology are barred by federal law from dialing cell phones, and many are relying on interviews conducted over the Internet to make up the difference. Live interviewer phone polls conducted at the state level in 2014 are mostly using samples drawn from cell phone directories compiled by data vendors -- methods that may have their own limitations.
More important, the missing cell-phone-only voters may have been only part of the problem. Another theory is that the questions most media pollsters use to identify likely voters missed less enthusiastic Democrats who ultimately turned out to vote. In some polls, that pattern was evident in sample compositions that understated non-white voters.
The state with the greatest potential to see a repeat of these problems is Colorado, where polls understated Democratic candidates by 2 to 3 percentage points the last two elections, and two additional factors could lead to a repeat in 2014. First is the unique challenge of reaching Colorado's Spanish speaking Latino voters, who tend to be more Democratic than those more fluent in English. Second, the state shifted to all-mail voting in 2014, with every registered voter automatically receiving a ballot via U.S. mail. Political scientists who studied similar shifts in Washington State found that a shift to all-mail voting produced a 2 to 4 percentage point increase in turnout, with the largest increases occurring among "lower participating registrants," in particular those who had previously voted only in presidential elections. In Colorado and elsewhere, these "drop off voters" are the primary targets of the massive Democratic get-out-the-vote campaign.
In a series of tweets on Monday, Monmouth University pollster Patrick Murray explained that his recent Colorado poll, which sampled using an official list of voters, found evidence of similar "increase in 'unlikely' voter turnout." He found that sampled voters who had voted in just one of the last four elections (based on their actual vote history reflected in the official records) were "3x more likely to get thru [the likely voter] screen in CO than other states I polled."
Though polls may be understating Mark Udall's standing in 2014 as they did for Colorado Sen. Michael Bennet in 2014, a similar polling misfire might ultimately not be enough to save Udall, or the Democrats' Senate prospects. As Nate Cohn explained on Tuesday, "Udall trails in the polls by an even wider margin than Mr. Bennet did four years ago, and he'll need an even more favorable electorate to defy the odds again." And for Democrats to retain a majority, they will likely need to reverse polling deficits in more states than just Colorado.
More on the potential for polling error:
-Jonathan Bernstein reviews the five states most likely to have a polling mishap. [Bloomberg]
-Eric McGhee says the polls are better than ever at predicting Senate races. [WashPost]
HUFFPOLLSTER VIA EMAIL! - You can receive this daily update every weekday morning via email! Just click here, enter your email address, and and click "sign up." That's all there is to it (and you can unsubscribe anytime).
FOX NEWS POLL FINDS DISAFFECTION, BUT TIGHTENING HOUSE RACE - Dan Blanton: "Enthusiasm in the midterm elections remains in the Republicans' favor -- but the spread has significantly narrowed, according to a new Fox News national poll. Among likely voters, 45 percent of Republicans are "extremely" interested compared to 41 percent of Democrats. Two weeks ago, the GOP was up 15 points on that question….45 percent of likely voters favor the Democratic candidate in their House district and 44 percent back the Republican. This represents a four-point shift from two weeks ago, when the Republican candidate was up by three among likely voters (45-42 percent). It's difficult to make a direct connection between generic vote results and individual races. " [Fox]
No GOP momentum? - Fox's findings come a day after a Washington Post/ABC poll found Republicans gaining on the same measure, taking a 6-point lead on the generic vote. As HuffPollster reported Tuesday, national polling has been inconsistent on whether Democrats or Republicans lead, and which way, if any, those numbers are trending. The results, however, largely show a closer race than in 2010, when Republicans led consistently as the party voters would prefer to represent them in the House.
The latest statewide polls:
Iowa Senate - Two new polls find slight movement in opposite directions: a Quinnipiac University poll released Wednesday morning finds Joni Ernst (R) up by 4, from a 2-point edge previously, while a Loras College poll Tuesday had Braley ahead by 1, from a tie at the beginning of October. Most polling has Ernst narrowly ahead. The Pollster model gives about a 2-point lead, with a 56 percent chance of winning. [Iowa chart, Quinnipiac, Loras]
Kansas Senate - A SurveyUSA poll released Tuesday night finds independent Greg Orman with a slight 2-point advantage over incumbent Sen. Pat Roberts (R), 44 to 42 percent. Their last look at the race, at the beginning of the month, had him up by 5. The majority of recent polling gives Orman a small edge: of the six most recent surveys, one has him up by 5, and three by 1 or 2 points, while one has it tied, and one has Roberts leading by 4. The Pollster model has Roberts and Orman effectively tied. [Kansas chart, KSN]
Georgia Senate - SurveyUSA also released polling Tuesday in Georgia, where it found David Perdue (R) leading Michelle Nunn (D) by 3 points -- a significant swing from the previous week's poll, which had Nunn ahead by 2. SurveyUSA credits the change to Perdue gaining dramatically among women, as well as solidifying his base vote among the GOP and older voters. The Pollster model gives Perdue a 58 percent chance of coming out ahead in November, but with about even odds that the race will go to a runoff. [Georgia chart, SurveyUSA]
LATINO INFLUENCE COULD BE FELT IN RACES NATIONWIDE - Latino Decisions' Matt A. Barreto: "The 2014 election is now a week away and almost all the attention on the Latino vote is in Colorado's Senate race. While other states with large Latino populations may not have competitive Senate races in 2014, the Latino population is not just a phenomenon in the Southwest. 14 years ago, the 2000 Census revealed quite clearly that the Latino population is spreading rapidly across the Southeast and Midwest. Including Colorado, there are six states in which the Latino share of the eligible electorate is larger than the current polling margin between the two candidates: Colorado, Kansas, Alaska, Georgia, North Carolina and Iowa. What's more, many of these states are undergoing rapid population changes with Latino registered voters growing by 438 percent in Georgia and 575 percent in Kansas from the 2000 to 2012 presidential election, according to Census statistics." [HuffPost]
RATE OF ROBOCALLS DROPS FROM 2010 - Pew Research: "Voters are reporting roughly similar levels of contact from political campaigns and groups as four years ago, with one notable exception. The share of voters who say they have received a phone call about the election has fallen 12 points since mid-October 2010, from 59% to 47%. This decline has been driven by a fall in the percentage saying they have gotten pre-recorded campaign calls, or robo-calls. Just 41% of registered voters say they have gotten a pre-recorded call about the elections, down from 55% in mid-October 2010….Voters report seeing or hearing fewer campaign commercials than at this point in the prior midterm. Still, 80% have seen or heard campaign commercials for this year's candidates, including 44% who have encountered 'a lot' of ads." [Pew]
WEDNESDAY'S 'OUTLIERS' - Links to the best of news at the intersection of polling, politics and political data:
-Americans' fear of Ebola appears to be on the wane. [WashPost]
-President Obama's job approval rating has been steady across gender and race subgroups. [Gallup]
-Harry Enten still sees a chance for Bruce Braley in Iowa. [538]
-Molly Ball reports the Democrats' Iowa ground game may be falling short. [Atlantic]
-Taniel sees clues the outcome, but also much uncertainty, in the early vote statistics so far. [DailyKos]
-Dan Hopkins finds the incumbency advantage isn't what it used to be. [FiveThirtyEight]
-Eric Ostermeier examines whether the presidency can be a drag on a party's gubernatorial chances. [Smart Politics]
-Steve Koczela dives deep into the likely composition of the Massachusetts 2014 electorate. [WBUR]
-Charlie Cook defines what a 2014 "wave" would look like. [National Journal]
-Sean Trende puts the "Emerging Democratic Majority" theory to a test. [RealClearPolitics]
-Pollster Neil Newhouse is the most worried Republican in Washington. [WashPost]
-AFL-CIO political director Mike Podhorzer ponders the support Democrats need from financially stressed voters to win. [CNN]
-Derek Willis and Daniel W. Drezner have more on two political scientists facing backlash over an experiment in Montana. [NYT, WashPost]
-Drew Altman finds voters paying limited attention to the ACA. [WSJ]
-Josh Katz explains changes to the Upshot Senate model if Georgia goes to a runoff. [NYT]
-NPR ranks the best selling Halloween costumes. [NPR via Flowing Data]
BEFORE YOU GO
PHOTO GALLERY
2014's Quirkiest Candidates