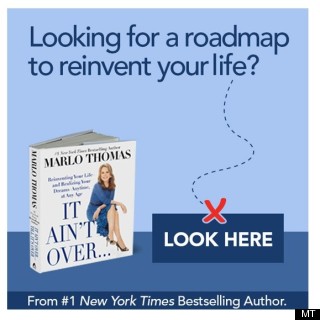 "One of the reasons I started my website is that I wanted a place for women to come together and dream. We women need to know that we don't have to hang on to an old dream that has stopped nurturing us—that there is always time to start a new dream. This week's story is about Veronica Bosgraaf – a mom who wanted to make something both nutritious and easily transportable for her daughter, a vegetarian, to take for lunch. Her creation is now sold in supermarkets throughout the country!"—Marlo, MarloThomas.com
Veronica Bosgraaf had a big idea. And it was hatched on a typical night around the dinner table after an atypical question from her six-year-old daughter, Anna: "What are we eating?"
It was lemon chicken. Stay-at-home mom Veronica had made it many times before for her husband and three kids, and always without a question. But on this night, Anna was giving her plate the evil eye.
"Chicken?" she said. "What do you mean, chicken?"
That morning, Veronica had chaperoned Anna's first-grade class on a field trip to a farm near their hometown of Holland, Michigan, where she watched her daughter play with baby chicks and hold a beautiful orange hen in her arms. "I could see what was happening in her little brain," Veronica says. "She was putting it all together, what was on her plate with the experience she'd had at the farm."
A few days later, Anna officially declared herself a vegetarian. "I don't want to be a part of killing animals." Veronica wanted to honor her feelings but worried how she'd get her to eat foods she wasn't used to, like lentils, beans, and other vegetables, to make sure she would have a nutritionally balanced diet.
So Veronica began looking online for meatless recipes, reading ingredient labels and visiting health food stores. What Veronica discovered from her research was that the simpler the meal, the more her kids (she also had a preschooler and toddler) liked it. Breakfast might be oatmeal with sliced fruit and dinner some baby spinach, rice, hummus, and crackers.
While mealtimes sailed relatively smoothly, packing Anna's school lunch every day proved trickier, as the traditional bologna or tuna sandwiches were now clearly off-limits. "And there was only so much peanut butter and jelly she could eat," Veronica says. At that time, it was difficult to find packaged foods in her local grocery that tasted good, gave Anna all the nutrients she needed, and were easy to toss in a lunch box.
Veronica's solution came through experimentation. One evening while she was trying out a new dessert recipe—a piecrust made of dates, almonds, and a little bit of salt and cinnamon—she decided to mix in some cocoa powder, too. "It tasted like a brownie," she says—and her kids gave it a thumbs-up.
Buoyed by her success, Veronica started trying out different variations on her invention, adding high-antioxidant fruits like dried cherries and cranberries. "I would pulverize everything in the food processor so my kids couldn't see chunks of stuff," she says. "You know how kids are, they tend to pick out things that are bigger than a fingernail. I threw a lot away until I got the texture and taste down to where I wanted them."
Then Veronica started widening her consumer base. When she was the "snack mom" at school, she'd bring in a batch of the food bars, or take them along to parties. "Everybody seemed to love them. They said the cocoa ones tasted exactly like brownies. They couldn't believe they weren't baked in a pan with eggs and sugar."
As Veronica continued to get raves over the next year, she started to wonder: Wouldn't other moms want these healthy snacks for their kids?
Article Continues Below Slideshow
PHOTO GALLERY
Veronica Bosgraaf
So Veronica brought a sample to a friend of a friend who owned a nearby bakery and had turned part of it into a manufacturing plant for Kellogg's. He looked at one of Veronica's bars, opened it, tasted it, then leaned over his desk and looked her in the eye: 
"I would never tell anybody in a million years to get into the food business, but I think you have something here." 

"So what do I do next?" Veronica asked her new mentor; and, on the spot, he gave her a crash course in how to proceed: Send a bar away to an expert to get its nutritional breakdown; connect with an ingredient broker to save money by buying in bulk; and, most important, find a company to manufacture the bars.
Nine months later, while chatting with a salesman from a California farm where she had bought her dates, she was introduced to a small, family-owned and operated food manufacturer in Oregon that was interested in giving her bars a try.
By now, Veronica had dubbed her company "Pure" ("That word really described what I was trying to do: create something pure and wholesome for my family"); and with $10,000 from savings and a $50,000 bank line of credit to get started, she watched the first 4,500 bars—chocolate, cherry cashew, and apple cinnamon—come down the conveyor belt. "I could have stood there all day," she says, "it was so exciting."
A little more than four years after making her first batch of bars in her kitchen, Veronica had placed her product in thousands of natural food stores across the country, including the very important Whole Foods chain.
"By 2008, my sales were about three-quarters of a million dollars," she says.
Today, Veronica maintains a share of the company, sits on the board, and okays every major decision that has to do with Pure.
Pure is now also sold at Trader Joe's, comes in nine flavors, and has expanded to include a new line of ancient grains bars and fruit and veggie strips. The best part of her job, she says, is hearing from customers. She gets daily emails saying, "These are a lifesaver!" or "My kid will eat two!"
"Even if all of this ended tomorrow," Veronica says, "knowing that Pure helps people eat better and feel better means the world to me. It's fun, rewarding, and a huge blessing to grow a business that enriches people's lives and gives back to the community in a meaningful way."
To find out more about Veronica's journey -- and to read 59 other inspiring stories -- buy your copy of "It Ain't Over Till It's Over." Click here.

Add Marlo On Facebook:
Follow Marlo on Twitter:
Sign up to receive my email newsletter each week - It will keep you up-to-date on upcoming articles, Mondays with Marlo guests, videos, and more!