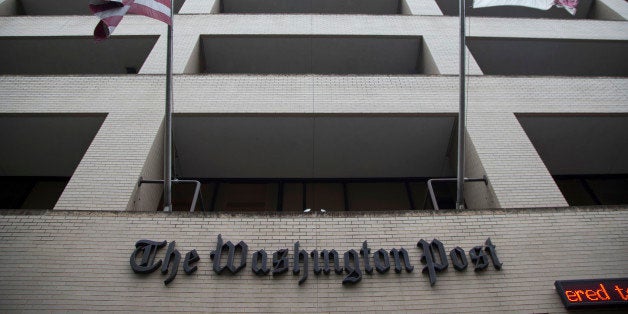 NEW YORK -– When The Washington Post recently revived allegations that the White House gave preferential treatment to a volunteer advance staffer in the aftermath of the 2012 Secret Service prostitution scandal in Cartagena, Colombia, the paper relied heavily on details from an investigation led by David Nieland.
Nieland, who served as the lead investigator for the Department of Homeland Security inspector general's office, has suggested there was a White House cover-up in response to the scandal. The Oct. 8 Post story, written by Carol Leonnig and David Nakamura, included Nieland's claims and noted he was "suspended for an unrelated personnel matter" -- which Nieland dismissed as retaliation for his criticisms of the administration's handling of the controversy.
The Post didn't elaborate on the "unrelated personnel matter" in its story earlier this month, but The New York Times reported Tuesday night that Nieland was suspended for two weeks in 2013 after circulating "photographs that he had taken of a female intern's feet." The reported reason for the suspension is notable since it calls into question Nieland's claim that management suspended him as retribution for his questions about the investigation.
The Times also reported a bombshell allegation that Nieland allegedly hired a prostitute himself in Florida this past May. Nieland denied hiring a prostitute in an email to The Times, which reported that he would not answer investigators' questions about the allegation and "quietly resigned" from the Department of Homeland Security in August.
Post executive editor Marty Baron did not respond to The Huffington Post's questions about whether the paper was aware of the allegations against Nieland before publishing his claims and findings in its Oct. 8 story.
Leonnig and Nakamura followed up on the Times story Tuesday night, but did not mention the reason behind Nieland's 2013 suspension. Leonnig did not respond to HuffPost's questions about her own reporting and Nakamura referred all questions to Baron.
News of the allegations against Nieland raise additional questions about the Post's Oct. 8 story, as well as its controversial decision to identify the former White House volunteer who allegedly hired a prostitute in Cartagena without direct evidence he had done so.
Jonathan Dach, who was then a Yale law student and unpaid White House advance staffer, was accused in April 2012 of hiring a prostitute in Cartagena because hotel records indicated a woman was registered to his room that night. Dach has long denied the allegation and the White House cleared him of any wrongdoing following a 2012 review.
Richard Sauber, an attorney for Dach, seized on the Times report about Nieland in comments to HuffPost on Wednesday, arguing that it helped rebut the two-and-a-half-year old prostitution allegation against his client.
"The New York Times story shows just how thoroughly wrong The Washington Post has been," Sauber said. "The Post story which ignored repeated denials and instead relied on anonymous sources and unsupported allegations just had its last legs shot out from under it. The Post relied heavily on Mr. Nieland's accusations that he was retaliated against for truth telling when he was actually suspended after he circulated photographs that he had taken of a female intern's feet."
Sauber reiterated that Dach "did not sign in or have a prostitute in his room" and "never engaged in any inappropriate behavior in Cartagena." He said that "any allegations to the contrary have always been outrageous and are even more so today."
The Post spoke with Sauber when considering reporting Dach's name earlier this year, but ended up holding off on its story. Months later, Republicans began suggesting the White House may have given Dach preferential treatment. The Times reported that Rep. Jason Chaffetz (R-Utah) used Nieland's statement "as evidence that the White House mishandled its investigation of the Cartagena incident" in an Oct. 3 letter to the White House. The Post published its story five days later, on Oct. 8.
The Post's naming of Dach prompted a further investigation by his alma mater's newspaper. Last week, the Yale Daily News interviewed 32 people who know Dach, including members of the university community who "personally refute[d] any possibility that he could have been involved in the scandal."
Asked recently about the decision to identify Dach in connection to the allegations, Baron told The Huffington Post that the Oct. 8 story "was about more than one individual."
Baron said The Post looked broadly at how the White House responded to the scandal, at how it addressed claims of preferential treatment, and at the "conflict between the lead investigator and his superiors at the Department of Homeland Security, along with allegations of political motivations for excising information from his report."
But since that piece ran, The Post has been investigating Dach specifically. According to a source familiar with the paper's reporting, a Post reporter contacted friends of Dach last week for a possible follow-up story.