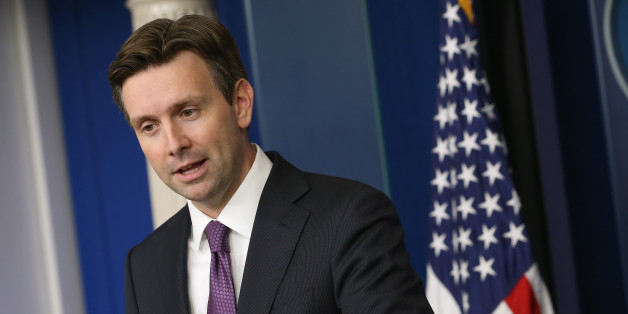 WASHINGTON -- The Centers for Disease Control and Prevention opposes mandatory quarantines for people who visit Ebola-affected countries. The Defense Department is requiring troops who visit those areas to undergo a 21-day quarantine. Governors, meanwhile, are putting forward their own quarantine policies in their states -- some voluntary, some mandatory.
Confused? You shouldn't be, says the White House.
"I don't think it sends a mixed message to people at all," White House press secretary Josh Earnest said Wednesday at his daily briefing. "It means the policies are implemented in different ways, based on the authority that, at least in one instance, is wielded by an individual governor."
There is certainly an incoherence to how the U.S. is handling the return of people from West Africa. At a time when the administration is dedicating significant resources to beefing up its Ebola response -- and conveying to the public that the situation is under control -- the range of quarantine options being rolled out doesn't project the kind of unified response the White House insists is in place.
Earnest suggested there are inherent differences between policies implemented in a military context versus a civilian context. Namely, when the military requires a quarantine, it's about "efficiency gains."
"The policy that was announced by [Defense] Secretary Hagel today indicates the kind of efficiency gains the military is seeking by taking troops who have spent time in West Africa and keeping them together and actively monitoring their health in one place," he said. "That reflects the kind of scientific guidance that we've gotten from the CDC about the need to monitor their health, but it also reflects the differences between applying this policy in a civilian context and applying this policy in a military context."
A White House spokesman did not respond to a request for clarification on what "efficiency gains" means.
The search for that definition can cause a bit of whiplash.
President Barack Obama made the case Tuesday that military personnel should be guided by different rules than civilians, given that they're not treating Ebola patients and they're not voluntarily going to Ebola-affected countries. By contrast, volunteer health workers are choosing to go to West Africa to help alleviate the Ebola crisis and therefore shouldn't be threatened with a mandatory quarantine upon their return. The idea, per the administration, is not to provide disincentives for medical officials thinking of voluntarily heading overseas to help.
But these lines of reasoning raise several questions. If a mandatory quarantine isn't sound science for civilians, why is it sound science for the troops? Alternatively, if a voluntary quarantine is a bad idea for troops, why is the federal government advocating that approach for civilians?
Meanwhile, if troops aren't working directly with Ebola patients, why are they being forced into quarantine when the doctors dealing directly with the people infected with the virus aren't being forced into isolation?
Earnest said Wednesday that the differences are only in "application" and the federal government has ultimately been effective in coordinating the nation's response to Ebola. He gave the example of New Jersey Gov. Chris Christie agreeing this week to release Kaci Hickox, a nurse returning from Sierra Leone who had been quarantined against her will in New Jersey, and allowing her to return to her home state of Maine.
Christie's quarantine policy "did differentiate from the recommendations offered by the CDC," said the White House press secretary, but ultimately, "Hickox was released consistent with the advice of the CDC."
Hickox is currently being forced into a quarantine in Maine. She is considering legal challenges to the state that would end her isolation.
UPDATE: 9:20 p.m. -- A White House official later pointed HuffPost to remarks from Earnest earlier in the week, which the official said made the point that logistics play as much of a role as science in driving the military's response to Ebola. The reasoning, then, is that while troops deployed to West Africa are highly unlikely to come into direct contact with someone displaying Ebola symptoms, the fact that those troops are already centralized at a base makes it easier to take precautions like a mandatory quarantine for all of them.
"It's much more difficult ... to conduct a personalized assessment of risk ... when you're talking about thousands of people who performed a wide variety of functions in a wide variety of locations in this region of the world," Earnest said in his Tuesday briefing. "And so, for the sake of efficiency, there's an obvious benefit to restricting the movements of these individuals so that their health care can be monitored."
BEFORE YOU GO
PHOTO GALLERY
Ebola in West Africa