A last batch of Quinnipiac polls gives cheer to Republicans in Colorado and Democrats in Florida. A survey in Georgia raises questions about racial composition. And Nate Cohn explores why polls may understate Democrats. This is HuffPollster for Thursday, October 30, 2014.
FLORIDA POLL SHOWS SWING TOWARD CRIST - Quinnipiac's final look at this year's most-polled race, released Thursday morning, finds Democrat Charlie Crist capturing an additional 7 percent of independent voters in the campaign's last week, and taking a 3-point edge over Gov. Rick Scott (R), 44 percent to 41 percent. Of the more than a dozen surveys taken since October, just two show either candidate ahead by more than 3 points. HuffPost Pollster's model gives Crist a 1-point edge over Scott, and a 53 percent chance of winning, just better than a tossup. [Florida chart, Quinnipiac]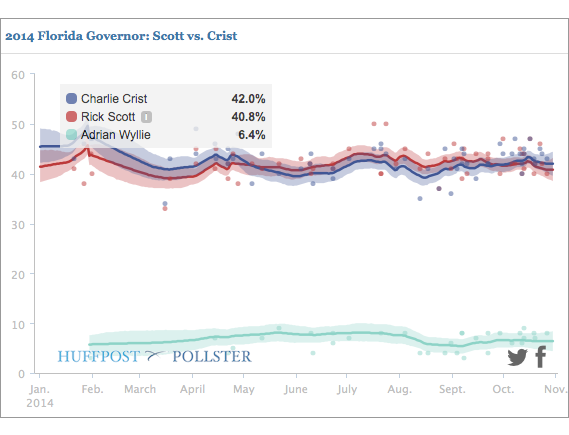 Other recent gubernatorial polls:
Wisconsin governor - Marquette University's last poll finds Gov. Scott Walker surging from a tie to a 7-point lead over Democratic challenger Mary Burke, 50 percent to 43 percent -- his biggest advantage in any poll since March. The change is mostly about "shifting turnout intentions," poll director Charles Franklin said, with Republicans now 11 points more likely than Democrats to say they're certain to vote. Among a wider pool of registered voters, Walker still leads by just 1 point. Most other surveys continue to show a close race: of the six other polls fielded since October, five show the candidates within 1 point of each other. The Pollster model gives Walker a lead of just under 2 points and a 58 percent chance of winning.
[Wisconsin chart, Marquette]
Colorado governor - The latest polling offers little consensus on the race between Gov. John Hickenlooper (D) and Bob Beauprez (R): of nine polls released since last Monday, five have Hickenlooper up by margins ranging from 1 to 7 points, one shows the race tied, and another three give Beauprez leads between 2 and 5 points. The Pollster model gives Hickenlooper a 1.5 point edge and a 57 percent chance of winning. [Colorado chart]
National outlook: Governors -- Florida, Wisconsin and Colorado are just three of a remarkable ten contests for governor with margins of three percentage points or less currently separating the top candidates in the Pollster poll tracking models. If nothing else, the races for governor will add to the drama of the vote count on election night. [HuffPost Pollster Governors' Forecast]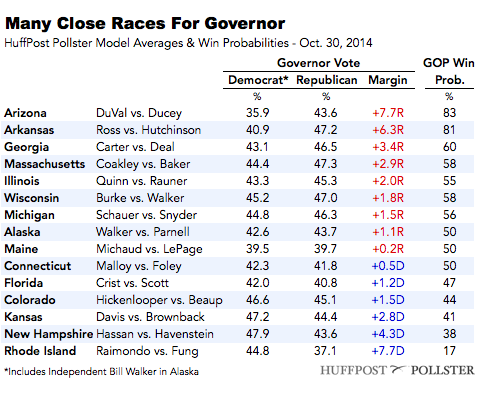 Colorado Senate - A new Quinnipiac University poll, released on Thursday morning, gives Republican challenger Cory Gardner a 7 percentage point lead (46 to 39 percent) over Democratic Sen. Mark Udall. Quinnipiac has been among the most bullish on Gardner throughout the campaign, showing the Republican leading by margins varying between 5 to 8 points in their last three polls in September and October. Recent surveys by Rasmussen Reports and USA Today/Suffolk University have also shown Gardner leading by 6 and 7 percentage points, respectively. However, other polls using different methods have consistently shown a closer race, including a new survey released on Thursday by Colorado based Strategies 360 that gives Udall a 1 percentage point edge. The Pollster tracking model, based on all public polls but calibrated to the non-partisan polls with a record of strong performances in 2012, currently gives Gardner an advantage of just over 2 percentage points (47.0 to 44.6 percent, as of this writing). [Colorado chart, Quinnipiac, Strategies 360]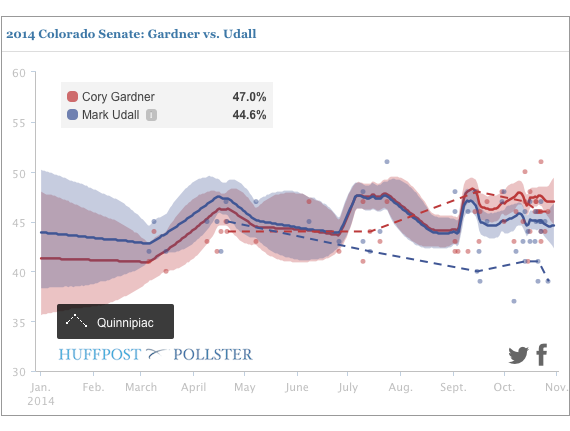 North Carolina Senate - A new Elon University poll gives Democratic Sen. Kay Hagan a four percentage point advantage (45 to 41 percent). That's slightly better for Hagan than four other polls released in the last week, two giving Hagan an edge of 2 or 3 percentage points and two showing a tie. The Pollster model gives Hagan an edge of just 2 percentage point as of this writing and a 59 percent probability of winning on Tuesday. [North Carolina chart, Elon]
Georgia Senate - Two new polls in Georgia paint very different pictures of both the likely electorate and the current standings of Republican David Perdue and Democrat Michelle Nunn. A new automated, recorded voice poll from Rasmussen Reports shows a tied race both on Election Day (46 percent for both Perdue and Nunn and 3 percent for Libertarian Amanda Swafford) and a hypothetical runoff (48 percent for both Perdue and Nunn). Meanwhile, a live interviewer survey from Monmouth University gives Perdue an 8 point lead (49 to 41 percent). HuffPost Pollster produces two tracking models for the Georgia race, one for the general election and a second for a hypothetical runoff if neither candidate wins more than 50 percent of the vote. Partly because fewer polls have asked about the latter, the estimates are somewhat at odds: As of this writing, the models give Perdue an advantage of roughly 2 percentage points on Tuesday's election, but Nunn an edge of just over 1 percentage point in a run-off. The combined win probability favoring Perdue (59 percent as of this writing) is a combination of the two, factoring in the possibility that a runoff occurs. [Pollster Georgia charts for general and runoff elections, Rasmussen, Monmouth]
National Outlook: Senate - The latest polls leave Pollster's overall Senate forecast essentially unchanged. The model rates the probability of a Republican Senate majority at 63 percent, based on at least nominal advantages in enough races to win a 52 seat majority, plus Georgia given Perdue's higher rated probability of victory. [HuffPost Pollster Senate Forecast]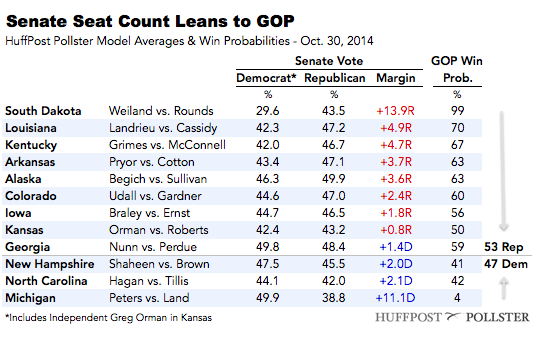 Did Monmouth understate African Americans in Georgia? - The Monmouth poll produced an extended dialogue on Twitter between Monmouth University Polling Director Patrick Murray, The New York Times' Nate Cohn, Democratic pollster Zac McCrary and RealClearPolitics analyst Sean Trende about a new Monmouth poll on the Georgia Senate race. Cohn has repeatedly argued that Georgia polls may be understating the size of Georgia's African American electorate. Based on official statistics on the racial composition of registered voters and past electorates, Cohn has estimated that the 2014 electorate should be nearly 29 percent black, but many recent polls, including the Monmouth survey, estimate a smaller black electorate. Some excerpts:
-Nate Cohn: "Love @PollsterPatrick, but I don't quite follow not weighting for race in Georgia. The likely electorate is not 68 white, 25 black." [@Nate_Cohn]
-Monmouth pollster Patrick Murray: "Understand the skepticism. I'm not convinced voter list is 100% accurate. Some missing data there. But Tuesday will tell." [@PollsterPatrick]
-Sean Trende - I have no firm grasp what the GA electorate will look like this cycle, as a nailbiter Senate race is new...That said, the 67% white in the Monmouth poll is well within the bounds of reason...The big issue is how you deal with the growth of people who refuse to answer the race question, categorized as 'Unknown'...If we allocate the "unknowns" proportionally, we have a 66% white electorate in 2008 and a 65% white electorate in 2012...We get 68.63% white in 2010; a similar decline would get you to about 67% in 2014." [@SeanTrende via Storify]
-Zac McCrary (D), responding to Trende: "The other part, though, is that Monmouth had African American at 25% - I do not think that holds together. Floor is approx 29%." [@ZacMcCrary]
COHN: 'WHY POLLS TEND TO UNDERCOUNT DEMOCRATS - "[T]he reasons to think that today's polls underestimate Democrats are not based on just the last few years of results. They are also based on a fairly diverse set of methodological arguments, supported by extensive research, suggesting that many of today's polls struggle to reach Democratic-leaning groups. 'The problems that we're having with getting representative samples tend to lead us toward people who tend not to be Democrats,' said Scott Keeter, the director of survey research at the Pew Research Center. The most highly regarded pollsters, like those at Pew, have made many adjustments to compensate. But other polls, including many of those informing polling averages and Senate forecasting models, are not nearly as high in quality. Another highly regarded pollster, who requested anonymity, put it more bluntly, calling the new challenges 'scary.'...There are reasons to question whether the problems will be as acute this year, because many of the young and nonwhite voters who pose the biggest challenges to pollsters will most likely stay home in a midterm election. Even if the polls are again biased toward Republicans this year, there are reasons to doubt whether Democrats will retain control of the Senate. The Republicans might have a large enough advantage to withstand another round of modest polling errors. But the larger concerns will remain, and they might be more significant in 2016 — when younger and nonwhite people are expected to vote in larger numbers." [NYT]
Problems with the screen - More from Cohn: "Likely voter screens are blunt, imperfect instruments. The assumptions underlying them are often no more than educated guesses. Postelection studies have found that many voters deemed 'unlikely' in fact vote, and many 'likely' voters stay home. Pollsters who work for campaigns often use a probabilistic approach, which can help address this problem by capturing more people who are on the fence about voting. These polls may give, say, a 20 percent weight to a respondent they think has a 20 chance of voting, rather than ignoring that respondent...The dangers of a tight likely voter screen are already on display in Colorado and Georgia, where approximately 20 percent of this year's early voters did not vote in 2010. Many of these voters could have been excluded by likely voter models that gave weight to past turnout in midterm elections."
Kohut on the classic likely voter model - Andrew Kohut reviews the workings of the classic likely voter model used by the Pew Research and some other public pollsters: "The more rigorous surveys ask their registered voters a series of questions: Will you vote, are you certain, have you voted in the past, are you interested in the campaign, where do you go to vote, or do you vote by mail, and so on. Respondents are scored based on these questions to derive a likely voter group based upon cumulative answers to the 'turnout' questions. The relative importance assigned to the turnout questions are sometimes based on guesstimates of which questions the pollster thinks are most important. In other cases, actual voting data are used to construct a model for likely turnout...But even with this level of sophistication, the pollster's judgment is still a factor in the turnout puzzle...The rate of turnout is another issue itself. Here's where the judgment comes in. Will the rate be similar to previous 'high' turnout elections, 'low' turnout elections or somewhere in between? That's the pollster's call, and he or she makes that call without hard data that can peg how low or how high turnout will be." [Pew]
PEW RESEARCH: DEMOCRATS' LATINO ADVANTAGE NARROWS - Pew Research Hispanic Trends Project: "After more than a year of inaction by Congress and President Obama on immigration reform, Democrats maintain a wide, but diminished, advantage among Hispanic registered voters, according to a new nationwide survey of 1,520 Hispanic adults, including 733 registered voters, by the Pew Research Center...Overall, 57% of Latino registered voters support the Democratic candidate in their congressional district or lean Democratic, while 28% favor the Republican candidate or lean Republican, a greater than two-to-one advantage for Democrats. But support for congressional Democrats is down from 2010, when 65% of Latino registered voters backed the Democrat in their congressional district and 22% favored the Republican candidate. The survey reveals in other ways that Latino registered voters are somewhat less supportive of the Democratic Party now than in recent years. On political party identification, 63% today say they identify with or lean toward the Democratic Party, down from 70% who said the same in 2012. And when asked which political party has more concern for Latinos, 50% say the Democrats, down from 61% who said the same in 2012. Pew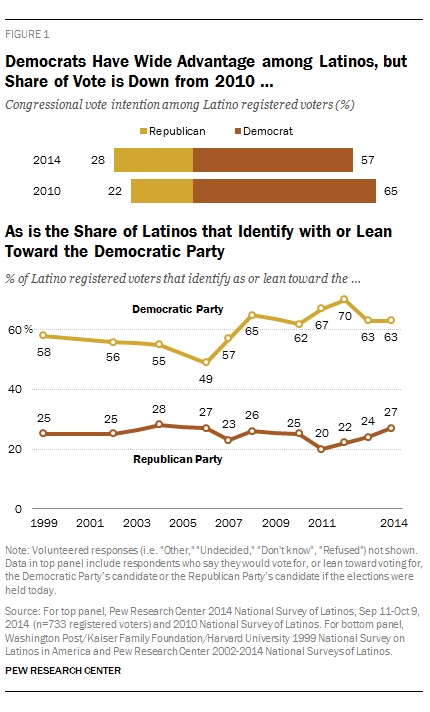 HUFFPOLLSTER VIA EMAIL! - You can receive this daily update every weekday morning via email! Just click here, enter your email address, and and click "sign up." That's all there is to it (and you can unsubscribe anytime).
THURSDAY'S 'OUTLIERS' - Links to the best of news at the intersection of polling, politics and political data:
-Ron Brownstein explains why single, college-educated women are the Democrats' last line of defense. [National Journla]
-Sean Trende thinks Michelle Nunn may be recreating the coalition that enabled Democrats to win in Georgia in the 1990s. [RCP]
Steve Koczela urges caution in forecasts of the Massachusetts Governor's race. [WBUR]
-Geoff Garin (D) believes Democrats have "pulled even to Republicans" in Colorado and Iowa. [Bloomberg]
-Ed Goeas (R) reflects on the 2014 elections and the Republicans' future. [GPPR]
-If Democrats hold the Senate, Stan Greenberg (D) and James Carville (D) offer five reasons why. [DemocracyCorps]
-Mark Mellman (D) shares new data on the polls that missed Eric Cantor's defeat, a reminder that "not every poll result will hold." [The Hill]
BEFORE YOU GO
PHOTO GALLERY
Rick Scott Controversies