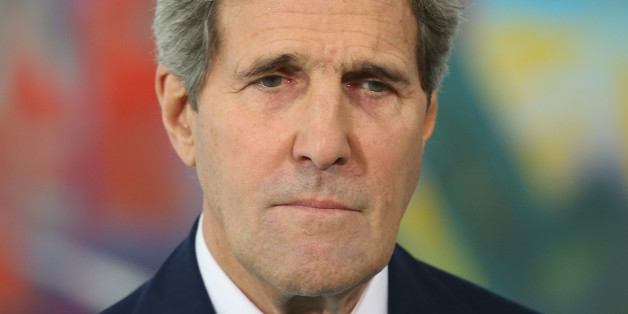 Secretary of State John Kerry on Thursday distanced himself from and sharply criticized the use of an epithet by an anonymous Obama administration official to attack Israeli Prime Minister Benjamin Netanyahu.
Speaking at the Washington Ideas Forum, Kerry said the description of Netanyahu as "chickenshit" was dramatically at odds with the prevailing viewpoint in the administration.
"We condemn anybody who uses language such as was used in this article," he said.
It's "disgraceful, unacceptable, damaging," he added. "I never heard that word around me in the White House."
Kerry was referring to an article, written by The Atlantic's Jeffrey Goldberg, that reported on the disintegrating peace process between the Obama White House and Netanyahu's government. Goldberg's most newsworthy bit centered on the growing conviction within the president's circles that Netanyahu lacks the courage to make the short-term political sacrifices needed to broker a two-state solution.
"We still believe it is doable but it takes courage," Kerry said of a peace deal. "It takes strength. Both sides have to be prepared to compromise to do it."
Earlier in his discussion, Kerry painted the current set of foreign policy crises facing this country as more complex and challenging than any since World War II.
"The Cold War is easy compared to where we are today," he said.
BEFORE YOU GO
PHOTO GALLERY
Obama's Handshakes Around The World