Halloween is tomorrow and you haven't even started making your Elsa costume yet? At this point, your local Halloween store's probably out of anything halfway decent, and you don't really have the time to take on a huge DIY effort.
But don't lose hope. You can still come up with a funny Halloween costume that's inexpensive and easy to make. See for yourself:
1. A baked potato
baked potato
Image: Youtube user SideTrack Bandits
Youtube user SideTrack Bandits has a great video compilation of costumes for lazy people, but this one wins. Wrap yourself in aluminum foil. That's literally all. People will think you're funny.
2. Cat-Dog
How to win Halloween
Image: Reddit user gsuschrist12
What you need: yellow t-shirts, ears, white poster board, markers, and one BFF. Sure, the costume doesnt hold up while you're walking around but you'll get lots of likes on your Instagram photo.
3. Waldo and Carmen San Diego
Mine and my wife's Halloween costumes.
Image: Reddit user Scottamusawesome
Waldo's the easiest costume ever and people will spend all night being like "I found you!" All you need: big fake glasses, a red and white striped shit and a red beanie. For Carmen, you just need a yellow scarf, a red hat, and a red jacket.
4. A stick figure
Last minute Halloween costume. Photography credits go to my mother..
Image: Reddit user Unlimitedwind
All you need are a whole bunch of glow sticks and some tape.
5. An Instagram filter
Last minute hipster Halloween costume.
Image: Reddit user GEAUXUL
Grab a piece of off-white tissue paper, a poster board and print out the Instagram logo. Voila!
6. A weatherman having a bad day
Late Halloween post for a last minute idea.
Image: Reddit user barndog53
Pull on a windbreaker, tape leaves and assorted pieces of trash to yourself. Fashion a fake microphone, and you're good to go.
7. A pair of dice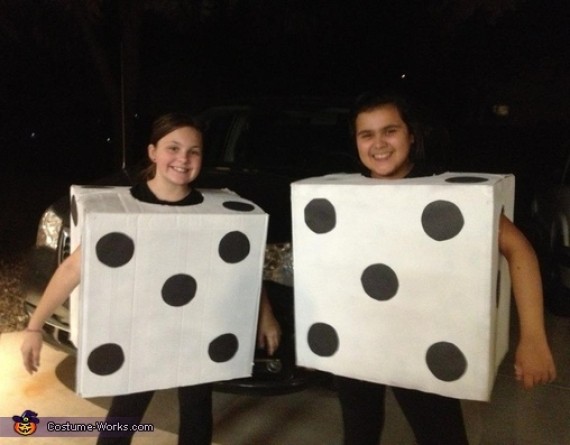 Image: Costume Works
Let this Costume Works submission be your inspiration. All you'll need is a box and some black and white paper.
8. Identity Thief
More lazy halloween costumes
Image: Imgur user ivyclaraz
Cover yourself with name tags, particularly of your friends, acquaintances or very famous people. You're raising public awareness about a serious issue, in the laziest way possible.
9. The Ginger-Bread Man
Ginger Bread Man
Image: Reddit user Musicmantobe
Put your beautiful red locks to good use. Make a cardboard sign, buy some loaves of bread and you're all set.
Follow HuffPost Teen on
Twitter |
Instagram |
Tumblr |
Pheed |
BEFORE YOU GO
PHOTO GALLERY
20 Last Minute Halloween Costumes