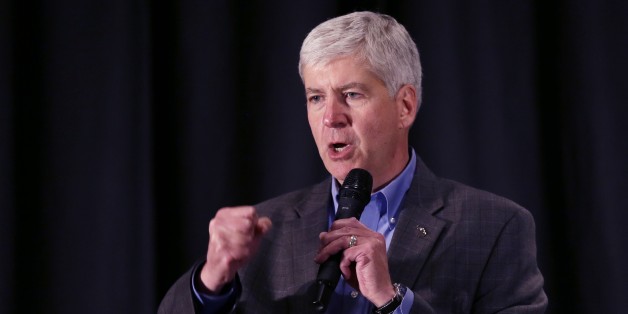 Protesters took to the street outside the Detroit campaign office of Michigan Gov. Rick Snyder (R) Wednesday morning, staging a mock cook-off in response to allegations concerning the state's prison food service contract with an outside company.
The protest, organized by progressive activist group Michigan People's Campaign, stems from recent claims that Aramark, the corporation under contract to provide the state's prison food service, fired one of its employees after she brought attention to what she said were disturbing food safety practices -- including the serving of raw meat and food that had fallen onto the floor -- in the kitchens of a state correctional facility.
The worker, Amy McVay, filed a whistle-blower complaint with the Occupational Safety and Health Association last week, as the Detroit Free-Press first reported.
Referencing those allegations, the cook-off featured a menu listing dishes such as "chili con larvae" and "dirt cake."
"This is the quality of the food Aramark provides," Michigan Peoples' Campaign spokesman Erik Shelley told The Huffington Post.
McVay's complaint is only the latest trouble Aramark has run into since beginning its three-year, $145 million Michigan prison contract on Dec. 3, 2013.
In August, the state fined Aramark $200,000 due to "unacceptable" problems with the company's performance and upped the monitoring of conditions, the Free-Press reported.
Prior to that, media reports outlined allegations of maggots being found in and near food Aramark served to inmates, and employees smuggling drugs and other contraband items to inmates, as well as workers engaging in sex acts with inmates. A murder-for-hire plot involving an Aramark employee has also been alleged. Over 100 Aramark workers in Michigan have been fired due to misconduct allegations, Bloomberg Businessweek reported.
Still, Gov. Snyder has declined to forfeit the Aramark contract. His Democratic challenger, Mark Schauer, has repeatedly urged him to do so, saying the incumbent "continues to put the safety of state employees at risk and waste taxpayer dollars on a failed experiment in privatization." A number of state Democratic lawmakers have also called for the contract's cancelation and pushed for the state's contracting process to be overhauled, as a result of the scandal.
Democratic advocacy group Progress Michigan even used the Aramark allegations in an ad criticizing Snyder earlier this month:
In a statement to HuffPost, Aramark spokeswoman Karen Cutler called the Wednesday protest "yet another example in the long-running series of manufactured attacks against our company" and its Michigan employees. Cutler pointed out that the state and the Michigan Department of Corrections (MDOC) already cleared Aramark of pest and unsanitary food allegations and canceled $98,000 in fines (unrelated to the $200,000 in fines from August).
Schauer has alleged that a Snyder aide played a role in the contractor's fee cancellation, the Free-Press reported.
"We respect our employees' and our clients' privacy and do not comment publicly about claims asserted by disgruntled former employees," Cutler said in an email to HuffPost. "However, we investigate every employee concern that is reported to us, including those alleged by former employees. We stand by our food safety record and our employees at the MDOC."
Philadelphia-based Aramark claims its contracts can help save cash-strapped governments and school districts millions of dollars without sacrificing quality, but that hasn't always been the case. Earlier this year, the company faced complaints of maggots being found in food the company's workers served in Ohio prisons. Food and staffing shortages were among the other contract violations that prompted Ohio to fine the company $142,000 in April.
At Chicago Public Schools, where the company holds both a food service and custodial contract, Aramark's work has been the subject of numerous complaints about cleanliness and safety, prompting Chicago Mayor Rahm Emanuel to say last month that the company needed to "either live up to that contract and clean up the schools or they can clean out their desks and get out."
BEFORE YOU GO
PHOTO GALLERY
2014 Gubernatorial Challengers