An airplane flew into a building at the Mid-Continent Airport in Wichita, Kansas on Thursday morning.
At least four people who were inside the building at the time of the crash were killed, Wichita Fire Marshal Brad Crisp told the Associated Press. Crisp said five others were injured and that four people were still unaccounted for as of early Thursday afternoon.
The pilot was the only person on board the small plane when it crashed, but the extent of his injuries is unclear, according to KAKE.
Plane crashed into Flight Safety right across the street from my father-in-law! #Wichita #Kansas @KWCH12 pic.twitter.com/4jxn4c12Ky

— Tracey Weaver ąཞɬ (@mojorisinhi) October 30, 2014
FAA spokesperson Elizabeth Cory said in a voice recording that the twin-engine Beechcraft King Air lost engine power shortly after takeoff. The small plane crashed as it was trying to return to the airport runway, according to Cory.
Wichita Fire Department Chief Ron Blackwell said in a press conference that "firefighters engaged in a horrific firefight for several minutes" but were able to bring the flames under control.
The aircraft crashed into the airport's north FlightSafety International building, according to the Wichita Eagle. FlightSafety International is an aviation training company.
Emergency crews responded to a 911 call at 9:49 a.m., the Wichita Eagle reports. According to KAKE, smoke from the crash could be seen miles away.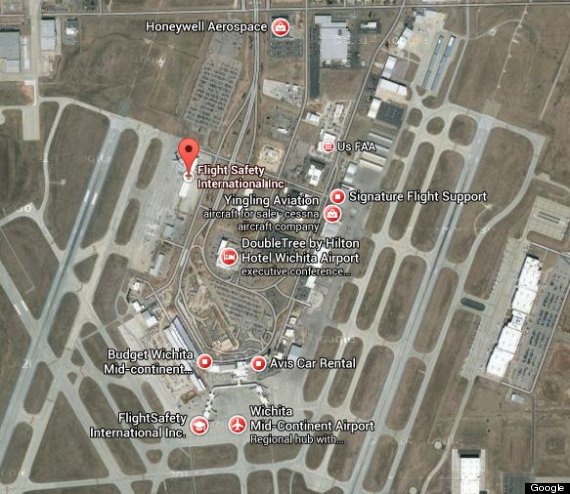 This is a developing story. Please check back for details.
BEFORE YOU GO
PHOTO GALLERY
Social Media Reaction To Plane Crash