This veteran felt extra victorious after crossing a finish line, thanks to a special royal visit.
Former British Royal Marine Ben McBean, 27, completed a 31-mile run through London on Tuesday, raising money for Royal British Legion's Poppy Appeal -- a charity for veterans. At the end of his run, the amputee vet, who lost an arm and a leg to a landmine blast while fighting in Afghanistan in 2008, was shocked when Prince Harry showed up to surprise him and thank him for his work, according to the Western Morning News.
"I'm still in shock. I didn't expect to see Harry," said McBean who met and became friends with the prince on their flight back from Afghanistan, according to the outlet. "He said 'well done' and that I'd raised lots of awareness for a good cause."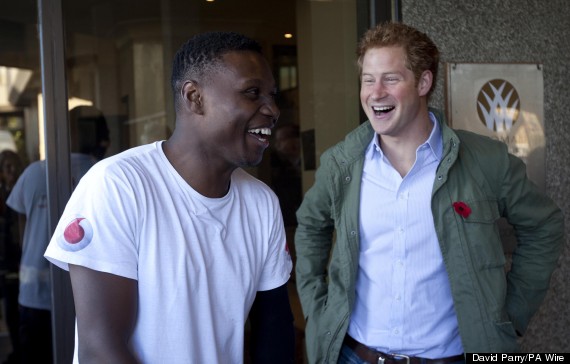 McBean, who said the run was "emotionally exhausting but so rewarding," was also given some pretty sound advice from the prince.
"He told me to go have a bath and a well-deserved beer. It was just like picking up where we left off," he said of the exchange, according to the Western Morning News.
While McBean was surprised by the visit, Harry's kind words were justified. The run shone a spotlight on the Poppy Appeal, which raises money to support veterans and their families, helping them find employment, and cope with disabilities and bereavement, according to the organization's website.
Keeping with the organization's theme, ITV.com reported, McBean used the help of a smartphone app to plot a trail through London in the shape of a poppy -- a symbol representative of the flowers that grow on former World War I battlefields.
The Royal British Legion hopes that McBean's efforts and dedication will inspire others to take action and support former service members, according to the Evening Standard.
To learn more about McBean's poppy run or to support his efforts, visit his fundraising page here.
BEFORE YOU GO
PHOTO GALLERY
Marines Deployment To Afghanistan