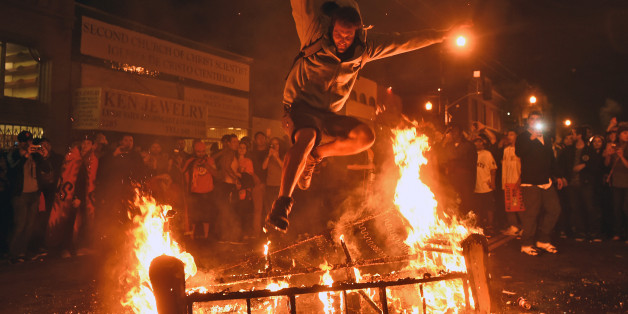 Giants fans took to the streets of San Francisco on Wednesday night after the team won the 2014 World Series. While many celebrated the achievement, some took it a little too far, lighting fires and smashing windows.
There were multiple arrests, and at least two people suffered non-life-threatening injuries after being shot, according to KTVU.
Streets were shut down as fans spilled out into the night. Many threw toilet paper and other stuff into the air, decorating the overhead electric wires used to power the city's Muni public transportation:
This might be the first time I've posted #sports tweets
but, San Francisco is my hometown.
photo ~>@violetblue pic.twitter.com/NI5zNiVUK4

— Jefferson Boggs (@DrJeffersnBoggs) October 30, 2014
Muni shut down shortly after the victory as rowdy fans broke windows and climbed onto the vehicles.
BREAKING: All Muni buses have been suspended due to safety concerns, Subway Muni still in service pic.twitter.com/5L8gqjChAP

— KRON 4 News (@kron4news) October 30, 2014
A #Muni bus with its windows broken near Civic Center. (Photo by Tim Hussin / For the Chronicle) pic.twitter.com/nQcLwLrsVR

— SFGate (@SFGate) October 30, 2014
Some of the fan activity seemed particularly ill-advised. In this video, you can hear someone warning of the potential for live wires:
A few fans set bonfires:
Biggest fire yet at 19th and Mission. There's a drone overhead and a guy in a Bane mask. pic.twitter.com/nS593uqhzH

— Kale Williams (@sfkale) October 30, 2014
This feels dangerous. Bonfire growing near AT&T Park in SF pic.twitter.com/OXF5mwbDY3

— Evan Sernoffsky (@EvanSernoffsky) October 30, 2014
Old furniture was a popular target:
A woman trying to put out the mattress fire on 19th and mission was stopped by the crowd pic.twitter.com/nui5BpidG9

— Mission Local (@MLNow) October 30, 2014
Then, the police moved in to restore order:
Police are moving people along mission street, clearing them out for street sweeping vehicles. pic.twitter.com/p8XddVzchJ

— Mission Local (@MLNow) October 30, 2014
But they didn't receive a warm welcome:
San Francisco RT @ScottMAustin
Police cars getting bombed by glass bottles. Time to get out of here. pic.twitter.com/PUYH4rvAaZ

— Ryan Parker (@TheRyanParker) October 30, 2014
And the fires were put out:
Fire Dept on the scene pic.twitter.com/vXzCxHsJXL

— Kevin Montgomery (@kevinmonty) October 30, 2014
Less-destructive fans just celebrated the World Series win. Some formed a brass band and began marching:
Even longtime Giant Barry Bonds turned up to party with the fans:
Barry Bonds just showed up outside AT&T Park to celebrate #SFGIANTS #WorldSeriesChampions @kron4news pic.twitter.com/6Hp2dpCc7M

— Chuck Clifford (@chuckclifford) October 30, 2014
Bonds also posted a short video taken from his vehicle:
And one of the city's newest residents also joined the celebration:
Police report unusually large Giants fan currently destroying North Beach: pic.twitter.com/rVhYkjDVuI

— Tom Coates (@tomcoates) October 30, 2014