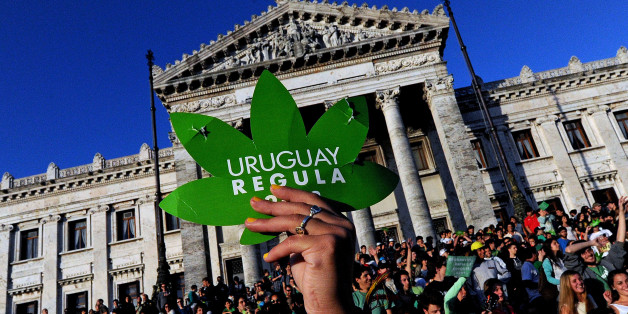 In the run up to elections over the weekend, it looked as though the opposition may gain enough momentum to throw cold water on Uruguay's trailblazing legalization of the marijuana trade.
But after a better-than-expected performance for the governing Broad Front coalition in Sunday's congressional elections, it looks highly unlikely that the law will be dismantled.
The leading opposition candidate in the four-way race, Luis Lacalle Pou, told Reuters this month that if elected he would try to repeal a law passed by the current government that legalized the limited possession and sale of marijuana for recreational use to licensed permanent residents. Polls showing gains for the opposition made Lacalle's campaign pledge look like a real possibility.
In the end, polls that had placed Vásquez's support around 42 percent misgauged voter sentiment. The Broad Front presidential candidate, former President Tabaré Vásquez, won 48 percent of the vote, surpassing expectations and nearly obviating the need for a runoff election. Lacalle trailed distantly with 31 percent, casting doubts on his ability to win the second-round election slated for Nov. 30.
The leftwing Broad Front, which spearheaded the weed law passed last year, also retained its majority in the country's lower house by one seat, making it difficult for the opposition to repeal the weed law even if it won the presidency. If Vásquez wins the presidency in next month's runoff, the Broad Front will also hold the deciding vote in the country's Senate.
The marijuana law isn't popular in Uruguay, where polls show two in three people oppose it. But President José Mujica has defended the law, saying it allows the government to wrest power away from organized crime.
Mujica has encouraged other countries, including the United States, to follow Uruguay's example.
BEFORE YOU GO
PHOTO GALLERY
27 Reasons Why U.S. Shouldn't Lead War On Drugs