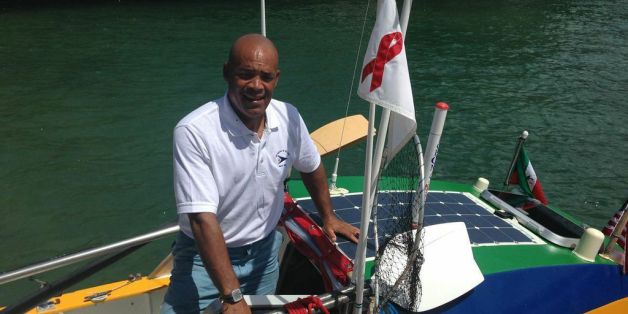 A New Yorker trying for the fourth time to row across the Atlantic Ocean was raided by pirates who left him stranded without food or water near Haiti, according to his publicist.
Victor Mooney was not harmed when so-called pirates near the island of Tortuga stole his food supply and "all vital equipment" from his 24-foot rowboat, a statement released Thursday from Rubenstein Public Relations said.
Other details were sparse, and Mooney's current location is unknown. Rubenstein didn't respond to HuffPost's inquiries for more information, but their statement suggested he needed immediate assistance.
"Although the pirates left the boat in his possession, Mooney was left with only the clothes on his back," the statement said, and he "is currently in an extreme state of distress.
"Local authorities have been alerted of the ordeal and are thoroughly investigating the situation."
Mooney, 48, was rowing by himself toward Miami and ultimately toward New York City. The 5,000-mile crossing began in the Canary Islands in February to raise awareness about HIV and AIDS. This leg of the trip that has now been marred started two weeks ago when Mooney shoved off from the north coast of the Dominican Republic, roughly 140 miles to the east of Tortuga.
Previous attempts were calamitous and prevented Mooney from making it as far as he has this year. In his first attempt in 2006, his vessel sprang a leak hours after departing from Senegal. In 2007, he rowed for 15 days before his desalination system failed and he had to request a rescue. His most perilous mishap occurred in 2011, when he drifted for 15 days in a life raft after his boat took on too much water.
Like Us On Facebook |

Follow Us On Twitter |

Contact The Author
CORRECTION: An earlier version of this article misstated the name of Mooney's publicist. It is Rubenstein Public Relations, not Rubenstein Associates.