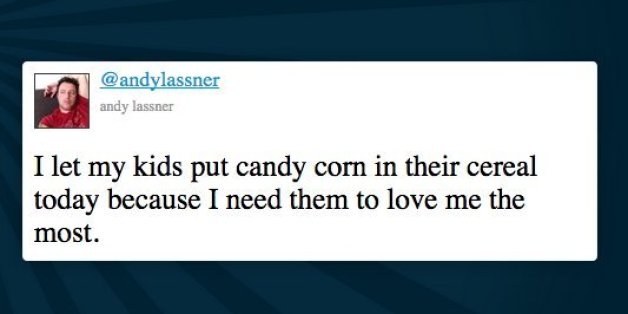 It's Halloween today, and that means candy. While most people have already gone out and bought their bags of sugary goodness, Josh Weinstein tweeted that he serves up prime rib instead. Your move, trick-or-treaters.
But forget Halloween and eating candy alone (lookin' at you, Josh Peck) -- Saturday is November 1, and that means that it's almost time to pick out the perfect turkey and tell family members what you're thankful for. For some, it could be all the different ways to style potatoes OR Chili's, T.G.I. Friday's and Applebees finally admitting they're basically the same restaurant. To each their own.
But for now, just forget about all the holiday madness. Sit back, relax, order a Starbucks via delivery (what?!) and enjoy your Friday.
BonAppeTWEET!
My perfect Halloween involves loads and loads of carbs. That's everyday, actually.

— Chanel (@chanelinezp) October 31, 2014
Candy is bad for you, that's why I set up a carving station for trick or treaters. I never know how much prime rib to buy.

— Josh Weinstein (@JElvisWeinstein) October 31, 2014
Skipped the haunted house and scared myself by reading the calories on the Taco Bell breakfast menu.

— Jason Gelles (@1CarParade) October 28, 2014
Ima go to target, buy a bunch of candy and then say Trick Or Treat before I eat each piece. Alone.

— Josh Peck (@PortableShua) October 30, 2014
I let my kids put candy corn in their cereal today because I need them to love me the most.

— andy lassner (@andylassner) October 31, 2014
I'm thankful for all the different ways I can eat potatoes

— what (@chanelpuke) October 30, 2014
.@tacobell blacked out all of their social media accounts to announce a new black out taco that you won't be able to remember eating

— Kate Bratskeir (@Kbratskeir) October 28, 2014
when are they going to admit that chilis, tgif and applebees are the same restaurant

— samir mezrahi (@samir) October 29, 2014
Nothing says "I'm doing Sunday right" like eating watermelon rock candy sans pants while binge-watching Netflix.

— Jenna Amatulli (@ohheyjenna) October 27, 2014
just because u ask for the franken-frappuccino with nonfat milk doesn't change the fact that it's more calories than a burger ok lady

— Camille Wilson☯ (@CamilleWilsonx) October 31, 2014
BEFORE YOU GO
PHOTO GALLERY
Halloween Food For Adults