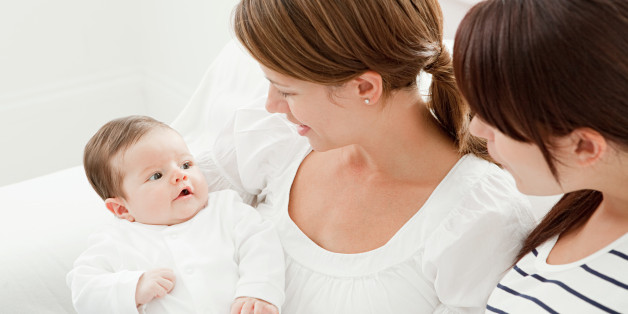 We recently posed a question to the HuffPost Parents Facebook page: What was the most helpful thing a friend did for you when your baby was born? The responses came pouring in.
One reader, Tara Tramutoli Freschi, praised the "ring and run." Her good friend left a Thanksgiving-inspired dinner on her doorstep, rang the bell and fled the scene so the new mom had an easy meal but wasn't pressured to entertain her. Another reader, Patricia Rodriguez, said her family held a "cuarentena," a ritual practiced in some Hispanic cultures which entails six weeks of pampering by female friends and family members. "My baby girl and I were spoiled for 40 days," she said.
When your friend has their first little one, naturally you'll want to lend a hand, too. But what is the best way to be helpful but not intrusive to your friend who is still acclimating to motherhood?
Melinda Blau, author of Family Whispering, suggests having a conversation with your friend before the baby comes, since all moms handle the first days of motherhood differently. "Some women want their home crowded with guests, others want to be alone," says Melinda. "Tell her 'I know your life is going to change and neither of us knows how, yet.' Recognize how monumental of a change motherhood is. A lot of friends get it intellectually, but then they feel hurt when their friend doesn't seem to appreciate them. But it's natural for a new mother to focus on her baby, so don't take it personally, she's just trying to survive."
And while friends who have already had babies of their own may be able to relate first-hand, the most helpful thing they can do is acknowledge that their friend's experience may not be the same as their own. "When you make suggestions, be very clear that this is something that worked for you but may not work for your friend," says Melinda. "Don't compare, or say 'My baby did this.' You may have a baby who slept through the night, while your friend's baby is more sensitive to noise and light. Mothers worry so much about their baby being normal, especially in the beginning."
Most of all, put yourself in your friends shoes. "Look around and see what help she's not getting -- do errands for her, pay her bills, if she has another child, take them out for ice cream," says Melinda. "A friend should not underestimate her value. She doesn't have the judgment of a relative, the baggage of another parent, she's just there for you."
In that spirit, we partnered with State Farm, to bring you a list of what real moms found the most helpful in their first days of motherhood.
A friend brought me a gift basket with things I never thought to buy in advance: gas drops, baby Tylenol, baby orajel, breast pads and a gift card for Starbucks!
[When my baby was born] friends took loads of pictures for us to capture the whole day. I got to see things in pictures that I never got to see in person. Like everyone crowded around the nursery room and my husband taking the baby to the nursery room and the tears streaming down his face when he hugged his mom and dad.
Good friends waited a long time before visiting and gave us our space. Really good friends dropped off food.
Sent a cleaning service!
[My friend] gave me the softest robe on the planet.
Offered specific things like, "I'll bring you lasagna for dinner tonight," or "I'll come over this afternoon so you can shower." Saying "let me know when I can help or what I can do to help" is not helpful. A new parent is too tired and overwhelmed to think of a request.
Understand that life just got really busy and complicated, and knowing that texts and phone calls may not be returned for hours or even days.
[Organizing] a Mealtrain using Mealtrain.com! Having a meal delivered...that is powerful stuff. You feel so special and loved, and can relax and focus on the baby.
I really appreciated meals but what I really remember is the friend who did my dishes and took out my trash.
Be honest. Being a parent of a new baby, whether it's the first time or not, isn't easy even though it's the most amazing blessing. I was so grateful when other moms spoke up and told me things no one else had.
Make them a scrapbook that is ready to go. All they have to do is add the pictures. A friend did that for me and I am so happy to have it now…
She recognized the signs of the baby blues before I did and came to my house, made dinner and fed my newborn all night so I could sleep. Before she came I truly didn't think I was going to be able to survive one more day, but after a good night's rest and feeling taken care of, I got the help I needed and parenthood became a blessing rather than a curse. She literally changed my outlook on life, and I will never be able to express my true gratitude.
When you need expert advice, always look to a friend. State Farm will be there to help you with every turn your life takes.