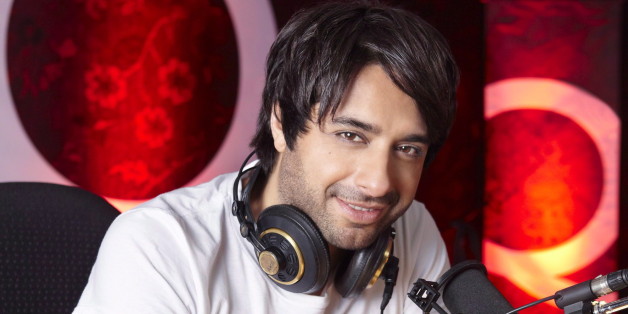 Over the past few days, many of you non-Canadian humans may have noticed the emerging -- and seemingly endlessly sordid --story centering on a man named Jian Ghomeshi flooding your social media feeds. What began as Ghomeshi, a Canadian musician and radio host, losing his job with the Canadian Broadcasting Corp. has spiraled into a much more disturbing story entirely, with multiple women accusing Ghomeshi of crimes and misconduct ranging from sexual harassment to outright violent abuse. On Friday, the police got involved, launching an investigation into the claims.
The story has ravaged the psyche of Canadians for a number of reasons. First and foremost, there is the fact that Ghomeshi is a media icon in the Great White North. From his perch at CBC Radio, Ghomeshi presides over the crown jewel of Canada's cultural programming, "Q" -- a show that shepherds highbrow and lowbrow together in an accessible, eclectic celebration of popular culture. (The show is syndicated on some American radio markets through Public Radio International.) In the past few days, Canadians have not only watched as the beloved host of their favorite radio show has been harshly unmasked as a debased cretin, they've also come to find out that Ghomeshi's transgressions were, in some ways, well-known within his social circles.
There's probably a lot more that you haven't heard about this story. And whenever a story in Canada breaks that may be of particular interest to Americans, we ask HuffPost Canada News Editor Michael Bolen for answers:
So, let's back up one day before the fateful CBC announcement that touched off this series of events and explain to Americans who suddenly started seeing news related to Jian Ghomeshi pop up in their social media feeds who Ghomeshi is (or at this point, maybe "was"), exactly.
Ghomeshi was the host of one of our public broadcaster's most popular radio shows, "Q." Think of him as a cross between Ira Glass and Charlie Rose, except much more important to Canadians than either is to Americans. The show is (and it's still going post-Ghomeshi) an arts and culture program that airs each morning in a storied and coveted time slot on CBC Radio One. It features interviews with celebrities and cultural heavyweights and panel discussions on the media, arts and social issues. It somehow manages to occupy the dual poles of pop and high-brow, hip and brainy. It's important to note that CBC radio is a revered institution in Canada and in recent years Ghomeshi became its brightest star -- the son of Iranian immigrants who positively bled the Canadian dream of a multicultural and progressive society.
Before Ghomeshi was a radio star, he was the most visible member of the quirky, cerebral and downright dorky rock group Moxy Fruvous, which had minor hits like "King of Spain" and "Stuck in the '90s" back in -- well ... the '90s.
His rise to prominence at the CBC after Moxy Fruvous petered out coincided with hard times for the public broadcaster. Its budgets have been slashed and it has faced criticism for being out of touch with younger Canadians. Ghomeshi appealed to millennials with his carefully cropped stubble and calculated cool. A Gen X hipster who made stodgy CBC radio seem relevant again. Many have pointed to this as one of the reasons rumors of his creepy behavior with women may have been brushed aside by managers at the CBC and other powerful people in media and music.
So, on Oct. 26, the Canadian Broadcasting Corp. announced that "information came to our attention recently that in CBC's judgment precludes us from continuing our relationship with Jian." That touched off four days of harrowing -- and, it should be said, credible -- accusations against Ghomeshi of sexual misconduct and violence against women. What are the allegations that have been levied against Ghomeshi, and do they track with what we know about the "information" that the CBC alluded to in its announcement?
Well, things actually got started on Friday the 24th when media critic Jesse Brown, host of the media criticism podcast "Canadaland," tweeted that Ghomeshi was on "indefinite leave." A CBC spokesperson then tweeted a denial. But shortly after, news came down the wire that Ghomeshi was taking an "undetermined leave for 'personal issues.'"
Brown plays a pivotal role in the story. A former CBC radio host himself, he had hinted earlier in the week on his podcast that he was about to break a "monster" story that he predicted would lead people to question his credibility. Later we would learn that he had been working on building a case on Ghomeshi and allegations that he has physically abused and harassed a string of women. (I recently interviewed him. You can read that here.)
On Sunday, news broke that CBC had parted ways with Ghomeshi and the broadcaster put out that cryptic statement suggesting something bad had led them to sever the relationship.
Then the story blew wide open. First Ghomeshi took to Facebook and posted a long statement alleging that he was wrongfully dismissed by CBC on the basis of his sex life and a campaign by a "jilted ex girlfriend and a freelance writer [Brown]." Ghomeshi then detailed his BDSM [for bondage and discipline, dominance and submission, sadism and masochism] sex life while maintaining that he always used safe words and obtained the consent of his partners. It also broke that Ghomeshi would be suing the CBC for tens of millions of dollars. Ghomeshi garnered sympathy by lamenting the recent death of his father. The statement is a fascinating read, especially if you're interested in how a crisis PR firm gets out in front of explosive revelations and sets the narrative of a story.
And for a brief moment, it looked like Ghomeshi was winning the public relations battle. Many Canadians expressed support for a man who had come to be viewed as a national treasure, and his post racked up more than 100,000 likes.
But then, late Sunday night, those explosive revelations started to roll in. Brown partnered with the Toronto Star, and its lawyers, and published a bombshell story written with Kevin Donovan, a veteran investigative journalist who had his hands all over the reporting on the Rob Ford crack scandal.
The accusations were damning. Three women, all unnamed, alleged that Ghomeshi had physically assaulted them on dates -- closed-fist punches, bites and choking. Truly shocking stuff. Another woman, a former staffer who worked with Ghomeshi at CBC, alleged that he had told her, "I want to hate fuck you" and, on another occasion, groped her rear end.
At first, many Canadians remained either ignorant of the story's allegations or unwilling to accept the word of unnamed sources. A lot of people, including prominent politicians and columnists, continued to voice support for Ghomeshi.
That was until Wednesday evening, when a new flood of allegations rolled in. First the CBC's top news show, "As It Happens," interviewed another unnamed woman who graphically detailed physical abuse by Ghomeshi. Then the Star published a new story, this time with allegations from eight women, including one who was named -- "Trailer Park Boys" actress Lucy DeCoutere.
Many of the stories shared common themes: young women who either messaged Ghomeshi on social media or met him at events. Ghomeshi would, according to the women, court them, impress them with his charm, and then introduce them to his penchant for violence and verbal abuse. All of the women said Ghomeshi did not have their consent.
The story also introduced another dark wrinkle: Big Ears Teddy, a stuffed animal that Ghomeshi would turn around before assaulting two of the women. "Big Ears Teddy shouldn't see this," is a quote a lot of Canadians wish they could unread.
And it got darker. Soon after the Star published, news emerged that a Twitter account under the name @BigEarsTeddy had posted allegations of abuse back in April, including that Ghomeshi "keeps an impressive anthology of videos and photos of the young girls he chokes out." Given that Ghomeshi had written on Facebook that he had "voluntarily showed evidence" to the CBC that his relationships were consensual, the unearthed tweet set off a wave of speculation about the extent to which Ghomeshi has been documenting his alleged abusive behavior. Carleton University has launched an investigation on behalf of students who may have had contact with Ghomeshi.
And just as we became sure we didn't want to know more about Big Ears, we learned that Ghomeshi had spoken publicly about having a bear of that name as a child and that his therapist encouraged him to get a replacement to help deal with an anxiety disorder. He even included the bear in the acknowledgments of a 2012 book he wrote about his life.
The tide of public opinion was now turning decisively against Ghomeshi. Another interview with an alleged victim on CBC radio on Thursday morning only added to the mounting case against him. And then on Thursday afternoon, a second woman put her name behind allegations of abuse. The Huffington Post Canada published a prominent author and lawyer's story of abuse at the hands of Ghomeshi:

"I distinctly remember the jarring sense of suddenly being abruptly shaken out of my reverie. I remember thinking 'what the fuck is going on here? What's wrong with him?' Jian had his hands around my throat, had pulled down my pants and was aggressively and violently penetrating me with his fingers. When it was over, I got up and it was clear I was really angry. My sexual interactions until then had always been consensual, enjoyable and fun," Reva Seth wrote.
And now, new details and revelations seem to be coming in every hour, a rolling nightmare unfolding live on Twitter and Facebook. Ghomeshi has been dropped by his PR and publicity firms. It's becoming nearly impossible to defend him and sound reasonable. So, yes, if CBC even knew a sliver of what the public knows now then it's understandable why it wanted to end the relationship. The broadcaster has now ordered a third-party investigation into Ghomeshi's actions and is facing tough questions about what it knew and when.
Police confirmed that they had launched a criminal investigation into Ghomeshi after two women came forward with complaints, the Toronto Star reported on Friday.
Ghomeshi's immediate response was on his Facebook page, where he alleged that the source of the looming scandal was simply a vindictive ex-girlfriend who'd participated in bondage/submission role play with him. But this story has clearly slipped past the boundaries that Ghomeshi wanted to impose on it, leading to the obvious question: What was the point of this Facebook post? A hackneyed effort to "get out in front of the story?"
Most people think the post was written by the PR firm Navigator, which specializes in managing the crises of the 1 percent. Its motto? "When you can't afford to lose."
And, for a little bit, it worked. The initial debate really did center on BDSM and whether employers have any business in the bedrooms of the nation. Incidentally, the word "bedroom" appears three times in the Facebook post, a thinly veiled allusion to a famous statement by a former prime minister that "There's no place for the state in the bedrooms of the nation." In fact, Ghomeshi's lawsuit against the CBC, which many lawyers have decried as nothing more than a publicity stunt with virtually no chance of success, explicitly quotes former Prime Minister Pierre Trudeau's declaration about sexual privacy.
The only problem is these allegations aren't about sex. They're about violence. Brutal violence that these women say came without warning and without consent. Assaults went unreported for all the myriad reasons most violence against women goes unreported: fears of retribution, of drawn out and embarrassing court cases that rarely lead to conviction, of vilification by those in society who always take the word of a man over that of a woman.
Ghomeshi's suit is a total non-starter. He was a unionized employee at CBC and so his claim needs to go through the private arbitration process first before he can take it to court. Ghomeshi has set this in motion, but this suit is almost certainly going to get dropped.
At first the Facebook post shaped the narrative. It was likely read and shared far more widely than the allegations of the first four women. But the allegations just continue to roll in. And now even Navigator has jettisoned Ghomeshi. Some have even mused that the PR game was perhaps aimed more at keeping him out of jail than at keeping him employed.
After the story broke, I went back and read Carla Ciccone's story on xoJane, in which she described her interactions with Ghomeshi. (Ciccone's account does not explicitly name Ghomeshi, but it's full of clues.) Since then, I read this post -- "Do You Know About Jian" -- on a site called Nothing In Winnipeg. Reading these pieces leaves me with the impression that within Ghomeshi's social and professional circles, there was a sort of whispered awareness that the guy was trouble. Does this impression track with reality? Was it as pervasive as these accounts make it out to be? (True story, by the way: My wife reminded me this week that we'd actually met him on two occasions ourselves, and that she caught the distinct whiff of Eau de Red Flag from him.)

In media and music circles, rumors have circulated for years about Ghomeshi. I've heard them. People I know and work with have heard them. People I know have been on dates with him. So yes, it was an open secret that there was something fishy about Mr. Ghomeshi. But I think, as is so often the case, many dismissed it as just another case of a powerful man with a taste for younger women.
Clearly many knew things were much more sinister than that. While most people I know have expressed surprise about the violence, it's evident from the reaction on social media and in blog posts like "Do You Know About Jian" that many people knew much, much more. When the story first broke, most Canadians expressed disbelief and dismay while many in music and media exchanged knowing looks.
This is really becoming a huge part of the story now as we move beyond the "did he or didn't he" part of the story and on to the "how the hell did we let this happen?" part. Because a lot of people in media and music are asking themselves that question right now and talking with their partners and co-workers about it. This story is truly triggering some soul-searching about how and why we dismiss the signs of abuse -- "Oh, sure he's a bit creepy but he's great as his job." "Oh, these women wouldn't be with him if they didn't think they could get something from him." "Oh, it's not worth making a fuss about this. It's probably nothing and it's not worth losing your job over." The list goes on and on and on. If something good is going to come from this, it's that it's going to force our industry, and others, to really start to address the cultural and structural prejudices that could allow something like this to happen (allegedly).
Ghomeshi was obviously an important figure in the Canadian media firmament, and also had some fairly significant ties to the Canadian music industry. How have these communities reacted to this news? Does Ghomeshi have any allies left?
Ummm, Amanda Palmer? Kind of? No, even she seems to be backing down now.
At first plenty of people close to Ghomeshi, such as the musician Lights, whom he mentored, backed him. Lots of columnists expressed skepticism about the allegations. But as more and more stories have rolled in, pretty much everyone who has spoken publicly about this has abandoned him. In one startling Facebook post, his friend Owen Pallett wrote things like: "Just ten days ago, I helped him find musicians for his father's funeral. Three women have said that Jian beat them without their consent."
So, whatever allies he has left are either keeping quiet or voicing their less-than-cogent arguments in the comments on the article you're reading, or on your Facebook page or in the darker corners of the Internet. The PR game seems totally lost at this point.
Where does this story go from here?
Well, beyond the soul-searching I mentioned earlier, the major narrative is obvious: Is this guy going to go to jail? Police in Toronto have pretty much ruled out an investigation without a woman coming forward to them. And that hasn't happened yet.
And if he doesn't go to jail, then what does he do next? Right now he's radioactive to any prospective employers in Canada. The Toronto Star's top editor has already hinted that he's skipped town for Los Angeles. Who knows, maybe he'll become a Canadian hybrid of Woody Allen and Roman Polanski.
But that's all speculation. What seems certain is that many more allegations are going to roll in. Many more questions are going to be asked about what happened behind the scenes at the CBC. Many more stories will be written cataloging every crack and crevice of Ghomeshi's life.
In an interview published Thursday in Toronto Life, Jesse Brown sent this message: "Stay tuned. We've only just begun."
Here in the states, we've long been having this Beltway-centric conversation about the "war on women" that typically deals with things like pay equity and reproductive rights. We've also seen an emerging conversation (that's recently gaining urgency) dealing with a deeper, darker strain of cultural sexism that reveals itself in phenomena like street harassment and online threats -- spaces and places made unsafe for women because of virulent misogyny. With the acknowledgement that having two dudes talk about this stuff means we sacrifice some vital perspective, let me ask you: What's the state of gender politics in Canada like, comparatively? Are you guys having the same sorts of discussions?
I think the common thread you see in all these discussions is (and I'm wincing just thinking it because I've heard this answer in seemingly every interview I've done in the last seven years) social media and the Internet.
Believe it or not, we've got Facebook and Twitter in Canada too. That's where these discussions start and we're definitely having them. I watch every day as women more eloquent and intelligent than me on these issues work to dissolve the prejudices calcified in the hidden caverns of our hearts and minds. Women who put up with all manner of abuse online to do the unpleasant work of pointing out the injustices we would prefer not to see and hear.
So I don't think there's a big difference between Canada and the U.S. when it comes to gender equality. We've got plenty of pernicious prejudice and predation of our own.
Canadians like to see ourselves as kinder, gentler and more progressive than our southern neighbors. But just this year we've lived through a hurl of headlines about Rob Ford, Justin Bieber, and Jian Ghomeshi -- cruelty, violence and bigotry writ-large on the international stage.
So yeah, I think there's ample evidence Canadians are talking about the way men treat women and I think there's plenty of evidence, much of which we've seen this week, that we should be doing even more of it.
[CORRECTION: This article originally stated, incorrectly, that Ghomeshi had been a student at Carleton University. This has been corrected. We regret the error.]
Would you like to follow me on Twitter? Because why not?