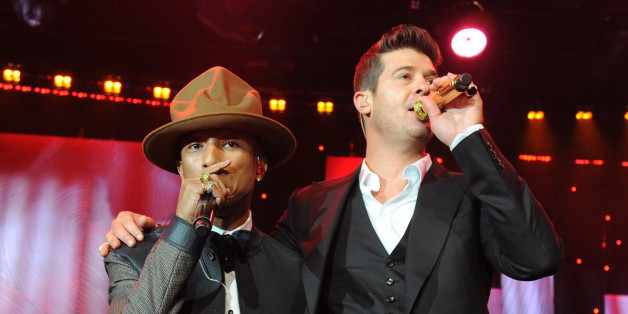 Robin Thicke and Pharrell Williams lost the first round of their "Blurred Lines" lawsuit against Marvin Gaye's estate. Earlier this year, the two musicians filed a lawsuit after receiving threats from Gaye's family, who accused Thicke and Williams of stealing parts of their hit song "Blurred Lines" from Gaye's "Got to Give It Up." Gaye's estate then filed a countersuit, claiming that Thicke had a "Marvin Gaye fixation," in addition to stealing music. Now, a California judge ruled that the songs may be substantially similar.
U.S. District Judge John Kronstadt denied Thicke and Williams' motion for summary judgement on Thursday, citing that there was enough evidence to move forward with the Gaye family's claim. He wrote that the "defendants have made a sufficient showing that elements of 'Blurred Lines' may be substantially similar to protected, original elements of 'Got to Give It Up.'"
Kronstadt's ruling saw similarities in the two songs' bass lines, keyboard parts, vocal lines, melodies and harmonies. The trial is scheduled for Feb. 10, 2015.
The lawsuit made headlines last month when The Hollywood Reporter obtained depositions from April, which contained bizarre revelations about the making "Blurred Lines." Thicke admitted that Williams wrote the song, though he tried to take credit for it, that he was "high on Vicodin and alcohol" during studio time and lied about the process of writing the song in previous interviews.
Billboard reports that the case could be one of the biggest trials over alleged song theft ever.
BEFORE YOU GO
PHOTO GALLERY
Robin Thicke Style Evolution