The North Carolina Senate race narrows to a near dead heat. Democrats say they're within the margin of error in Iowa and Colorado. And an unusually high number of undecided voters could make for some Senate race surprises. This is HuffPollster for Friday, October 31, 2014.
THOM TILLIS CLOSING IN ON KAY HAGAN - A handful of new North Carolina polls released on Thursday show a race that has narrowed to the slimmest of margins. The one non-partisan survey, from North Carolina's Elon University, gave Democratic Sen. Kay Hagan a 4 percentage point advantage (45 to 41 percent) over Republican challengers Thom Tillis. Three new surveys with partisan sponsorship pointed collectively to a closer race, ranging from a 1-percentage point edge for Hagan to an outlier 5 percentage point lead for Tillis. The HuffPost Pollster tracking model, based on all public polls but calibrated to match the trends from the independent, non-partisan pollsters, gives Hagan an edge of just under one percentage point, as of this writing (44.8 to 43.9 percent) and a probability of victory of barely better than a coin flip. [Pollster North Carolina Chart]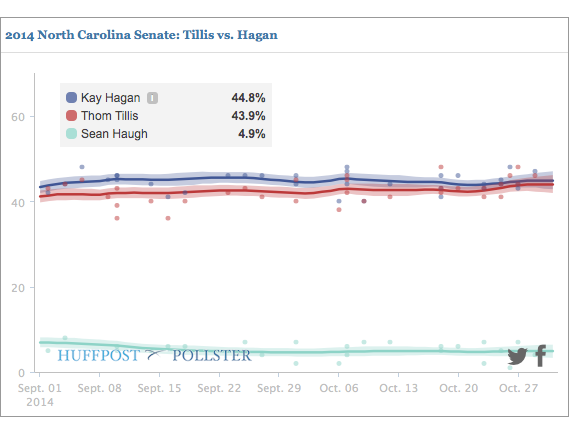 Thursday's new polls included an internal survey conducted by Tillis pollster Public Opinion Strategies showing a tied race (44 percent each). Campaigns are typically selective about the polling data they share, releasing favorable results and holding back the bad, but Democrats conceded that their data also shows a close race in North Carolina. On Thursday, Democratic Senatorial Campaign Committee executive director Guy Cecil said their internal models show North Carolina within "the margin of error." [POS, WashPost]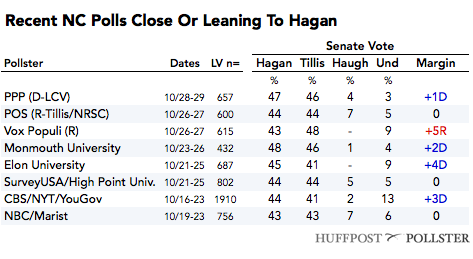 The recent narrowing of the race owes to more than just the newly released partisan polls. The Pollster chart is calibrated to non-partisan polls that have peformed well in past elections, and independent surveys conducted in North Carolina in the last week by NBC/Marist and High Point University/SurveyUSA have both found a tied race, while polls by Monmouth University and Times/CBS/YouGov have given Hagan advantages of 2 and 3 percentage points respectively.
The recent trends reflect a pattern that Republican strategists and analysts like RealClearPolitics Sean Trende predicted. Since early September, Hagan's share of the vote has remained essentially flat (at roughly 45 percent in the Pollster chart) while the Tillis number has increased from 42 percent in September to 44 percent over the past week, suggesting that Tillis may have further room to grow his support among undecided voters.
Colorado Senate - The Denver Post's final survey of the race, conducted by SurveyUSA, gives Republican Cory Gardner a 2-point edge over Sen. Mark Udall, 46 percent to 44 percent. "A Pollster's Best Advice is to 'Hold Your Breath,'" the SurveyUSA release advises, noting that "with 26 separate public opinion polling firms working on the contest, all trying to get these two races right, and no 2 pollsters in agreement, circumspection is in order." Two dueling partisan surveys come to similar conclusions, with a PPP (D) poll for the League of Conservations showing the race tied, and Vox Populi (R) giving Gardner a 3-point lead. With the exception of two polls from Quinnipiac and Rasmussen giving Gardner a bigger lead, most recent polling shows the race close -- but the nonpartisan numbers, for the most part, show the Republican as the one narrowly ahead. The Pollster model gives Gardner a lead of just below 2.5 points, and a 62 percent chance of winning. [Colorado chart, Denver Post]
Arkansas Senate - Two new polls released Thursday found Republican Tom Cotton with big leads over Sen. Mark Pryor: a University of Arkansas poll put Cotton up by 13, and a Rasmussen poll by 7. With the exception of two internal Democratic polls giving Pryor a small edge, every survey conducted since October shows Cotton in the lead. The margins, however, vary, from just 2 points in an NBC/Marist release to the blowout lead in the UArkansas poll. The Pollster model gives Cotton about a 5 point lead, and a 74 percent chance of winning. [Arkansas chart]
Kentucky Senate - SurveyUSA's final Bluegrass Poll, released Thursday night, shows Senate Minority Leader Mitch McConnell (R) with a 5 point advantage over Alison Lundergan Grimes (D), 48 percent to 43 percent. The poll found Grimes briefly moving ahead in early October, before ceding ground later in the month. A survey for the pro-GOP Crossroads GPS by Public Opinion Strategies also showed McConnell with a comfortable lead, 50 percent to 43 percent. **"We're not ahead. But we hope to be on Election Day," Mark Mellman, Grimes' pollster, said during an event Thursday. Later, he pushed back against a news story suggesting that Grimes was trailing, saying that his internal polling actually showed the two candidates tied. Mellman's last publicly released poll of the race, in late September, had Grimes up by 2. The Pollster model gives McConnell a 5-point lead and a 71 percent chance of winning. [Kentucky chart, Lexington Herald-Leader], The Hill, US News @MarkMellman]
National Overview - The probability of a Republican majority has ticked up to 68 percent, according to the HuffPost Pollster forecasting model, largely on the basis of the better results for Republicans in North Carolina, Arkansas and Kentucky. The Pollster tracking models continue to give Republicans nominal advantages in enough races to win a 52 seat majority, plus Georgia given Republican David Perdue's higher rated probability of victory in either the November election or a potential run-off in January. [HuffPost Pollster Senate Forecast]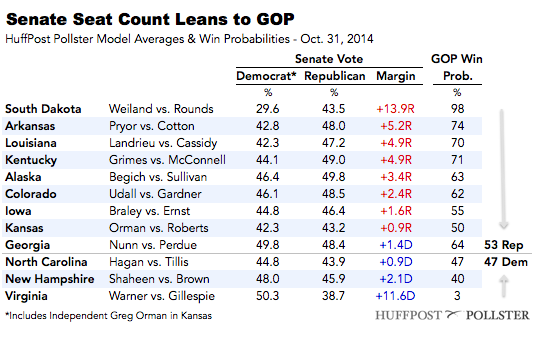 TWO SCENARIOS FOR HIGH UNDECIDEDS - Sean Trende: "Adding to the uncertainty [in recent polls] is the fact that many of these races see an unusually high number of undecided voters (or claiming they will vote third party)....I see two basic scenarios for what might happen between now and Nov. 4....The first scenario involves the working hypothesis I've used for most of this cycle: Gravity wins out. In that scenario, Democrats are effectively capped by the president's job approval, and undecided voters break heavily toward Republicans. Indeed, most of what we see right now is perfectly consistent with this theory. Democrats tend to run a few points ahead of the president's projected job approval in their states: They are generally polling in the low 40s in the red states, in the mid-to-high-40s in the purple states, and in the low 50s in the bluer states. Under this scenario, we should expect to see something akin to what we've seen over the past few months: A gradual improvement of the GOP's position in most races. The most prominent example of this is in New Hampshire, where Scott Brown has won over virtually every undecided voter. The second possibility is actually a variant of the first, and it reflects what I think happened in 2012...The fact that Obama won despite low turnout, a pairing I don't think many analysts were predicting; the fact that the nonwhite share of the electorate grew despite low turnout, a result I don't think many analysts were expecting; the fact that Obama's national margin was larger than the margin of any poll in the closing month of the campaign....In this sense, I think the large number of undecided voters -- who almost certainly disapprove of the president by large margins -- are a potential red flag for Republicans...If these voters ultimately opt disproportionately to stay home, it would transform an electorate where the president has a 42 percent job approval into one where he has a 46 percent job approval." [RCP]
DSCC SEES CLOSE RACES IN CO, IA & NC: Washington Post blogger Greg Sargent interviewed Guy Cecil, executive director of the Democratic Senatorial Campaign Committee and asked him about recent public polling showing Republican Senate candidates leading by more than three points in Arkansas, Alaska and Louisiana and by "two-ish" in Colorado and Iowa. "Is the polling wrong," Sargent asked? Cecil: "For us the focus is more on our own internal modeling and analytics. When we put out a poll from Paul Harstad showing us up one in Colorado, it's because we believe that is the case. We think with the right formula for what the election looks like in a vote by mail state, with the right percentage Latino turnout and of our vote among Latinos, that we have a margin of error lead that is different from most of the polling averages." Sargent pressed: "But the trouble with released internal polls is that nobody knows what the non-released ones say. What is the big picture from all of your internal polling?" Cecil: The aggregate overview is we still have 10 races that are within three points. When we look at Colorado, Iowa, North Carolina, we're in margin of error races. Statistically these races are even. The bottom line is there are enough races within the margin of error for us to hold the majority." [WashPost]
EARLY VOTING RESULTS HOLD SOME GOOD NEWS FOR DEMS - Nate Cohn: "Democratic efforts to turn out the young and nonwhite voters who sat out the 2010 midterm elections appear to be paying off in several Senate battleground states. More than 20 percent of the nearly three million votes already tabulated in Georgia, North Carolina, Colorado and Iowa have come from people who did not vote in the last midterm election, according to an analysis of early-voting data by The Upshot. These voters who did not participate in 2010 are far more diverse and Democratic than the voters from four years ago. On average across these states, 39 percent are registered Democrats and 30 percent are registered Republicans. By comparison, registered Republicans outnumbered Democrats in these states by an average of 1 percentage point in 2010….But so far, there have not been enough new Democratic votes to erase the Republicans' expected turnout advantage. It remains to be seen whether turnout among new voters will continue at these rates." [NYT]
ARE MILLENNIALS REALLY VOTING REPUBLICAN? MAYBE NOT - HuffPollster: "A poll of young voters released Wednesday bore what on the surface seemed like terrible news for Democrats: A majority of millennials likely to show up at the polls said they were backing the GOP. In the Harvard Institute of Politics survey, Americans ages 18 to 29 said they preferred a Democratic Congress to a Republican one by a 7-point margin. But a smaller group who said they definitely planned to vote favored Republicans by a 4-point margin, 51 percent to 47 percent….But despite Harvard's findings, other polls have not found a similar shift. Finding comparable data from other surveys can be tricky, since likely voters under 30 make up a slim fraction of most polls. But several national surveys still give Democrats a double-digit lead. As NBC'S Mark Murray notes, NBC/Wall Street/Annenberg surveys this fall -- which give the GOP the advantage overall -- have Democrats leading by 10 points among likely voters age 18-29, close to the results in 2010. A compilation of Pew Research's national polling in September and October, shared with HuffPost, also shows Democrats ahead, 57 percent to 38 percent, among young likely voters asked whether they'd vote for a Republican or a Democratic candidate. Reuters/Ipsos' online tracking polls since September give Democrats an overall 18-point lead over Republicans on the same question among likely voters age 18--29….One theme that's more consistent across the Harvard poll and other recent surveys is a sense of disenchantment with politics in general." [HuffPost]
THE 'BEST NC CROSSTAB EVER' - From Elon University's North Carolina poll, a crosstab of preference in the North Carolina Senate race by the accent of the respondent as classified by interviewers [Elon via @Nate_Cohn, more on the question]
HUFFPOLLSTER VIA EMAIL! - You can receive this daily update every weekday morning via email! Just click here, enter your email address, and and click "sign up." That's all there is to it (and you can unsubscribe anytime).
FRIDAY'S 'OUTLIERS' - Links to the best of news at the intersection of polling, politics and political data:
-Gregor Aisch and Josh Katz track the changes across every Senate forecast. [NYT]
-Pollsters warn against overstating voter enthusiasm. [WSJ]
-Neil Malhotra and David Rothschild say polls showing support for gay marriage may be a self-fulfilling prophecy. [WashPost]
-Nate Silver now gives Republicans a nearly 70 percent chance of taking the Senate. [538]
-Jennifer Duffy reviews the state of play in the battle for the Senate. [Cook Political]
-Chris Wilson (R) joins the conversation about whether the 2014 results will be a Republican "wave."
-Susan Page says America is "the Land of the Fearful" as people prepare to vote. [USA Today]
-Justin Wolfers uses the Upshot's election simulation generator to measure confirmation bias. [NYT]
-14 percent of all political advertising referenced 'Obamacare' or the Affordable Care Act. [KFF]
-Democrats are more likely than Republicans to be freaked out by clowns. [WashPost]
BEFORE YOU GO
PHOTO GALLERY
Politicians On Pot